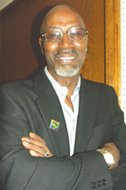 Thelonious Monk III, the son of the renowned jazz pianist, recently took part in the Thelonius Monk Institute of Jazz at Jim Hill High School. I spoke with Monk in the Jim Hill auditorium about his father, jazz and why young people need to know more about both.
Tell us about the Monk Institute of Jazz and the workshops you provide.
The Monk Institute of Jazz was founded in 1986 because jazz music did not have a musical home. In the ensuing 20 years, we have involved everything from preschool to university. Our primary scholarship program is at the University of California, in Los Angeles, under the direction of Terrance Blanchard. The institute has been to Thailand, Egypt, India, South Africa, England, France and all over the United States. Right now we are in the midst of trying to get to every state—we are about one-third of the way. This jazz program is a part of "Jazz in America," a curriculum for 5th, 8th and 11th graders in their social studies classes.
Can you talk about your father and how he influenced you?
My father was one the architects of modern jazz, along with Dizzy Gillespie and Charlie Parker. When I was a little kid, John Coltrane, Miles Davis, Charlie Parker, Art Blakey, and Max Roach and all those people were in the house all day, everyday, like uncles and godfathers. That was great because it allowed me to learn the philosophy behind the music. Jazz is not a technical function of music, it is philosophical function—it is about story telling. I became a drummer. People always ask me why I picked percussion—I don't really like the piano as an instrument to play, it just doesn't click for me. Drums click for me and have since I was a little kid. I am not your normal drummer because I sing songs, play funk. I am 55 and grew up with Joe Williams, Ella Fitzgerald and Stevie Wonder. I know a lot of people in my generation love John Coltrane and Grover Washington, Leon Thomas and Joe Williams, Peabo Bryson and Stevie Wonder, and they even dig Usher and Jay-Z. We have the most varied ear in the history of the world. I've had the "Jazz CD of the Year" in 1999, which was unbelievable because drummers don't do that. It was a tribute to my father, "Monk on Monk," that I did with half the superstars of jazz. This project, the Monk Institute, is my dream because it's the way that I can give back to an art form that's fed me, defended me and my family. To have two generations to be successful at this is truly a gift from God.
How do you think hazz should be incorporated into the curriculum for young people?
The younger generation knows very little about jazz, but we all know that it is important to know one's history. The remarkable thing is that we find when we come into the schools, once exposed to live music, the kids' attitudes change. Some kids get completely immersed in instrumental music and immediately want to take up music. We have rich American musical history, with people like Stephen Foster, Jelly Roll Morton, Duke Ellington, Irvin Berlin, Copeland, Stevie Wonder, Smokey Robinson, Kyle King and Thelonius Monk—the list goes on and on. Right now, I find that there is resurgence of music appreciation in our schools because there is a refocus on cultural issues, which goes to the issue of our children's character. If you study American musical history, one finds jazz is the art form that all the other idioms take from. I am very encouraged. As we move into the 21st century, we are injecting American musical history and American musical appreciation into our curriculum and this is healthy thing.
What are the students learning?
There are some fundamental object lessons that one learns in the process of learning jazz history and music that definitely stay with the students beyond the classroom. For instance, the concept of tolerance is a fundamental democratic concept, and in jazz we say that everyone has something to say, everyone is included, so that lesson is reinforced. The emphasis on the individual creative process with a strong association to group responsibility is another fundamental democratic tenant and is a fundamental tenant of a jazz ensemble as well. Another lesson is communication—jazz musicians create a mutual language. Americans are constantly taking little pieces of everybody's language, and we turn them into this thing we call American. So an American word can be any kind of word—whoever comes here wants to become American, it doesn't matter what the part of the world you came from, you can communicate. That is what jazz musicians do.
What advice or words of wisdom do you give young jazz musicians?
The first lesson any good jazz musician would tell you is to listen. Try to get as much music under your belt as you possible can. That goes back to the fundamentals of tolerance and inclusion—listen to everything—Brazilian music, hip-hop, country, gospel, classic R&B, funk and classical music because all of those things contribute to one's ability to put together the alphabet necessary to form the words necessary to speak the language of jazz.
Why do you think that this generation lacks love for good jazz music, as compared to hip-hop or R&B?
We have done a great disservice to our children by allowing them to determine their diet, both intellectually and culturally. When I look at the negative things that people talk about in terms of the music that our young people are getting on the radio, I say we can't blame the kids. The kids are not the programmers, the producers or the record companies. It is our desire to make money that has allowed us to abuse our children. The second issue is we have also abdicated our responsibility on many levels in terms of letting our children know their history. I know children from India and Sri Lanka that know more about American history than American children. It is not just jazz history; it is black history, Native American history, cultural history, political history or military history. And we don't know our history in general.
What strengths or weaknesses do you see in young Mississippi musicians?
I don't see any weaknesses. I only see strengths, and the greatest strength of any state is its history. Let's be clear—all of the great jazz artist we know for the most part come from the South. If we did not come from the South, our families came from the South. The philosophical concept came with us to the North. If we explore our history, we'll find many reasons for there to be a strong emphasis on jazz and blues in the school systems in Mississippi. We have to teach our children what we want them to know.
What is one thing most people don't know about you and your father?
Most people don't know that Thelonious Monk was a family man. In the early years, he did a lot of mister-mom, so I have many memories of Thelonious Monk changing diapers, before we had Pampers. My father was big on parties, played pool; he was a very regular guy. Thelonious Monk was not unapproachable, aloof or detached. One of his favorite phrases was "everything is happening, all the time." Anyone who says that is certainly not detached.
[A correction has been appended to this story.]
More stories by this author
Support our reporting -- Become a JFP VIP.
The news business has changed dramatically in the past year, and we need your help more than ever to keep bringing you important stories about Jackson and the Metro. Become a JFP VIP with an annual membership or you can Sign up as a monthly supporter. Thanks for anything you can do to empower our journalism!