April 14, 2005
As the municipal elections roll through the city, one of the most repeated questions bombarding candidates concerns the issue of crime. Jackson, say some residents, has a disproportionately high rate of it. Joe Lauderdale, owner of Sunbelt Sealings Inc., and Jackson resident of 35 years, is one of those residents. "They say the numbers are good, but I say they're still bad," Lauderdale said.
"Our numbers, in most instances, are way above the national average for a city our size. There are vagrants living in abandoned houses. The owners aren't doing anything about them. These vagrants are breaking into businesses and running people out of the downtown area, and it's not going to get any better until we get rid of them. We've got to have (a mayor) to push this, because the bureaucracy is so slow. I look forward to having a new mayor."
Based on 2002 Federal Bureau of Investigation Crime Reports, the crime statistics for 2002 in the city totaled 17,648, averaging 9487.56, per 100,000 people. The national average was 4118.8 per 100,000 people. Jackson murders numbered 49 in 2002. That's 26.34, per 100,000 people, high above the national average of 5.6 murders per 100,000.
Five Points of Light?
Still, Jackson Police Chief Robert Moore says the crime in the city has declined steadily and considerably over the last few years, and he points to the same statistics to support his reasoning. "I look at the FBI trends at crime, too, and if you want to look at 10-year periods or five year or one-year periods, if you will start back in 1991, we had 30,000 crimes being reported to the city of Jackson. Today in the end of 2004, we had 13,000 reported. We're talking about a 56 percent drop in crime."
Moore continued: "Now, from 1991 to 2004, if we look at when Mayor Johnson came aboard, there were about 20,000 crimes being reported, and compared to (the 30,000) that preceded him, that's about a 35 percent drop under Mayor Johnson. When I came aboard, there were about 18,000 being reported, and now there are about 13,000. There was a 21 percent drop under my administration. I'd say that's an improvement."
Jackson Police Foundation President Susan Lunardini attributed much of the success to the effectiveness of Chief Moore's Five Point Plan, instituted in May 2003. The plan, orchestrated with the help of the Maple-Linder Consulting Group in 1999, calls for vigorous enforcement of laws, maintaining professionalism within the police department, cooperation with other law enforcement agencies, community policing and youth programs.
"I think the Five Point Plan is working," Lunardini said. "The community-oriented policing at the precinct level has been very good. Any citizen concerned can go to the precinct and talk about their problem. For the longest time, the majority of citizens did not know who to call. In 1999 there was a gulf between the police department and the citizens. The citizens were very leery. The media had demoralized the police department to the point where they couldn't do anything."
Lunardini said that the steps offered in the Maple-Linder study, such as adding an FBI agent to Internal Affairs and moving the unit to a different location outside the police department, were two important steps in weeding out departmental corruption. Eight officers have been dismissed from the department on charges of corruption so far.
Community policing in its purest forms—with its proactive and preventive measures in addition to catching criminals—is a different approach from "traditional" or "zero tolerance" policing, which focuses on catching all the bad guys and locking them up, even for minor offenses (thus clogging the jail system even more). This approach is falling out of favor in cities around the country—largely because it does little to actually lower the incidence of crime and recidivism. (Even the results of the "zero tolerance" approach in New York City under tough-guy mayor Rudy Giuliani—who enforced strong gun-control policies alongside a record number of trivial arrests—were questionable, said critics. Detractors say that crime fell in cities without zero-tolerance crime policies at similar rates during that period, with most experts crediting the good economy and ample job market for that drop. And the lawsuits brought on by Giuliani's policies proved expensive to the city.)
Policing is as much about prevention in the 21st century. "Traditional policing doesn't work," said Jackson State University criminal justice professor Jimmy Bell. "The idea of showing up after the crime is committed isn't proactive enough. Research indicates that there's no correlation between the saturation of a patrol and the reduction of crime. It's how you target your personnel," Bell said.
Open to the Public?
Personnel, and more of them, is key to the Five Point Plan, Lunardini said. So was allowing the increase of patrols and sweeps in high-crime areas. The JPD has swollen its ranks by more than 100 officers since Moore's arrival, so much that Moore was initially concerned that the force increase could clog court dockets. Hinds County Sheriff Malcolm McMillin has said that the county jail has been routinely operating at capacity and the courts have a backlog that prosecutors are still fighting, with the most congestion on Fridays and Saturdays.
Moore also touts the development of the weekly COMSTAT meetings, and says he releases crime statistics to local media on a more regular basis.
"The Maple Linder Study said we should become transparent, and so every quarter we release data, whether it's good or bad," he said. "We release the weekly COMSTAT reports and have done that ever since 2003."
JSU professor Bell said, though, that Moore's department could be more open to the public. "You make a serious effort to involve citizens. You can't just call to order a community meeting where the citizens talk about their problems. That's just a community forum. That's part of it, but it's not the actual implementation."
Bell said citizen involvement—which includes believing their efforts can lower crime in the community—is vital. "Implementation means involving citizens in all aspects of policing, from planning to implementation," he said. "How many citizens are sitting in on the so-called COMSTAT meetings? If the COMSTAT approach is to produce accountability, then where is the community involvement?"
Last year, the police department started releasing weekly crime statistics for each precinct to The Clarion-Ledger, which the statewide newspaper posts on its Web site (while it does not post crime statistics from other cities in the state). JPD, however, has not been as forthcoming with weekly statistics to other media, such as the Jackson Free Press (telling us to get them from The Clarion-Ledger site), and it can be very difficult to get crime information about specific neighborhoods on blocks within the police precincts to compare, for instance, how those sections are improving over past years and how they compare to surrounding blocks.
Statistics Fraud?
Some critics say that there is still room for misinformation, deliberate or otherwise, from the stats released by the JPD and the city. Democratic mayoral candidate Frank Melton told a group in North Jackson recently that the crime figures coming out of the department are not the real numbers—implying that the city is under-reporting crime—and has pledged to uncover more accurate figures as a mayoral objective.
Likewise, Republican Rick Whitlow openly accuses the city of cooking the numbers: "I have seen all those crime reduction numbers that in the past year the current administration has released in an effort to convince you and your family that you are safer now than at any other time. The integrity of those numbers is bad at best." Neither man provides evidence of fraud, though.
Moore said that the crime figures get the scrutiny of local media at every release.
"We have invited people from the community to come down and count the crime. It doesn't take a rocket scientist to know that we've got seven homicides reported. Crime stats are calculated through a standard process called Uniform Crime Reporting procedures and we're bound by that," Moore said.
The chief added that his reporting procedure is a vast improvement over that under previous police chiefs. "We didn't have stats for the last 20 years before I got here. I've gone back and released stats so we could show progress from the last 24 years all the way up to today. My system is open; we provide that information to The Clarion-Ledger on a weekly basis. They account with us every year; every time we release numbers, we have to agree on the numbers, so we really have nothing to hide."
Lunardini pointed out that lying in the reports would be lying to the FBI—a very serious offense. "It is against the law to lie to the FBI, and these crime statistics go directly to the FBI's Department of Justice. New Orleans had a horrible scandal recently because they were under reporting. I'm sure there are isolated cases of an officer who does not want to fill out a report, and what the people should do is get that officer's badge number and report it to Internal Affairs," she said, adding that the imperfect nature of people, unfortunately, lends itself to error.
"All statistics are inherently flawed, unless you have cold, hard measurements, such as what I do with my business. There are estimates, and then there's statistics, and then there's actual facts," she said.
Jackson is the only city in the metropolitan area currently required to log uniform crime reporting.
Your Stats or Mine?
Two years ago this month, the SafeCity Initiative—an independent city crime watchdog group (formerly the Metro Crime Commission)—launched with a flurry with now-mayoral candidate Rick Whitlow at the helm. The group proclaimed that it would bring "accountability" to crime-reporting by compiling "actual" crime statistics into a crime database and then releasing the "accurate" information to the public.
In an interview with the Jackson Free Press in April 2003, Whitlow said that Jackson was drowning in crime—and was, in fact, "ahead of national trends" for crime. But when questioned in the same interview about the need to compare crime in Jackson with cities with similar demographics, he said we have to be "careful messing around with stats." Still, though, he rejected the idea that we should ignore statistics all around if they are so unreliable. "Then we wouldn't have a measuring stick."
The truth is, both the city administration and the city's critics are relying on the same set of statistics—the numbers reported by the Jackson Police Department to the FBI. Those same numbers are used by the city to show that crime is dropping—and by organizations such as Morgan-Quitno in Kansas to determine the "most dangerous" rankings that are so often quoted by political candidates in the state (see sidebar).
The SafeCity effort was dramatically scaled back within a year, without any remarkable evidence being presented that the city was fudging statistics. Whitlow went to work for the state, doing publicity for the Department of Human Services under the Barbour adminstration.
Still, others involved with the group today argue that JPD is not presenting the public the entire picture. Mark McCreery, now president of SafeCity, is owner of Ameri-Mail Direct, a business in downtown Jackson. McCreery praised the effectiveness of the Five Point Plan so far, but mirrored Bell's concern that the department needed even more transparency.
"We hear about reports, and we're given generalized information about what's happening in our neighborhood. I'm glad they're doing that. They're giving out a lot more information than what they did just a couple of years ago, but I would like an independent group to have an opportunity to look at records and verify that those records are truthful," McCreery said, adding that sitting in on COMSTAT meetings "would be very helpful." Chief Moore has to invite members of the public or media for them to be allowed into those meetings.
Communications Gaffes?
McCreery said one of the roadblocks to criminal management was interdepartmental communication.
"Right now, if somebody gets arrested and put into the system by the Jackson Police Department, then nobody else will know it. The sheriff of Rankin County might have a long history of this person in 20 cities, but Jackson may as well be starting fresh. There's nothing in there in terms of tattoos, facial recognition, where he lives, what kind of cars, drug habits and problems he's had. None of the information that helps you solve a crime. We start over every time they go into a new jurisdiction," McCreery complained.
McCreery said when JPD files its report, they give a written report to the D.A., which has its own closed system, which is highly under-funded in terms of technology. If the D.A. decides to indict this person, their record goes into the court system which, in turn, must start over with its own closed system containing its own docket and tracking system. The interdepartmental isolations does not stop there, however, said McCreery. If the same person is found guilty, he's off to Corrections.
"And what does Corrections do? They set up a whole new closed database. Corrections, because of their contract with Motorola, doesn't allow sheriffs or anybody else to look at their data, so they have to do reports or call somebody with corrections. That's why we have parolees let out all the time without sheriffs knowing about it," McCreery complained.
"What we really want is a centralized computer management system that would be a one-stop database for the entire state. We want one system that everybody's putting information into and utilizing and we want to get rid of all these smaller systems all over the state. We probably have a thousand different databases that have records with respect to jail management, with respect to arrest, with respect to drug courts, judges, DAs, and that's a huge amount of resources being spent. It's highly ineffective."
The state's coastal area has already begun experimenting with a pilot project called the ASP program. Instituted by the sheriff of Harrison County about three years ago, the project has taken in three counties on the coast. Forrest County is now in it, with the addition of about 15 small cities giving their data over to ASP.
McCreery said Gov. Haley Barbour and Attorney General Jim Hood, along with Mississippi Department of Corrections Commissioner Chris Epps, are looking to pursue a unified system. McCreery said he was hopeful.
"A lot of other states have this same problem, but we're a small state with only 2.8 million records to deal with. Other places are a lot bigger with more stuff to deal with, so I think we've got an opportunity to do something about this and come in first instead of 50th and other states will ask 'how'd you do that?'" McCreery said.
Drowning in Crime?
Mayoral challengers Melton and Whitlow are staking their campaigns on the fact that people believe that crime is the No. 1 issue in Jackson—and the belief that it's getting worse, rather than better. However, the campaigns are not providing many specifics on what they would do differently than Johnson and Moore, although they both say that "leadership" is key. And both say they would fire the police chief, meaning that Jackson would be facing its 12th search for a police chief since 1989.
Both candidates are basing much of their campaign talk on the idea that the chief and the mayor do not take crime seriously, due to statements both have made that the "perception" by citizens that crime is out of control in Jackson—as perpetrated by the media over the last several years even as crime was dropping—is not good for the city (see page 4).
Melton states in his platform: "My plan for providing public safety and fighting crime starts with a basic premise: Crime is a REAL problem and something CAN be done about it. I plan to ensure that the police department has in place professional, knowledgeable and committed leadership and that they have the necessary support and resources to accomplish the goal of true crime reduction."
Melton's platform says that the police department is "brass weary," with too many chiefs and commanders. "The bulk of personnel of any police department should be allocated to the streets and neighborhoods, interacting with our citizens and confronting crime, not the confines of police headquarters, behind a desk," he promises.
The Democratic challenger to Johnson seems to give no credence for drops in crime in recent years—and acknowledges no successes on the part of the city in this respect. "[T]he truth is the police department has not engaged in or practiced community policing at all. It has been used as a buzzword to give the false sense that something is being done about crime when in fact the same reactive style of policing continues," he states.
Both Melton and Whitlow have said publicly that they would fire Police Chief Moore.
"First, and foremost," Whitlow says on his Web site, "we have to honestly address the crime crisis that is challenging us. The first step in that process will be starting a nationwide search to find and hire the best and toughest law enforcement professional to be chief of police. Provide him with the names and contact numbers of other law enforcement counterparts in the metro area. Provide the resources, and support needed to aggressively fight crime in Jackson, turn the chief loose, require accountable, and judge the results, not the promises."
Whitlow says he would return to the idea originally behind the SafeCity Initiative of watchdogging the JPD: "I would implement a plan where an independent agency compiled the crime statistics and let the chips fall where they may," he said.
Meantime, citizens across Jackson continue to take different sides in the effectiveness of the city's crime control.
"I've been here for a short while, and my neighbors down the street got their house broken into just two weeks ago, and they didn't even bother to report it," said Marcus Sims, who has recently come to Jackson to stay with his sister off Capitol Street. "I think a lot of crimes, like that one, just don't get reported."
"Well, I think crime is overestimated," said 20-year Jackson resident Mark Scurlock, who considers violent domestic disputes not exactly on par with stranger-robbing-stranger crime. The former is more common than the latter.
"If you have two friends in the car and one of them shoots the other, what can the police do? But from the point of the view of the news media, that's crime. I haven't had any neighbors or relatives suffer crime. I think it's overrated," Scurlock said.
Additional reporting by Donna Ladd. See JFP Elections blog at jacksonfreepress.com.
Previous Comments
ID

169012

Comment

The Clarion-Ledger answered with their own crime story today. There's some interesting framing going on here: Mayoral challengers Frank Melton and Rick Whitlow have taken strong stances against crime, while incumbent Harvey Johnson Jr. stands by his record of fewer reported crimes. Johnson, Melton and Annell Smith will meet in the May 3 Democratic primary. The winner will take on Whitlow, a Republican, in the June 7 general election. I feel like I'm back in graduate school here again, examining subjective media framing. Look at what I bolded above: what does that statement, as written, imply? Answer: that the mayor has not taken a strong stance against crime. Of course, it would be more accurate to say that Whitlow and Melton have made crime the centerpiece of their campaigns, but instead it ends up that they have "strong stances" against crime, while presumably the mayor doesn't. Classic journalistic framing to make a certain point. While crime numbers are down, some residents and business owners throughout the city still say economic projects ó even basic beautification ones ó can't take hold until people feel safe. With this quote, I'm not commenting on the journalist's subjectivity. People are indeed saying this -- and, as I talk about in my editor's note this week, this is just ignorant thinking, with all due respect. Now, what a civic journalist would do here is actually take a peek at the research behind what communities do to lower crime and see that economic development and beautification is at the ROOT of bringing crime down, not this faulty perception that is thrown around by politicos who want to trash revitalization efforts (and then believed by people who haven't bothered to do the homework themselves). But The Ledge isn't civic journalism, as we all know, so ... The city's murder rate of 27.81 per 100,000 last year was more than five times the national average. Last year's 52 criminal homicides was the highest since 1998, when 60 people died. It's always interesting to watch The Ledge go cherry-pick the statistic that makes crime sound the worseóand you can always count on 'em. Maybe this is in the employee manual as a requirement. Anyone who thinks about this a little knows that comparing Jackson to the national average for crime, murder or anything else is basically useless. What matters is figuring out how many murders are domestic, where the guns come from, what neighborhoods, and so on, and how we compare to similar demographic areas, to see what they're doing that's better than what we're doing. This, as written, is pure sensationalist use of statistics to dramatize the point. With Gannett's vast resources, they can do better journalism than this.

Author

ladd

Date

2005-04-15T10:12:13-06:00
ID

169013

Comment

Am I the only one whose eyes roll back in my head when The Clarion-Ledger runs an editorial 18 days before the mayoral primary complaining because we need to "have a real debate" on issues? Where have they been? Have they been demanding facts from the candidates, budgets, hows, whys, details. Where have been their issue comparison leading up to the primary? What have they been doing? Very little, and then they start whining. This just figures: Where Jackson mayoral candidate Frank Melton does or doesn't file his homestead exemption isn't going to solve the city's pressing issues, such as crime, housing, transportation, or services such as water and sewer. So, now that the attorney general's office has resolved that he can run in the May 3 Democratic Primary against incumbent Harvey Johnson Jr., can we have a real debate?

Author

ladd

Date

2005-04-15T10:49:41-06:00
ID

169014

Comment

I read that piece (before seeing your post) earlier this morning and read the "stance" statement exactly the same. You can't help but see that as loaded regardless of the candidate you support. Honestly, I was a little shocked at how it seemed so blatant.

Author

kaust

Date

2005-04-15T11:16:30-06:00
ID

169015

Comment

Absolutely, Knol. I met that reporter last night, and he seems great. (And he did a pretty good job on the Melton walk-out story today, although he got there too late for the circus.) So the "stance" statements may well have been added by an editor, so let's not assume it's Jack doing it. The Ledge's problem is that they have a recent history with sensationalism crime coverage; thus, many of their stories come across as defensive; I assume it's because they're trying to cover their tracks a bit, while admitting that the earth wasn't coming to an end a couple years back when they acted like it was and helped drive people and consumers out of the city. Gotta love that civic journalism. I'm still waiting for the Vaiden crime stats to show up on the statewide newspaper's Web site.

Author

ladd

Date

2005-04-15T11:23:19-06:00
ID

169016

Comment

Here's The Clarion-Ledger story from yesterday about felonies falling 7 percent. This is a money quote and a teachable moment: Melton said he was pleased for all Jackson residents ó if the latest JPD crime stats are correct. "Until we can authenticate these numbers, they don't really mean anything to me," he said. "The question to Jacksonians is: Do you feel safe?" Melton said he hears stories every day about crimes that go unreported. A civic reporter's next question? "Sir, how do you plan to 'authenticate' the numbers?" and "Do you have evidence that the numbers are not 'authentic'?" and "These are the numbers provided to the FBI. Have you talked to the FBI about problems with crime statistics in Jackson?" And so on.... Otherwise, they are just reporting unsubstantiated rumors without trying to factcheck them. Tsk, tsk. This one's intriguing, too, for what it doesn't say: Nine homicides were reported during the first quarter of the year, the same number as last year's first quarter, according to Moore. Moore, however, is counting only seven. Two people fatally shot by police officers have been ruled justifiable, according to police. What's missing? The FBI doesn't allow justifiable homicides to be counted. This reads as if it's Moore's decision. But, it's "objective," right, because it includes "both sides" and treats them equally? Ahem, class.

Author

ladd

Date

2005-04-15T12:02:56-06:00
ID

169017

Comment

Another question the reporter could have then asked Melton: "Could you give me some names of those who tell you about those unreported crimes?" And, "are they 'unreported' by the people themselves (which wouldn't be wrongdoing by the police) or by the police themsleves (which would be wrongdoing by the police)? Your answer is kind of vague, sir. Please elaborate." Journalism 101: When someone is alleging wrongdoing, even if it a political candidate (especially?), it is the reporter's job to check it out before making it sound like it's true. Instead, unsubstantiated claims are being presented here as equal to the new crime statistics. On what planet does this make sense to do?

Author

ladd

Date

2005-04-15T12:06:31-06:00
ID

169018

Comment

No, donna. your idea of 'civic journalism' is better known as 'liberal media'... the ledge has decided that its readers like their news simple, easy to digest, and slanted away from anything that might smell progressive. if a reporter gets too indepth (like, say, asking frank melton a simple question to clarify an assertion he's made), then feathers get ruffled over in northeast jackson and out in the 'burbs, and then their readership drops. because folks start saying that the damn state newspaper is part of the damn liberal media mafia/conglomerate, and that they're in bed with mayor johnson... for added proof of this: they print doonesbury and molly ivins! sheesh.

Author

Jay

Date

2005-04-15T13:21:20-06:00
More stories by this author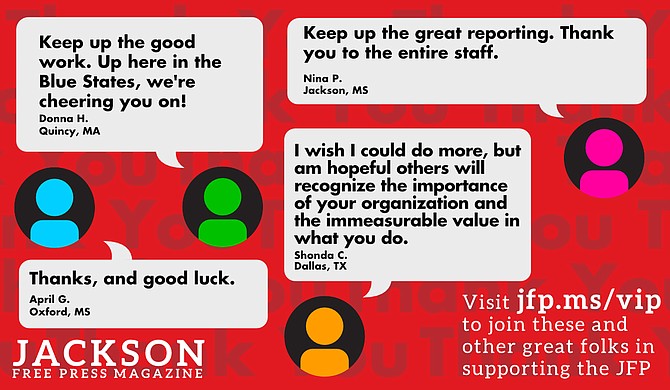 Thanks to all our new JFP VIPs!
COVID-19 has closed down the main sources of the JFP's revenue -- concerts, festivals, fundraisers, restaurants and bars. If everyone reading this article gives $5 or more, we should be able to continue publishing through the crisis. Please pay what you can to keep us reporting and publishing.