The soul origins of Detroit, Houston and L.A. set to explode onstage at New Orleans' Mid City Rock'n'Bowl. Ponderosa Stomp is more than an insane two-night roots music festival between Jazz Fest weekends at a bowling alley in New Orleans -- though it certainly is that. It is the only festival to actively scout out and reclaim the careers of first generation practitioners of blues, R&B, rockabilly, garage rock and swamp pop.
And this year, the festival – which takes place Tuesday and Wednesday, April 26 & 27 at Mid City Rock'n'Bowl in New Orleans – features a heart full of soul. Three influential but long-missing-in-action soul stars are among its ranks: Brenton Wood, Archie Bell and Nathaniel Mayer.
Los Angeles soul man Brenton Wood is known to '60s pop listeners for his hits "The Oogum Boogum Song" and "Gimme a Little Sign." The Shreveport native grew up in South L.A., where his heroes included Sam Cooke and Jesse Blevin. After a short stint with Little Freddie King & the Rockets, he signed a songwriter pact with what would become Double Shot Records. A decade later, his moment in the spotlight came with "Oogum Boogum" and the mesmeric "Gimme a Little Sign." Though he never surpassed these moments on record, Wood remains feverishly popular in the Latino community, and is part of the continuum of artists— including Thee Midniters, War and others -- whose songs and reputations have risen to mythic proportions wherever Pendleton shirts, pachuco crosses and massive hydraulic systems are seen. As he says, ""Brown-Eyed Soul isn't about color. It's a way of life – music that is passed from generation to generation like a family heirloom…the Latino culture is like one big family."
When touring took Brenton Wood from East L.A. to Houston's Third Ward, no doubt he crossed paths with Archie Bell & the Drells. Bell & the Drells scored a left-field number one hit in 1968 with "Tighten Up," which epitomized the virtues of their music: funky, exuberant, danceable soul out for a rousing good time. Bell was drafted in 1967. Before he was shipped overseas, he managed to record a few more tracks with the Drells, including the single "Dog Eat Dog." "Tighten Up" was its B-side. Backing the Drells was an instrumental R&B combo from Texas Southern University called the T.S.U. Toronados. R&B radio jumped on the "Tighten Up," rendering it a smash hit in Houston and drawing the attention of Atlantic Records. With major-label distribution, "Tighten Up" took the country by storm in early 1968, hitting number one on both the pop and R&B charts. Stewarded by mega-producers Kenny Gamble & Leon Huff, Bell went on to record three more hits, "I Can't Stop Dancing," "Do the Choo-Choo," and "(There's Gonna Be A) Showdown" in 1968-69. The Drells gave their last performance just before Christmas 1979. Bell subsequently cut a solo album, I Never Had It So Good in 1981, and had a minor hit with "Anytime Is Right," but disappeared from the scene afterward.
Contrasting Brenton Wood, who became lionized by Latino audiences, Bell, backed by a new set of Drells, later became a staple of the East Coast's oldies-centered beach music circuit centered in Myrtle Beach, S.C.
A third and very different brand of soul emanated from the Northern industrial states. Nathaniel Mayer's fractured soul was a perfect match for Jack and Devora Brown's Detroit-based Fortune label, in their (tragically recently demolished) cramped studio on Third Avenue, which make up the entirety of his career on record — are the kind of otherworldly things so magical that they almost shouldn't be talked about, just listened to. His first recording. "Village of Love," was his biggest hit, still fervently remembered in Detroit today. The backing band was propulsive and raw, sounding as if they were about to explode at any minute, yet anchored by a drummer so solid and simple that they couldn't have derailed if they tried. It was this tension, bolstered by Mayer's high register vocals and the Browns' in-the-red recording techniques — all subtleties left at the door — that has endeared "Village Of Love" to the world of rock 'n' roll maniacs ever since.
Disappearing into the ghettos of Detroit for the next two decades, every rumor imaginable compounded to turn Mayer into a walking urban legend. By the time Norton Records issued the amazing, previously unreleased Gino Washington production "I Don't Want No Bald Headed Woman Telling Me What To Do" in 2002, the underground audience was primed for the return of the Nay Dog and they got more than they could have ever hoped for when he utterly devastated The Millenium Theater on July 20, 2002 at The Detroit Legends Show. From the second he took the stage, it was evident that, to paraphrase Ike Turner, Nathaniel Mayer was taking back his name. Mayer also played the 2003 Ponderosa Stomp.
After 35 years away from recording, he signed on with Fat Possum Records to make his first ever full-length album,,I Just Want To Be Held. The album carries a "classic" Detroit soul sound and features a full band behind Mayer's everlasting and razor sharp vocals.
The two-night music festival, scheduled for April 26-27, 2005, once again will take place on two stages at the legendary Mid City Rock'N'Bowl Lanes in New Orleans from 5 p.m. until 2 a.m. each night. Tickets sell for $35 per night through the festival's web site, http://www.ponderosastomp.com and at the door. Prospective attendees are advised to purchase tickets well in advance as both nights are expected to sell out. The two nights of Ponderosa Stomp are book-ended by the two weekends of JazzFest so thousands of music fans will fill the Crescent City.
This year's lineup represents Ponderosa Stomp's most ambitious assemblage of American roots legends yet. Scheduled to appear are The Bad Roads, Classie Ballou, Archie Bell, Eddie Bo, Blowfly, Lonnie Brooks as Guitar Junior, The Carter Brothers, Jay Chevalier, Joe Clay, Larry De Riuex, Deke Dickerson & the Eccofonics, Skip Easterling, Nokie Edwards (of the Ventures), Johnny Farina (of Santo & Johnny), H Bomb Ferguson, Henry Gray, Arch Hall Jr., Betty Harris, Dale Hawkins, Roy Head, Al Johnson, Johnny Jones, Little Freddy King, Eddie Kirkland, Lady Bo, Lazy Lester, Robert Jr. Lockwood, Matt Lucas, Barbara Lynn, Mando & the Chili Peppers, Nathaniel Mayer, Scotty Moore, Phil Phillips, Freddie Roulette, Lil' Buck Senegal & the Top Cats with Stanley "Buckwheat Zydeco" Dural on Hammond B3 organ, Ray Sharpe, Warren Storm, Willie Tee, Travis Wammack, Barrence Whitfield, Brenton Wood and Link Wray. (Individual artst bios are posted at http://www.knights-maumau.com/stomp_4.php )
Stomp goers may also want to get into the mood with Ponderosa Stomp Radio by Live365, featuring many of the festival's performers: http://www.live365.com/stations/bentmedia?play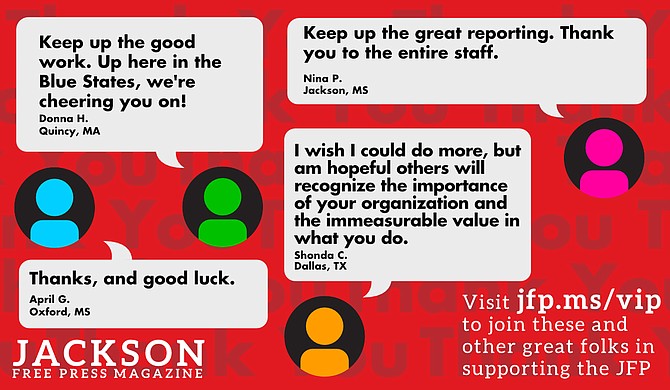 Thanks to all our new JFP VIPs!
COVID-19 has closed down the main sources of the JFP's revenue -- concerts, festivals, fundraisers, restaurants and bars. If everyone reading this article gives $5 or more, we should be able to continue publishing through the crisis. Please pay what you can to keep us reporting and publishing.