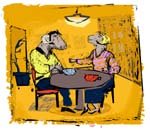 Andrew Scott
Sept. 23, 2004
Legend has it that an Ethiopian goat herder discovered coffee. He noticed his goats became frisky after eating the berries from a certain plant. As the person in charge, the herder did not want the goats to know something he didn't, so he tried the berries himself. Most likely apocryphal, the legend contends that pumped up on the caffeine, all had a good time. We share a common coffee heritage with our bearded animal friends—I will never think of chevre in the same way again.
Thankfully, good coffee, once the exclusive province of fine restaurants where people of means and breeding gathered to appreciate the better things, is now available to the proletariat.
One might ask, "What is the difference between the $2 cup of coffee at my local coffee house and the 69-cent version at the corner convenience store?" Other than the obvious answer of $1.31, the difference is marketing. An institutionalized form of misleading, misstating and lying marketing is practiced by a group of people who have been unable, throughout their miserable lives, to attain honest work. In the coffee realm they convince you that the $2 cup is actually superior to the 69-cent cup because you can sit and drink it while surfing the Web on your laptop. Marketers are big on form over substance. Alas, I enjoy sipping a tall medium roast while trying to decide if the letters to the editor in The Clarion-Ledger are real or made up by some frustrated sitcom writer.
Jackson's premier coffee house is Cups with various locations including 1855 Lakeland Drive, Northpark Mall and my favorite, 2757 Old Canton Road in the Fondren District. Cups offers coffee in all its variations, tea and, at most locations, an assortment of baked goods along with a great, laid-back atmosphere. Sandwiches are available at Lakeland Drive. The big draw for the Old Canton Road location is the people. One can mix and mingle with business people, artists, medical students and even an occasional journalist. It is a great place for conversation with your java.
Another exceptional coffee venue is The Coffee Roastery next to Cingular Wireless in Dogwood Festival, Flowood. With a modern, comfortable setting, The Roastery is a great place to take a break and enjoy a cup of coffee with some of their excellent pastries. A fireplace offers warmth as well as atmosphere in the colder months, and Italian ice cream is available to cool you in the summer. Local ceramic artists offer unique coffee-related pottery.
New to the Clinton area is Mr. Bentley's Coffee House and Internet Cafe in Springridge Village Shopping Center just north of I-20 from exit 36. In addition to the free Internet, Mr. Bentley's has the usual lineup of drinks and pastries as well as Stewart soft drinks. For true lovers of great coffee, Mr. Bentley's now offers Jamaican Blue Mountain by the bag or by the cup in a French press.
Madison County yuppies and the Highland Colony Parkway business crowd will want to try Fusion at 111-A, Highland Colony Parkway in Madison. High ceilings and lots of glass provide for an open and inviting atmosphere. Live jazz accompanies Wednesday's lunch, and free Internet access is available at all times. Consistent with its artsy theme, the computers are all Apples. Madison can get the Jackson Free Press at Fusion for free. The Northside Sun still costs fifty cents.
For those on the other end of the Metro Area, there is Flashbacks in Byram. Take the Byram exit off I-55 South and cross over. Remember to take a left at the second light. If you turn at the first light, you will end up right back on the Interstate. Obviously, whoever engineered this had missed his or her second cup of coffee. Flashbacks will be on your right in a strip center. Eclectic décor and exotic coffee (I had the wild blueberry and brandy flavor), await as well as salads and sandwiches. Local folk and bluegrass groups provide music on the weekends including the local sensation, Harmony and Grits.
As you sip away, remain alert to those beguiling marketers whose work is never done. Remember, "The best part of waking up is Folgers in your cup."
Friends, if a cup of coffee is the best part of waking up, you are obviously sleeping with the wrong person.
Andrew Scott is a pseudonym of a JFP food writer.
Previous Comments
ID

84296

Comment

Folgers isn't coffee- it's some evil marketing scheme to make us believe bitter brown water is palatable. Nobody is paying me to type this: having grown up in New Orleans, it's hard to beat Community Dark Roast, usually $3lb off the grocery store shelf. Compare that to the price of one cup of gourmet coffee. I am passionately pro-Community, and love the fact none of the giant corporations have managed to buy the company and ruin the product. Turkish proverb: "Coffee should be as black as night, as strong as death, and as sweet as love."

Author

corrosiongone

Date

2004-09-22T17:24:35-06:00
ID

84297

Comment

Corrosion, I hate to tell you this, but it's *easy* to beat Community. Beat it like a drum. go to www.peets.com Founded in Berkeley 30-some odd years ago. The coffee will change your life. Or at least your body chemistry.

Author

kate

Date

2004-09-22T18:42:30-06:00
ID

84298

Comment

OK, I'll make my stand in the coffee wars. My favorite is the very inexpensive--at least in NYC--Cafe Bustelo espresso, but used to make regular coffee. When I lived in Colorado, I'd buy it on trips to NY (before the Internet made coffee snobbery so accessible) and take it back. However, Todd and I found that we nearly killed each other when we were drinking it, so we had to give it up. But it was fun while it lasted. Now I drink whatever he makes and brings me in bed. ;-D

Author

DonnaLadd

Date

2004-09-22T20:50:00-06:00
ID

84299

Comment

Kate, tampering with *my* body chemistry could set off events worse than warned about in Revelation. Your post underscores my own: I can get Community right off the supermarket shelves, it's roasted by a privately-owned Baton Rouge company, and I don't have to visit a website to order it: I can walk across the street to the store to buiy a pound. If Peets ever makes it to Jackson, let me know. But that's another reason to love coffee: we can all fight, snarl and call names over which is best and then settle right back into a mug of our own favorite. And hey, while browsing for a film at Video CafÈ, it's never a mistake to ask Richard or Ro to make a cup of expresso for you.

Author

corrosiongone

Date

2004-09-23T17:22:12-06:00
ID

84300

Comment

corrosion, you clearly have not discovered the joys of never leaving your house. It's way more convenient to have the coffee delivered to your door, than it is to go to the grocery, what with having to put on clothes and shoes and stuff. And, can I just say that Peet's has had mail order since before the internet. The stuff is so addictive they had to keep their customers in stock, and so started selling via the mail long ago. Now, we can argue about the best way to brew the stuff.

Author

kate

Date

2004-09-23T18:36:14-06:00
ID

84301

Comment

I don't care how others brew coffee. It's as futile as trying to explain that Fleetwood Mac is a pop band, not rock.

Author

corrosiongone

Date

2004-09-25T03:08:41-06:00
ID

84302

Comment

"One can mix and mingle with business people, artists, medical students and even an occasional journalist. It is a great place for conversation with your java." Until you try to speak to someone and they look at you like you're insane. I don't think people in Jackson care that every friend was once a stranger.

Author

Cauthen

Date

2004-09-25T19:05:09-06:00