Songwriter Tricia Walker, a native of Fayette, Mississippi, will debut her new CD, The Heart of Dixie, Wednesday, September 29, 2004 at the Bluebird Café, 4104 Hillsboro Road, Nashville, TN beginning at 9:00 p.m. Reservations are recommended and can be obtained by calling
615-383-1461.
A Nashville resident since 1980, Walker is well known as a performer and songwriter. Her material has been recorded by artists including Alison Krauss, Faith Hill, Patty Loveless and others. In her new CD, Walker has included original songs and others in this thoughtful collection that focuses on the South. In addition to the music, the enhanced CD
includes a video of The Heart of Dixie and other special features such as photos,
lyrics, and audio of the songwriter discussing her personal story that
led to the album¹s creation.
Weaving real life experiences into good stories comes naturally for
Walker, whose mother, the late Marie Walker, was a newspaper editor in
Fayette. The CD¹s title song is about the close ties she had with an
elderly African-American woman who worked for her family for three
generations and helped raise the songwriter. It explores the dichotomy
of
personal black and white relationships in Southern culture that many
from
other areas may find surprising.
³Looking back at my childhood, I realize what a wondrous love was
given
to me,² Walker said of the song about the woman she calls her ³other
mother.² ³That love crossed the lines of gender, class and race.²
An earlier version of the song was included in the prestigious
Oxford
American literary magazine¹s 2001 Southern Music Sampler.
Honey Chile, another Walker original, is a funky tune about an
eccentric
character from Union Church, Mississippi named Sonny Boy Cupit. In
Henry,
written by Keb Mo¹, she sings, ³I can see my future and I can feel my
past,
when Henry plays his steel guitar,² about a man who worked on a section
gang
in the days of hand-picked cotton.
Not content to dwell on the past, Walker looks to the present in
her
delivery of Kate Campbell¹s New South, that describes the modern South
where
Nissan and Mercedes Benz automobiles are manufactured and many of the
region¹s smallest towns now boast Starbucks coffee shops. Walker
collaborated with Campbell on All the Way Home, inspired by southern
writer
Eudora Welty¹s idea that Southerners have a ³sense of place.²
A vivid description of the singer¹s home state is found in Feels
Like
Mississippi, penned by Fred Knobloch. Walker¹s delivery of Bobbie
Gentry¹s
Ode to Billie Joe gives a fresh taste to the classic song.
No stranger to the concert stage, Walker helped originate Women in
the
Round, one of the stellar songwriter showcases featured at the Bluebird
Café. A finalist in the prestigious Kerrville Folk Festival¹s ³New
Folk
Winner² competition, she also appeared on The Nashville Network and has
been
a featured performer in the well-respected Tin Pan South celebration of
songwriters held yearly in Nashville. She has performed at various
venues
throughout the United States and Europe as a solo artist. During her
career, Walker has been in demand as a musician by major recording
artists.
She has played keyboard on tour with Shania Twain and Paul Overstreet
and
Grand Ole Opry star Connie Smith.
More information can be found online at www.bigfrontporch.com
More like this story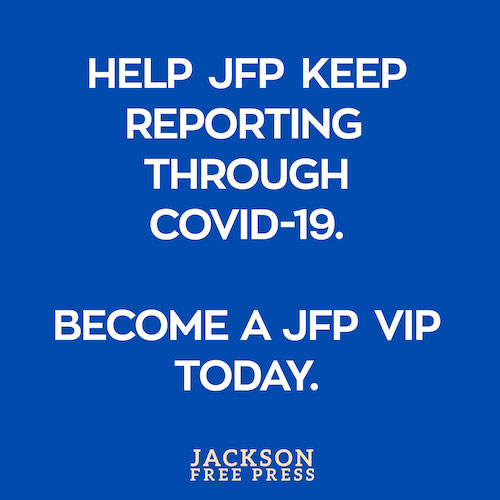 COVID-19 has closed down the main sources of the JFP's revenue -- concerts, festivals, fundraisers, restaurants and bars. If everyone reading this article gives $5 or more, we should be able to continue publishing through the crisis. Please pay what you can to keep us reporting and publishing.