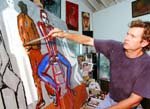 The next time I get a shipment with funky styrofoam packaging too cool to throw away, I'm taking it straight to Studio 3242 North State, workplace of artist Richard McKey. You know the place—you've seen the studio next to Parents for Public Schools on State Street: a cool building of natural wood and ruffled tin sporting wild sculptures of mannequin arms and scrap metal on a lot with a 20-foot drop from the street. A parcel of land unwanted, cast off, seemingly unbuildable, until McKey's vision of a studio created a landmark and a work of art in itself.
Found objects make up the substance of much of McKey's sculpture. "I hate to see waste," says the tall, soft-spoken artist. A friend cast off an old set of fireplace logs, now painted white, that rests at a 90-degree angle, anchoring a twisted wire sculpture. Another friend passed on an old weathered mule collar that now yokes silver metal discs atop an aluminum sculpture with fronds waving in the wind. A giant canvas and rope-wrapped piece of styrofoam is resurrected as a giant mile marker by the driveway. All these works are currently on view at The Cedars for its opening art show, "Autumn," on Sept. 2 at 7 p.m. Fondren artist William Goodman (whose studio/loft was featured recently in the JFP) is also part of the show.
"People that respond to a work obviously have some connection with it and should name it. I love when people see things I don't," McKey says, regarding his untitled pieces. His openness allows him to experiment with many different media and lets the viewer's response be part of the artistic process. Getting people to respond to his work is not a problem—so much of his work is large, bold and freely out there, demanding a response. There is nothing held back in McKey's sculpture or painting. Indeed, his work belies a great sense of humor and an ability to not take himself too seriously. "I'm not a perfectionist," says Mc Key of rust appearing on a white painted sculpture of salvaged scrap metal. "I kind of like that-—I can't wait to see how it will look as the whole piece ages." McKey says he is in an experimental stage. "A friend gave me two welding lessons and now ...," he says, gesturing to several welded pieces. In the backyard of The Cedars, McKey has put his lighter pieces, including a huge one with three pairs of old stuffed blue jeans painted white with bright red cast-off sneakers. This piece he enjoys because he hides things in it for people to discover after they look at it for a while. He says if he ever were to name a piece, this one could be titled "Genesis."
The Cedars has beautiful wood floors, large white walls and wonderful light, making it an ideal setting for Mc Key's larger paintings. "I like large pieces," says Mc Key of a 7-foot x 8-foot canvas with horizontal strokes in blue and red, built up with Bondo and layers of paint. "I'm able to express myself differently on a large canvas like that." A large framed work over the fireplace has shapes of color arranged in cells like a craft store stained-glass kit, yet blown up to huge scale and vibrant color as if light is shining behind it. A 50-pound pink daffodil sculpture came about after he took one to a friend in the hospital as a joke, and a stacked sculpture near the front door features a brass-colored cannon with an armadillo cantilevered off of it. Everywhere you look is another piece quite different from the thing next to it, showing an open channel tapping a vast vein of creativity,humor and resourcefulness.
The four seasons of the cedars series: autumn–exhibit 1: opens Sept. 2, 7 p.m. The Cedars renovated historic 1840 home, 4145 Old Canton Road. The Steel Magnolia Trolley will run between "downtown Fondren" and The Cedars. 981-9606. http://www.fondren.org
More like this story
More stories by this author