Mississippians know what it's like to see one of our own attacked unfairly in the judicial confirmation process. Judge Charles Pickering, a good judge who also is a committed Christian, was harshly and unfairly attacked by Senators John Edwards and Ted Kennedy and other liberals during his confirmation hearings. That's why Mississippians are very concerned right now with how a new Senate will handle President Bush's future judicial nominations.
There's a lot of talk about "litmus tests" to confirm judges solely on how they may handle single issues. Yet, the ultimate question for judicial candidates is broader - based on whether they'll interpret the law as written or whether they'll make their own law from the bench. The way judicial nominees answer that one overriding question really tells conservatives all we need to know about a judicial nominee and how he or she may approach cases.
Like most conservatives, I believe in strict construction, meaning judges should interpret the law as written. A judge should simply take our laws and apply them, based on what those laws say. A judge shouldn't take liberty with the law to expand it beyond our lawmakers' original intent. Judges who do that, essentially make their own law, and that's clearly not what our Founding Fathers intended. The framers of our Constitution gave lawmaking power, not to judges, but to the American people and their elected representatives. So, as a Senator, my approach to any judicial nominee basically comes down to their educational qualifications, experience and record of applying our laws.
When I served as Senate Majority Leader, I opposed several judges who wanted to make law rather than just apply it. Those judges had activist records which showed they weren't content to simply judge defendants. They wanted, in effect, to judge the law itself, to take existing law and tweak it to advance a transparent political agenda.
At the same time, I voted for some judges who, from a philosophical standpoint, I disagreed with on virtually every issue. Nevertheless, they were solid jurists who had demonstrated a commitment to our judicial process and a respect for the law and those who make it. I upheld a longstanding Senate tradition, based on the notion that all qualified Presidential nominees deserve full and fair Senate consideration.
I've always believed that qualified judicial nominees who demonstrate impartial application of law deserve a straightforward up-or-down vote by the entire Senate, and I've never favored the recent tactic of bottling up nominees in the Senate Judiciary Committee and denying them a full Senate vote. That's not fair to the nominee, to other Senators, to the President, or to the American people.
I've offered a plan to break the partisan stalemate regarding judicial nominations. I'm asking that the Senate reconcile its rules with the U.S. Constitution, which actually doesn't require a 60-vote majority for judicial confirmations. Until this past Congress, it had been an accepted Senate practice that nominees with majority support receive an up-or-down vote, but a few Senators have been abusing the practice, using it to deny nominees - like Judge Pickering - a final and full floor vote because they have majority support.
I believe our Founding Fathers intended for judicial nominees to pass the Senate with a simple majority of 51 votes or more. A 51-vote standard for judicial nominees can break the partisan impasse.
Many of you have called my office expressing concern that Senator Arlen Specter of Pennsylvania, a political moderate, is next in line to become chairman of the Judiciary Committee which handles all judicial nominees. I don't serve on the Judiciary Committee, but I did talk to Senator Specter about your calls and concerns. I've known Arlen for many years, and I've found him to be a man of his word. Though we don't always agree, he has supported President George W. Bush's nominees over the past four years, and I believe he'll continue to do so. As he did in standing up for strict constructionists like Judge Pickering, Arlen has assured me that as Judiciary Chairman, he'll take the lead in confirming President Bush's judicial nominees, regardless of his personal stances on specific issues and legislation.
Senators considering judicial nominees regardless of partisan or personal politics, and judges strictly applying the law as written despite their individual philosophy - that's the way the Founding Fathers intended our judiciary to work. That's the only way it can work. (11/19/04)
Senator Lott welcomes any questions or comments about this column.
Write to: U.S. Senator Trent Lott, 487 Russell Senate Office Building, Washington, D.C. 20510 (Attn: Press Office)
Previous Comments
ID

137389

Comment

Hee! Let's start a new drinking game. Whenever Sen. Lott starts to tell us what "mississippians" believe, we take a drink. And, whenever the republicans change the rules to suit themselves (let's raise the legal limit on the deficit! let's let indicted criminals lead our party!), another drink. That may be the only way to survive the next few years.

Author

kate

Date

2004-11-22T10:36:41-06:00
ID

137390

Comment

Sounds fun, and painful. ;-) Now, how many Mississippians clearly do not think like Sen. Lott and his other far-right cronies. And how many under 29? Where's Philip? (Kidding, Philip, I can't probably find a calculator around here somewhere.)

Author

DonnaLadd

Date

2004-11-22T10:40:04-06:00
ID

137391

Comment

BTW, it seems like a whole lot of Mississippians with different views from Lott need to remind him that consitutional rights and liberties are not about what the "majority" thinks. If that was the case, his precious Dixiecrats would still be in power in Mississippi. (Oops, they are, huh?)

Author

DonnaLadd

Date

2004-11-22T10:42:03-06:00
More like this story
More stories by this author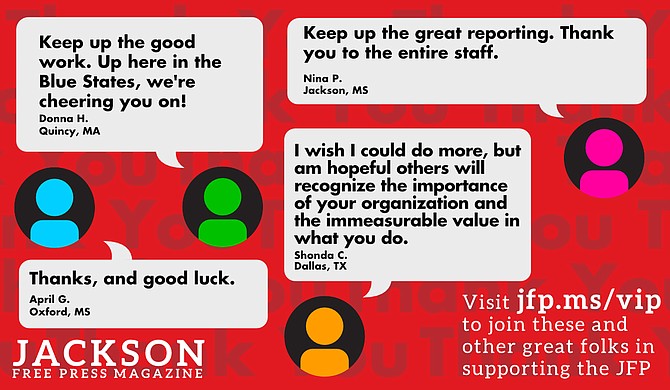 Thanks to all our new JFP VIPs!
COVID-19 has closed down the main sources of the JFP's revenue -- concerts, festivals, fundraisers, restaurants and bars. If everyone reading this article gives $5 or more, we should be able to continue publishing through the crisis. Please pay what you can to keep us reporting and publishing.