Sat., Dec. 18, 7 p.m. $7. The first rock fest inside the old Capri/Pix Theatre, on State St., in Fondren. Colour Revolt (was Fletcher), Questions in Dialect, El Obo (Jesse from Colour Revolt), A Becoming Walk, Arkitekt, Tommy Bryan Ledford, and surprise guests. All ages. 750-1897. www.esperanzaplantation.com
Colour Revolt (was Fletcher) (Alt.Rock/Indie)
Jackson, Mississippi-based Colour Revolt is a melodic math rock band in the vein of Cursive, At The Drive-In and Muse. With no distribution and limited touring, they have sold almost 1000 copies of their debut album, "Friends Don't Speak", released under their old name, Fletcher. The album was recorded with Matt Goldman (Copeland, Anberlin, Jet By Day, Denison Marrs).
The indie rock group formerly known as Fletcher changed its name to Colour Revolt. Taking the name from the Edwin Abbott novel Flatland, this marks the beginning of a transition for the band. The band considers this not only a name change, but a new
beginning for the group. Work has begun on new material, and plans are already in the works for a follow-up to last year's "Friends Don't Speak." Their debut, as well as their next
project, will be released on Jackson, Mississippi-based indie label Esperanza Plantation. Their sound has been described as a sonic assault of distorted guitars, textured feedback and unorthodox song structures and time signatures.
Singer/guitarist Jesse Coppenbarger has been writing on his own and has formed a new solo/side-project entitled El Obo with the assistance of former Fletcher member Steven Bevilaqua. El Obo is hard at work in pre-production for its debut release on Esperanza
Plantation.
Fletcher's roots date back to 1997 with the garage rock meanderings of guitarist Jimmy Cajoleas and drummer Len Clark. There is nothing extraordinary about a group with a life of six years until you consider that their combined age (74) is younger than most grandparents.
The group is comprised of four college underclassmen, Cajoleas and Clark, as well as vocalist/guitarist Jesse Coppenbarger and bassist Drew Mellon. But what the group lacks in college credits, they make up for with a blistering, yet beautiful sonic assault of distorted guitars, textured feedback and unorthodox song structures.
Members:
Jesse Coppenbarger – Vocals, Guitar
Len Clark – Drums
Jimmy Cajoleas – Guitar
Drew Mellon – Bass
http://www.colourrevolt.com
www.fletcherrock.com
Mp3's: http://www.purevolume.com/fletcherms
http://www.myspace.com/colourrevolt
Record label: Esperanza Plantation, A Record Company
www.esperanzaplantation.com
-------------------
Questions in Dialect (instrumental art rock/prog)
The name Questions In Dialect comes from an over analyzed revelation of the ending of the 1996 Cohen Brother's film Fargo. This may seem quite strange, but seeing as their musical style is a combination of art rock and film score moods, and in a live setting, the songs are often translated visually through projected images, the name then becomes rather fitting.
The purpose behind Questions In Dialect is to create music that encompasses the feelings and emotions of the human experience, everything from the trials of daily living to the hope of a better life beyond this physical world. Their only stated influences are- God, life, love, and the wild west.
Members:
Phillip Blackwell - bass, hammer dulcimer, vibraphone, electric piano, voice
Matthew Magee - guitar, electric piano, tv, violin, cello, kalimba, voice
Jonathan Blackwell - guitar, electric piano, melodica, voice
Josh Cannon - drums, percussion
Name: Questions in Dialect
Date Formed: January 2001
Genre: artrock
Musical Influences Most Apparent in Your Sound: Pink Floyd, Tortoise, Macha
Not So Apparent Musical Influences: Fela Kuti, Steve Reich, Jaco Pastorius, John Coltrane, Miles Davis, Huun-Huur-Tu, Beach Boys
Non-Musical Influences/Inspirations: God, life, love, movies, books
Past Bands/Persons You Have Performed or Recorded With: Andy Baker (Engineer), Joshua McKay (Macha)
What You're Listening To: Jazz
When Not Making Music : making films, graphic design, fixing computers
Favorite thing to do on the road : solve riddles
Current/Upcoming Offerings : 1st LP available now. EP late 2004 and LP in 2005
Website: http://www.questionsindialect.com
--------------------
Arkitekt (indie/pop/rock)
Name: Arkitekt
Genre: Pop / Rock
Principles: Tommy Hans - Vocals/Guitar; Jarrod Burris - Guitar, Thomas Samuel - Bass/BG Vocals,
Tim Very - Drums/BG vocals; Ben May - Guitar/Keyboard.
Musical Influences Most Apparent in Your Sound: U2, Coldplay.
Past Bands You Have Performed or Recorded With: Portside Drive.
Current Offerings : "What Makes Your World Goes Round" LP on Esperanza Plantation Records
www.arkitektmusic.com
"Pensacola's Arkitekt is bucking a trend. Unlike the majority of their contemporaries who have found a lucrative and supportive niche in the exploding new world of openly Christian indie music, they're not taking the easy way out.
Instead of falling back on tired and increasingly generic emo or hardcore poses, this Florida band is following the same path as some of their acknowledged influences, such as U2. Arkitekt's music is by turns somber and cathartic and the subject matter at the root of their art is carefully obfuscated: tracks that are inspirational, not proselytizing.
More adventurous than most of their ilk, they're not afraid to attempt a variety of sub-genres, and their material runs the gamut from straight ahead catchy rock to compact, intimate pop songs that sound as if they were based around beatbox rhythms and four-track demos."
- Written by Jim Reed
Previous Comments
ID

63679

Comment

Esperanza Plantation is hosting a Holiday Showcase, "A Very Esperanza Christmas", at the infamous Capri Theater in the Fondren District of our hometown of Jackson, this Saturday, Dec. 18, 7 p.m. $7. The Pix/Capri Theater has been a longstanding landmark in the community, but has been vacant and in ill-repair for several years. In an effort to draw community attention to the building and its potential for music/theater/performance arts, EP is sponsoring this event and helping to organize a fund to benefit renovations to the Capri. The "Save the Capri" fund will be launched with this event, and more information will soon be available at www.savethecapri.org . The showcase features EP's current label line-up and a few special guests. The evening will proceed as follows: 7:00-7:15 doors open 7:15-7:45 Arkitekt 7:45-8:00 Josh Maze 8:00-8:30 Allie Peden 8:30-9:00 A Becoming Walk 9:00-9:15 Christmas Sing-a-Long! (led by Josh) 9:15-9:45 Questions in Dialect 9:45-10:00 Intermission/Set Change 10:00-10:30 El Obo (featuring Jesse from Colour Revolt) 10:30-10:45 Wooden Finger (featuring Matthew from QiD) 10:45-11:15 Tommy Bryan Ledford 11:30-12:00 Colour Revolt (formerly Fletcher) ~ON THE RADIO This afternoon, Palmer Houchins, Chaney Nichols (owner of Esperanza Plantation), Ben May (formerly of Twothirtyeight and Arkitekt), and Jimmy Cajoleas (Colour Revolt) will be on Camp Best's "Fondren Radio Hour" show. The show airs from 5 PM to 6 PM on WLEZ 103.7, a community-owned, neighborhood station. Tune in. We'll be playing some Esperanza Plantation music, as well as talking about the showcase and the Capri. ~SPECIAL HOLIDAY EL OBO SONG Jesse and Steven have pieced together an EL OBO version of "O, Holy Night." To hear it, use this link... http://www.fletcherrock.com/OHolyNight.mp3 UPCOMING ALL AGES SHOWS OFFICIAL AA*LW SHOW The Rockwells w/ King Elementary, City Lights, Futuro Boots Monday, December 20 @ Hal and Mal's - $5 8 PM - All ages ------------- NOT ALL AGES, BUT 18+ Trent Dabbs w/ Betsy Roo Sunday, December 26 WC Don's - 18 and up ------------- Colour Revolt w/ Anathallo Monday, January 3 The Joint - All ages ------------- City Lights w/ Questions in Dialect, By the End of Tonight Friday, January 7 The Joint - All ages

Author

herman

Date

2004-12-16T14:34:34-06:00
More like this story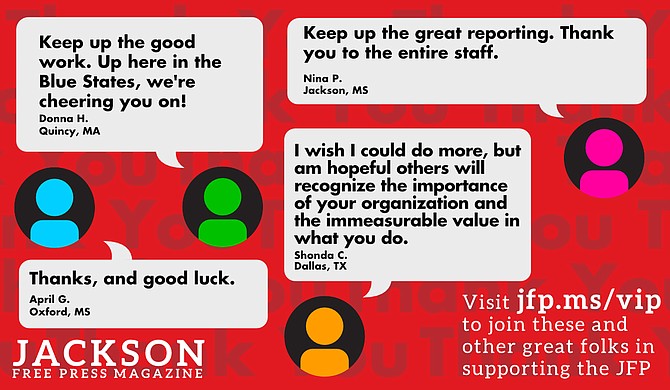 Thanks to all our new JFP VIPs!
COVID-19 has closed down the main sources of the JFP's revenue -- concerts, festivals, fundraisers, restaurants and bars. If everyone reading this article gives $5 or more, we should be able to continue publishing through the crisis. Please pay what you can to keep us reporting and publishing.