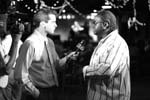 You've heard it a million times since Election Day: It's hard to be redder, electorally speaking, than the state of Mississippi. Well, yeah—unless you're under 30. Young Mississippi voters not only turned out in record numbers; they led the South, and much of the nation, in the percentage who voted for John Kerry for president (63 percent) over George W. Bush (37 percent).
According to CNN exit polling data, Mississippi's 18-29 age group is the only age group to swing for Kerry in Mississippi. Interestingly, the entire South's 18-29 age group averaged only 52 percent for Bush and 48 percent for Kerry, putting Mississippi's youth vote further into the "blue" than the South's overall average, or more than any one other Southern state. The 18-29 bracket also made up 20 percent of the Mississippi vote, according to those same polls, which was higher than the national level.
In the Deep South, our neighboring states reversed Mississippi's numbers—in Alabama, 57 percent of 18-29 year olds voted for Bush; in Tennessee, the youth vote went 55 percent for Bush; in Louisiana, 53 percent voted for Bush; Georgia: 52 percent for Bush; South Carolina: 51 percent.
Arkansas was an outlier, going 51 percent for Kerry; North Carolina went 56 percent for Kerry and Florida, assuming it's considered part of "the South" according to exit polls, had a part in swaying that overall average—58 percent of the youth vote in that populous state went for Kerry.
Nationally, voters aged 18-29 showed up at the ballot box in droves; it just so happens that other age groups appeared as well, as they did here in Mississippi.
Eighteen-to-twenty-somethings made up 17 percent of overall voters nationally, according to exit polling data. That percentage was similar to the percentage of 18-29 voters in the 2000 election, but because turnout was larger across the board, it represented a 20-percent increase in young voters.
Nationally, young voters comprised the only age demographic to go overwhelmingly for John Kerry, posting 54 percent for the senator and 46 percent for George W. Bush across the nation.
The 63 percent of young Mississippi who voted for Kerry should at least have pundits wondering—what's up in reliably red, solid-Bush Mississippi? Is this a one-time progressive vote, or will Mississippi start singing the blues as the young set grows older?
Only time will tell.
Red vs. Blue: Ages 18-29
Region/ Kerry / Bush
Mississippi / 63% / 37%
Alabama / 41% / 57%
Tennessee / 44% / 55%
Louisiana / 45% / 53%
Georgia / 47% / 52%
S. Carolina / 48% / 51%
N. Carolina / 56% / 43%
Arkansas / 51% / 47%
Florida / 58% / 41%
U.S. / 54 % / 46%
Previous Comments
ID

64295

Comment

I am doing a political geography demonstration at my college in Texas and I am looking for reasons why the Mississippi youth voted so strongly for Kerry. Mississippi's number stands out when compared to the rest of the country, especially since the state went to Bush. Help!!!!

Author

Dereck63

Date

2004-11-18T09:37:56-06:00
ID

64296

Comment

D, I'm not sure anyone's positive why... I can say the younger generation is a new generation in the state and openly rejects many ideas of stereotypical Mississippi. I'm not sure how you would get this info... I haven't seen any surveys or similar studies on why. Good luck... And please report any findings you make here! Would love to know more.

Author

kaust

Date

2004-11-18T10:37:58-06:00
ID

64297

Comment

Dereck, I doubt anyone has done a formal paper about HOW this came about. Your best bet is to simply get the data from the CNN Site and show WHAT happened. Then ask your students HOW this might have happened. But the high % of African Americans undoubtedly played a part, without saying it was the only factor.

Author

Philip

Date

2004-11-18T10:38:55-06:00
ID

64298

Comment

We also have a few liberal colleges (including a few predominently Black colleges) in the Metro and a notoriously liberal college in Hattiesburg... There's also Alcon and DSU. Check the ratios in these areas to see if they represent the whole... It could simply be the high concentration of liberal, young Blacks and Whites in these college areas.

Author

kaust

Date

2004-11-18T10:48:34-06:00
ID

64299

Comment

I don't know if the college phenomena would explain the difference between MS and Alabama and Louisiana. it is a pretty striking difference, and there's got to be a few liberal colleges in our neighboring states. I think it's part of the overall unpredictability of MS politics. Maybe it was the "racist populists" like Jim Giles. Or the military families showing support for the "mutiny" by Mississippians shortly before the election. Maybe it was "values voters" showing solidarity with the poor? Very tough question to trace. Or, it could be the presence of a strong Alternative News Weekly... Anyone under 30 care to take a stab?

Author

kate

Date

2004-11-18T10:54:49-06:00
ID

64300

Comment

I'm over 30, but I'll add my 2 cents, too. ;-) I think it's a mixture of factors. For one, the state has the highest percentage of African Americans of any state, so clearly that's important. (Philip, do you have a racial breakdown of 18-29 in the state?) And note that while the great majority of this age group voted for Kerry, the vast majority also voted for the gay marriage amendment, as did much of the state. It's not a stretch to say that a lot of young blacks probably voted for the gay marriage amendment as well. And there's a certain logic to that. Secondly, the young hip-hop community was on fire this election in the state. This fell under the corporate media's radar (purposefully or not). And when I say "hip-hop community," understand that it's pretty diverse here, racially, and getting more so, as it is across the country. Market research has shown that the JFP is very popular among young black males within our readership (which is the highest urban population in the state)--and I can tell you that, beyond a reasonable doubt, that these guys (especially ones in college and educated) were out beating the bushes for voters against Bush. The black colleges in the state turned out en masse. And even black high schools here in Jackson were going door-to-door in GOTV efforts. Thirdly, the perhaps most significant point that you cannot ignore here, though, is that the young black vote was not enough to get to our high Kerry numbers for that age group. The truth is, many young whites are becoming more progressive (understand that's not hard to do in this state against the Lott-Barbour status quo; you can be solidly right of center and be considered progressive). And there's a lot of solid on-the-ground coalition-building going on here. Jackson is seeing truly multi-racial artistic community being built among young people; we've really reached a point where so many people have lost patience for the cynical/whiny minority. And it's a small enough state that young people here in Jackson have friends and relatives and fraternity brothers around the state. Also, a lot of younger people are hearing about the creative wave here and moving back. Fourth, this is the poorest state or hovering near it. The slogan, "I'm too poor to vote Republican" really resonated here, I think. And many young people have parents and grandparents on Medicaid and who otherwise need some sort of government assistance. Finally, this state is taking a hard hit in Iraq. Many young people believe here that they may be drafted in one way or another, and many are already in the National Guard, or have friends and family who are. Many know someone who has died in Iraq.

Author

DonnaLadd

Date

2004-11-18T11:27:59-06:00
ID

64301

Comment

MORE All of that is anecdotal, but we see much of this first hand. And the exploding popularity of our Web site among young people from around the state says something. We also distribute in several college towns around the state and are hearing a lot from those towns about impatience with the status quo. We've been saying for a long time that there is something really special going on in Mississippi -- that the rest of the country is going to start noticing at some point (and many are already). Many people try to give the JFP credit for this creative explosion. We, no doubt, help it and help bring people to it, but we are also a product of what was ready to explode when we got to Jackson. That's the reason we started this paper. We saw a sleeping giant trying to wake up. The media, for various reasons, just weren't covering what was in front of them. I keep saying this to people: We responded to what was happening, or about to happen, that needed to happen. And, I'm happy to report, we were right. The evidence is all around us that young Mississippians have a different future in mind for this state. Cheers to them. The older folk have certainly screwed it up long enough.

Author

DonnaLadd

Date

2004-11-18T11:30:05-06:00
ID

64302

Comment

Ahh, that was quick (for once) Anyway, here's the figures from the site factfinder.census.gov (highly useful site, I tell you!!). The following are for Mississippi's people recorded as 15 to 24 years old in the 2000 Census forms. Note: This assumes absolutely zero births, deaths, and net migration for all Mississippi's population categories since 2000. Within these limits, there are 446,135 Mississippians are in this group; 192,420 are Black alone (i.e. not Black and "other race"). That makes Blacks' share 43.1%. Interesting extra tidbit: Mississippians between 5 and 9 years old in 2000 (i.e. 9 and 13 today) are only 51.3% of the state's population. It's gonna be an intresting 2024 election for this state!

Author

Philip

Date

2004-11-18T12:35:43-06:00
ID

64303

Comment

I meant : Interesting extra tidbit: Mississippians between 5 and 9 years old in 2000 (i.e. 9 and 13 today) are only 51.3% WHITE.

Author

Philip

Date

2004-11-18T12:39:49-06:00
ID

64304

Comment

Wow, that is interesting, Philip. Thanks.

Author

DonnaLadd

Date

2004-11-18T12:43:29-06:00
ID

64305

Comment

This is getting a little off topic, but this is the best place I know where to put it. I just wanna share with you all my not-so-secret secrets. If knowledge is power (and I believe that to the core of my soul), then here's my power to you all. Question: How did I find this kind of stuff so quickly? Answer: For mundane national, state and county level data, quickfacts.census.gov usually suffices. If you want more, then you need factfinder.census.gov (I can't even begin to tell you all the types of goodies you can find here.). (1) quickfacts.census.gov (2) data sets (on the right hand side of the screen) Then gain experience with it. Ain't the 21st Century wonderful

Author

Philip

Date

2004-11-18T13:15:44-06:00
ID

64306

Comment

Wiretap piece about youth voting: Now that some of the smoke has cleared and the data has been crunched, it's clear that 2004 was, in fact, an amazing year for young voter participation. Whereas only 42 percent of 18-29 year-olds had voted in 2000, a whopping 51 percent showed up at the polls this year, making for a 9-point increase. The catch? Everyone else came out in record numbers too. Hans Reimer, director of Rock the Vote, describes the youth turnout as ìexceeding all expectations.î He points out that the percentage of youth who came out to vote this year was four points higher than in 1992, a number he says is ìphenomenal.î ì1992 was a similar electionî Reimer continues. ìThere were really sharp issues; there was a candidate who reached out to young people; there was tremendous interest in voting. It was also the first year of the MTV/Rock The Vote effort. Voting was part of the social movement.î From the looks of many college campuses in swing states this fall, you would have thought that voting was the social movement.

Author

DonnaLadd

Date

2004-11-19T14:15:12-06:00
Support our reporting -- Become a JFP VIP.
The news business has changed dramatically in the past two years, and we need your help more than ever to keep bringing you important stories about Jackson and the Metro. Become a JFP VIP with an annual membership or you can Sign up as a monthly supporter. Thanks for anything you can do to empower our journalism!