Considering that this is Mississippi, Councilman Bo Brown did a pretty gutsy thing at the Jackson City Council's March 16 meeting: He started a discussion about AIDS. Brown had perhaps not noticed that the numbers in the African-American community look bad until he took a trip to Washington with the council recently and was disturbed by some statistics he discovered. He was concerned, he said, about black women, who are the fastest-growing group among new AIDS cases. He explained that many of these women are infected because of "down low" behavior, a term that refers to the practice of (black) men having unprotected sex with other men and then having unprotected sex with their female partners, who are unaware of their male partners' activities.
"We're in trouble here," Brown said, "and I think we need to look at doing something."
Nationally, the number of AIDS cases is rising among African Americans, and black women are among the highest number of reported new cases. In 2002, African Americans accounted for about 21,000, or 50 percent, of the estimated 42,000 new AIDS cases in the country, according to the Centers for Disease Control. But in Mississippi, the number of AIDS cases, and other sexually transmitted diseases, has actually been steadily declining since 1995.
That good news is due in large part to programs supported by the Mississippi State Department of Health, according to Craig Thompson, director of the department's STD/HIV Bureau. And black males have had the "steepest decline."
But in 2002, HIV infection rates among African Americans were 10 times those among whites, and AIDS rates were seven and a half times higher, according to the State Health Department.
Who contracts sexually transmitted diseases has more to do with class, access to health care and behavior than race, Thompson says. The numbers that people refer to when they talk about AIDS in the black community in Mississippi represent a small segment of people who are generally poor, don't have access to health care and engage in alcohol and drug use. In Mississippi, more black people are likely to fall into that group because of the racial make-up of this state, but in West Virginia, their counterparts are white.
"People who can afford to be well, are well," he said.
Thompson shies away from labels, and says that contracting AIDS or any other sexually transmitted disease "has to do with what you do, not how you look."
The department has supported programs that target gay men, black and white, but Thompson says it has to be careful in conservative Mississippi. Some people would be upset if they thought money was being spent on gay people. For some people, it's not OK to be gay, he said. "And it's particularly not OK to be gay and black because of the stigma associated with it."
Councilman Brown also expressed concern about prostitutes, and people who travel back and forth between Mississippi and Atlanta, because Georgia has a large number of people with AIDS.
Thompson said the solution is simple: abstain; if you can't abstain, be faithful; if you can't be faithful, be safe—use protection. The department's program has been effective because the people who staff it go where at-risk people are and deal with them on their terms without imposing their values. The department's mobile clinic has served more than 6,000 in the past two years, he said.
The department also works with organizations, like Building Bridges, Inc., and the Mississippi Urban Research Center, to reach everyone from drug dealers to prostitutes by going where they work, hang out, and, most importantly, where they feel comfortable. They urge people to get tested and they pass out condoms.
Thompson expects the trend of declining AIDS cases, including among African Americans, to continue.
But that does not mean that everybody should not take care. Thompson predicts the next upturn in the number of AIDS cases will be among young, heterosexual whites because "they're having a lot of sex, too."
More like this story
More stories by this author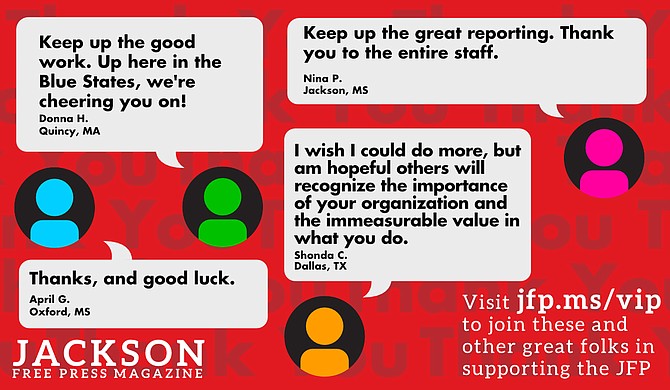 Thanks to all our new JFP VIPs!
COVID-19 has closed down the main sources of the JFP's revenue -- concerts, festivals, fundraisers, restaurants and bars. If everyone reading this article gives $5 or more, we should be able to continue publishing through the crisis. Please pay what you can to keep us reporting and publishing.