I realize that this isn't necessarily an event per se, but I started to think last night about how easy/difficult it would be to form a true community radio station in Jackson. Granted, we do have WMPR 90.1 and they do a fantastic job of catering to a sizable segment of the community. But, to have a voice for the ENTIRE Jackson community would be a dream come true for me.
First off, Jackson has NEVER had a radio station DEVOTED to truly ALTERNATIVE music- not MTV's idea of Alternative, but rather underground [indie-label] Alternative. This moniker encompasses a wide range of music, including indie-rock and indie-pop, electronica and dance music, lo-fi, emo, etc. I know from my experiences out at Martins and around Millsaps that quite a few people would enjoy having this type of music available on the radio.
Secondly, there are ALOT of other music genres that have no home on the Jackson airwaves. These include:
World Music [not just reggae, but African, Caribbean, Indian, Japanese, Mexican, etc];
Bluegrass;
Classic Jazz [not jazz fusion, but Miles Davis, Dizzy Gillespie, John Coltrane and many others];
Big Band;
Classic Country [old classics like Johnny Cash, Hank Williams, Patsy Cline];
Underground Psychedelic [like 13th Floor Elevators and Soft Machine];
Prog Rock [enter early Genesis and King Crimson];
Kraut Rock [Faust, Neu];
Lounge [Esquivel];
Old Skool [Afrika Bambaataa, Sugar Hill gang, Grandmaster Flash,...];
Trip-Hop and Underground Hip-Hop [Massive Attack, Portishead, Tricky, Prefuse73];
and many many more.
So, this little blurb is calling for a show of hands. How many of you out there would TRULY support [financially and otherwise] a community radio station for everyone that isn't already represented on our airwaves? What should we do to get this off the ground? Thanks everyone.
Previous Comments
ID

63643

Comment

Is this the same as a college alt music station or something similar? Or something else entirely? Excuse me if I'm confusing your article's idea of "true alternative" with the MTV version...but I think Ole Miss has an alt rock station I liked. Certainly the University of Louisiana-Monroe has a pretty solid station. You can listen online at kxul.com to get a sampling. They also have a great archive of what music they play. Regardless, I'm impressed with the job the station manager Joel Willer has done over the years. Anyway, I'll stop talking about it -- just in case we are talking about different things. Anyway, I do take your point. Notwithstanding 94.1 FM (at least the last time I was in Jackson, at Christmas) the city desperately needs a wider variety of stations/music on the air aimed at the 18-34 market. A bad selection of radio stations is a SURE turn-off to anyone contemplating a community in which to live, but especially people in that age group.

Author

Philip

Date

2004-07-19T17:43:28-06:00
ID

63644

Comment

I'd support any of those. In particular, I wish we had a reggae and classic jazz station.

Author

Cauthen

Date

2004-07-19T18:20:31-06:00
ID

63645

Comment

Also, for what we lack in radio stations we certainly make up for with our vast array of talented local musicians. It isn't like this everywhere.

Author

Cauthen

Date

2004-07-19T18:22:32-06:00
ID

63646

Comment

Alex, talk to Luke over at Computer Co-op; he and Tom Lowe (http://www.jacksonprogressive.com) are working on a community radio station of some sort and are looking for people to help in some way. I'm heard some other rumblings as well.

Author

DonnaLadd

Date

2004-07-19T18:46:03-06:00
ID

63647

Comment

Donna- Thank You for the suggestion. I will definitely plan on talking with Luke and Tom about this. Cauthen- You are definitely correct in that there are alot of talented local musicians. Wouldn't it be great to have a show that featured local musicians [releases, demos, live in studio performances]? They had a show like this on WRAS in Atlanta called the Georgia Music Show. Philip- I was definitely thinking of college alt music as a sizable part of the programming. However, I was also thinking about programming that would feature the other genre's mentioned- something for everyone not already represented. WMNF in Tampa is a great example of the type of station I had in mind.

Author

@LEx

Date

2004-07-20T10:55:49-06:00
ID

63648

Comment

When internet radio stations can easily be dialed up on our car and home radios it will revolutionize radio and the music industry at large. Half the world could create and manage a radio station that the entire world could listen to. More computer users would tune into internet radio now, on their computers if they knew how to find programming they would like and click a button for it to start up, streaming in, without hiccups. Todd of the JFP has talked to the owners of the low wattage WLEZ 103.7 FM and he said they weren't opposed to the idea of having new programming. Their signal reaches downtown, Fondren, Belhaven, Eastover, and Midtown. During the day they play Frank Sinatra oldies.

Author

herman

Date

2004-07-20T16:33:36-06:00
ID

63649

Comment

Continued from what I was saying: If XM Radio expanded to somehow recieve internet radio channels people could hear music from the smallest corner of the world, and the next big thing could be exposed to the world even quicker. What if, as you were enjoying some new song, for $1 you could hit a button on your car stereo as your driving down the road and download a copy of that song to your portable harddrive or ipod/cell/micro-palm top. What if bands actually got royalties from the buying of these songs ? Its all about getting your fix immediately. Instant gradification is whats driving Peer 2 Peer communities now. Those that are set up to pay a monthly fee or song fee, do pay. If its easy and reliable and trustworthy.

Author

herman

Date

2004-07-20T16:41:59-06:00
ID

63650

Comment

Of course there is some controversy now whether any money brought in from Apple Tunes or the new Napster actually ever makes it in the hands of the artists.

Author

herman

Date

2004-07-20T16:44:15-06:00
ID

63651

Comment

Oh yes, it always comes down to the money ;) But, it will be interesting to see if Satellite/Internet radio totally replaces regular radio. I don't think we will see it in our lifetime, mainly because most Satellite/Internet stations don't cater to "geographical" communities. The fact that satellite/internet radio can be received worldwide is both a strength and a weakness. A strength in that multitudes of people can listen from around the world but a weakness in that, because people are listening from around the world, it would be difficult to address the local "concerns" of all listeners. AM/FM radio's greatest strength is also its weakness. The signal is limited and because of this, so is audience size. But, because of this limitation, it is easier to address the local concerns of the audience since the audience is contained within a set geographic area. A quandry to be sure. Maybe Satellite/Internet stations in the future will patch into a local portal so local events relevant to a particular area are broadcast to the listeners in that area but the overall "programming" will remain unchanged. Similar to network TV/radio and their affiliates.

Author

@LEx

Date

2004-07-20T17:22:09-06:00
ID

63652

Comment

What if you want to bring something that is lacking from the community ? Sure enough you can advertise locally, with local radio. So if your about advertsing local things that can be good. If you could make annoucements on your internet station that would be cool..."check out this next band, playing at W.C. Don's this Friday night......" The problem is getting the money to support oneself doing it. I dont see getting the dough so me or you can quit our day jobs. I'd enjoy a few hours in the evening though. And we could rotate out who DJ'd and what we programmed.

Author

herman

Date

2004-07-20T19:13:07-06:00
More like this story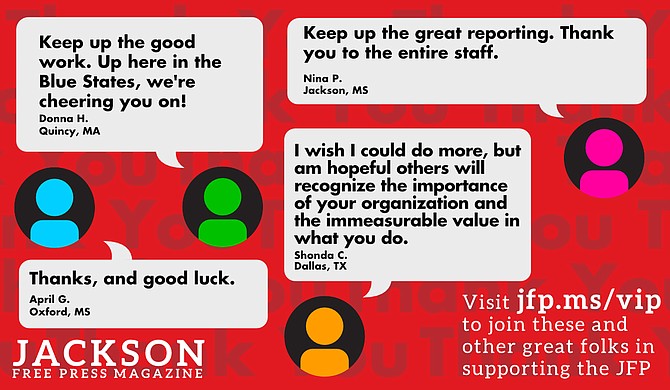 Thanks to all our new JFP VIPs!
COVID-19 has closed down the main sources of the JFP's revenue -- concerts, festivals, fundraisers, restaurants and bars. If everyone reading this article gives $5 or more, we should be able to continue publishing through the crisis. Please pay what you can to keep us reporting and publishing.