Best Gallery: Gallery 119 (3017 North State St., 366-5141)
I can't think of anybody who couldn't do with a little more class in their system, and the place to get some in Jackson, according to our poll, is Gallery 119. The gallery, 10 years old and just recently moved to its new Fondren location next to Seabrook Paints on State Street, is one of the premier places to hang a creation. The gallery has no preferences, other than quality.
The artistic creations within it could be pristine paintings of landscapes, photographs of mind-stirring people, an elegant statue of a woman with child or the indescribable horror of some artist's broken mind, thrown together at three in the morning after a hard evening of drink. Paintings featured this week include works from artists like Patrick Grogan, Jacques Soulas, Charles Carraway, Richard Kelso and Tony Green. The gallery handles both local and regional artists.
The gallery, owned by photographer James Patterson, doubles as a springboard for the modern furniture boutique, Article, which specializes in reproductions of mid-century items, such as the kind of furniture that filled the house of June and Ward Cleaver. Article can create to specifications, or can put you on the trail of somebody who can. If, for some reason, you want a wiry rope bed like the kind that scratched up Lincoln's butt when he was a kid, give 'em a call. 119 exists to serve. There's no entry fee.
— Joe Jackson
Second place: Brown's Fine Art (630 Fondren Place, 982-4844)
Third place: Nunnery's (426 Meadowbrook Road, 981-4426), Art of State (3310 North State St., and Southern Breeze (Highland Village, 982-4222) (tie)
Best Yoga Studio: Joyflow (2807 Old Canton Road, Rainbow Plaza, 982-0302)
Never has health and well being been so easy to achieve as it is with the fun, flexible activities offered by Joyflow Yoga. No special equipment is required—just a set of lungs and a willingness to let go, relax and connect with your breath.
The benefits of yoga are many—reduced stress, enhanced flexibility, clarity of mind and a fit body, just to name a few. Debi Lewis and her staff make it easy to work yoga into your busy schedule. With two locations, in Rainbow Plaza and on Highway 51 in Ridgeland, Joyflow is "just around the corner." Their broad class schedule lets you choose a practice that fits your personal needs —from Yoga Basics to Power Yoga and Pilates to Tai Chi. There is something for everyone. You can attend a scheduled class, or, for shy types they even offer individual instruction. Classes begin as early as 6:30 a.m. to start the day off right, and as late as 8 p.m., bringing it to a peaceful, relaxed end.
Joyflow frequently offers workshops on specialty topics such as different forms of yoga, postures for specific psychological benefits, and even yoga with your significant other. (They say it's better than roses or marriage counseling!) The folks at Joyflow also offer Corporate Stress Management and a wide variety of therapies such as Healing Touch, Gestalt, Phoenix Rising Yoga Therapy and Enneagram Counseling.
No excuses this year! Improve your mind, body and spirit all at once. All you have to do is breathe.
— Deborah Noel
Second place: Butterfly Yoga (3218 N. State St., 594-2313)
Third place: Triangle Club (4800 McWillie Circle, Suite B-8, 362-0840) and Healing Legacy (710 Poplar Blvd., 948-8686) (tie)Good showing: YMCA (I-55/Fortification, 948-3090)
Best Urban Bike Ride: Natchez Trace
Nothing says "relaxing expenditure of energy" like a good bike ride, and Jackson has a number of places to go for that. The new bike trail in Fondren is a remarkable development that takes a biker along a scenic path laden with the food and drink outlets dotting the area—which really means something in July. Another fine spot is downtown Jackson. Yeah, that's right. Downtown Jackson. Wanna know why? Because downtown Jackson, after 5 p.m. is a ghost town with no cars, few hills and an endless sprawl of concrete. It's a biker's dream, which even comes with a restaurant or two.
And forget what Ben Allen says about crime. Me and my rotten kid have been biking down here since he was 4. He even abandoned his training wheels downtown, and the worst crime we ever suffered is the smell of the occasional bum talking about his car that ran out of gas somewhere up the road "and do you please have 50 cents to help me gas it up, sir?" Way I see it, either do some penance for a past sin by coughing up a couple of jinks, or ask him to show you his car. Either choice dispenses with the transient.
But, by far, the best scenery to be had on a biking tour can only be offered by the Natchez Trace.
The Trace, by comparison, hardly qualifies as "urban," though. Don't look for drinks, not unless you're into pond water. Daytime riding is fun, especially if you're taking the southern path toward Natchez, which is full of hiking trails and a waterfall or two. But nighttime riding in summer is … otherworldly. When the sun goes down, the frogs wake up. This isn't the kind of nighttime twittering you get in the city, with just a cricket or two looking to get it on next to your doorstep. This is the real stuff. A warm night on the Trace, especially in a spot with heavy tree coverage after a good rain, is an ear-blasting cacophony of racket. And a real city slicker will never understand how bloody black the whole world can become without streetlights. It's dark. It's scary. Take a friend. A lone biker on an empty trail in the black of night is the stuff of bad horror movies.
Also, take a small tent and camp out until morning if you like. Much of the land along the Trace is owned by somebody, but me and my tent have yet to be run off by a squatter-hating farmer.
— Joe Jackson
Second place: Fondren/Old Canton Road Bike Path
Third place: Downtown, especially on the weekends
Best Car Wash: Red Arrow (various locations)
How do you judge a car wash? By its water pressure? The grade of wax it uses? Whether they've got a particularly good under-chassis system? Most of us probably go by the service and whether or not they clean out the gunk that falls between those inexplicable little indentations on the car's console between the cupholders and the change organizer. Whatever criterion you choose (it may also be proximity to home or work and the number of locations) then Red Arrow came out a winner.
In fact, I like Car Care Clinic and have used them for all-out detail work on a number of occasions, and it's a great place to drop your car and gets tons of stuff done to it at once. But the Red Arrow certainly has at least one thing on them—smaller, a little quicker on the in-and-out, and a sense that it's only a minor luxury to stop in at least once every two weeks and get your wheels a nice warm bath and rubdown.
— Todd Stauffer
Second place: Car Care Clinic (various locations)
Third place: Venture (110 Lake Harbour, Ridgeland, 898-8811)
Best Florist: Greenbrook Flowers (705 N. State St., 352-5743)
Eleven red roses in a green vase, with another small vase standing to the side with one, a lone rose in it. My father has bought a dozen red roses from Greenbrook Flowers on every Valentines' Day and Mother's Day for the past 18 years, 11 for my mom and one for me.
I will always remember my father's annual pilgrimage to Greenbrook on North State to get those 12 roses. Apparently, people all over Jackson have memories like mine with Greenbrook, because they chose Greenbrook as the best florist in Jackson. Always will be in my book.
— Jessica Kinnison
Second place: Green Floral
(210 East Capitol St., 969-4050)
Third place: Whitley's
(740 Lakeland Drive, 362-8844)
Good showing: A Daisy A Day
(1220 East Northside Drive, Suite 180, 982-4438)
Best Public Park: LeFleur's Bluff
If you need a good park to get the kids sweaty and keep yourself occupied in the process, you can't do any better than LeFleur's. Once you're there, you can see that it's obvious somebody put a lot of money and time into this place.
The play area has been modernized with a huge pine wood climbing town, complete with bridges, forts and a myriad of easy tools for any kid's imagination to run away with. Also featured at the park are a plethora of swings, picnic areas with cooking grills, a couple of drink machines, a club house (to hide your obnoxious drunk relatives from the rest of the park during those family reunions), and the Mississippi Museum of Natural Science, which is complicated enough to warrant another article unto itself. After a few games of Frisbee golf—or whatever they call that game where you toss a concussion-giving Frisbee into a chain-link receptacle—you can make a desperate run for the air-conditioned museum. The museum will certainly impress you with fossil skeletons and the assortment of evidence describing the remarkable collection of bio-diversity that once claimed Mississippi—at least before it became a state full of white people, cotton and fire ants.
The hiking trail out behind the museum comes in three flavors. You can take the wimpy little kiddie trail, which leads you down a flight of outdoor stairs to the Pearl River tributary running through the property behind the park; you can opt for the medium trail, taking you down to the banks of the Pearl River itself; or you can be man about it and torment the wife and kids with a mile-plus trek all the way to the Mayes Lake Campgrounds.
The view is nice, and the walk is invigorating—that word optimists use for "exhausting." Make sure you become good friends with a Mayes Lake park bench before trying to make the trip back, or those stairs back up the hill to the museum will utterly end your existence.
Also, take your repellent—otherwise they'll never find your bodies.
— Joe Jackson
Second place: Parham Bridges
Third place: Smith Park
Good showing: Battlefield Park, Laurel Street Park and Strawberry Patch Park
Best Liquor Store: Briarwood Mart Wines & Spirits (4949 Old Canton Road, 956-5108)
A liquor store is another of those places that we tend to like more the closer it is to home. Still, certain of the magic-juice joints stand out. This was a mighty close race, but the three top choices all have several things in common: a good selection of both wines and spirits, friendly and knowledgeable help, and loyal followings. The top vote-getter, Briarwood Mart, calls itself the city's "oldest wine and liquor establishment" (we're assuming not counting some of the more historical juice-shacks of frontier days). Kat's is the JFP's staff spot, being that it's within stumbling distance both of the office and Fenian's (not that we've done that, mind you), and Saik's is perennially packed with the Northeast elite and has stocked senior editor JoAnne Prichard Morris' wine and liquor cabinets for years. And the "package" part is so retro. Very good choices.
— Donna Ladd
Second choice: Kat's Wine Cellar (901 E. Fortification St., 354-9181)
Third choice: Saik's Package Liquor Store (5834-A Ridgewood Road, 956-5078)
Good showing: McDade's Wine & Spirits (1220 East Northside Drive, 366-5676)
Best Sporting Goods: Buffalo Peak (Highland Village, 982-1645)
OK, you could go to one of those big-ass sporting-good emporiums where a bored teenager doesn't care whether or not you buy anything, and doesn't know a kayak from a ski jacket. But why would you? JFP readers know that the best spot around for sporting goods and wear is Buffalo Peak in Highland Village. It is locally owned, it is staffed with people who know and care, and it offers all the coolest sporting-goods labels that make you look oh-so-Colorado chic. Yes, some of the items cost a bit more than at your local discounter, but they will also last longer and be more durable when it counts: out in the elements. Repeat after me: Quality over quantity. Think global, shop local.
— Donna Ladd
Second place: Sports & Co. (5250 I-55 NE Frontage Road, 991-0867)
Third place: Play It Again Sports (6380 Ridgewood Court Drive, 956-5500)
Good showing: Hibbett's (various locations)
Best Tattoo Parlor: Squench's Tattoos Limited (3780 I-55 South, 372-2800)0
Have you been wondering where to go to get that permanent eyeliner? Well wonder no more. Squench's, located on the east frontage road of I-55 South, offers this service in addition to many others. You can get permanent lipliner or lipstick there as well.
Open Tuesday through Saturday, their award-winning artists can also help you with that customized tattoo of Mom that you've always wanted. If you can't decide what to emblazon your bicep with, there are plenty of flash designs (that means samples of tattoos) to choose from.
In business since 1985, Squench, aka Mitchell Baughman, says David Allen Coe has been in the shop for tatoos,and he's been to Texas to work on Coe, too. Considering that, Squench's seems like the place to head if you (or anyone you know) are need of a permanent fix.
— J. Bingo Holman
Second place: Eternal Body Art (3611 I-55 South, 346-5963)
Best Public Art: Catfish on Parade
The catfish came, they kicked butt, and then they left. Or at least most of them did. Jackson was very fortunate to host the Catfish on Parade in 2003—a virtual school of delightful renderings of that staple of many a Mississippi dining table: a catfish. It reminded me of my last year in New York City, when the Cows on Parade popped up everywhere, and we'd constantly pass them here and there on our walks through Central Park. (The cynical, and veggie, side of me asks why we keep honoring animals that we eat, but I digress.) The catfish did exactly what they were supposed to do in Jackson: lure people downtown to seek them out, and along the way witness the ongoing rejuvenation of a city that faces a glorious future if we all keep building and then supporting what others build. A worthy symbol, I'd say.
— Donna Ladd
Second place: Murals on the Union Station train tracks
Third place: Fondren Corner building
Best Boutique: Treehouse (3000 N. State St., 982-3433)
One of the best things about Jackson is its array of fashion boutiques. From distinguished and reserved to funky and individualized, featuring oddities, rarities and specialties, the best of Jackson's boutiques free us from the mundane and satisfy our cravings for originality. It's no surprise that The Treehouse ranks No. 1 this year. After a devastating fire in her last location across the street, owner Cappi McSherry brought back The Treehouse bigger and cooler than ever. Featuring labels such as Nanette Lepore, BCBG and gifts from classy the edgy, The Treehouse has become a stylish treasure in the heart of Fondren District. From the moment a woman walks in, she is engaged in a tapestry of colors reflective of the changing seasons, engulfed by the fresh smells of featured bath products and harbored with hospitality. The Treehouse epitomizes femininity.
— Beth Smith
Second place: soma/etheria (2945 Old Canton Road, 366-9955)
Third place: Baubles & Beads (3218 N. State St., 364-3619)
Good showing: Lemongrass (Banner Hall, 914-3181) and Village Boutique (1625 E. County Line Rd., 957-0010)
Best Thrift Store: Salvation Army (110 Presto Lane, 968-3987)
I'm addicted to thrift stores. I love them and can't resist the pull. It's like that old saying: "One man's crap is Bingo's treasure." The downside to my addiction is that when we moved to Oxford a month ago I returned to Salvation Army nearly all of what I had bought there. I kept the Bruce Springsteen "Born in the USA" tour T-shirt ($2!) and a couple of other things. But, the majority of what I just had to have was piled into the back of my friend's SUV and hauled back from whence it came.
Salvation Army in Jackson is one of the only true thrift stores left in the area. Their prices are a little high for my tastes on some things, but who can put a price on love? I've found some prizes: the desk I'm working on now came from there, and I've found a lot of junk I didn't need, but the fun was in the hunt.
Since moving I've been to thrift stores four times (that's once a week). I've already come home with sacks of things that I will eventually return. But I will return and buy and repeat the process until I can't anymore. There are two things I cannot pass by—bookstores and thrift stores. If you see me coming toward you across the store, don't get in my way. That pair of red cowboy boots are mine.
— J. Bingo Holman
Second choice: NUTS/Good Samaritan Center (114 Millsaps Ave., 355-7458)
Third Choice: Hudson's (3366 Terry Road, 371-0037)
Good showing: Goodwill (426 North Bierdeman Road, 939-8726); Junior League Bargain Boutique (331 Meadowbrook Road, Meadowbrook Mart, 366-1661)
Best Dollar Store: Dollar Tree, various locations
The Dollar Tree won this category, and I did find some really cool stickers of those splendidly decorated cows in New York City there one time, plus whenever we needed something cute and cheap for an event at Forest Hill High School, one or the other of us teachers would make the rounds of all the area dollar stores, always finding something we needed at the Dollar Tree, including some ethereal pastel-colored, larger-than-life dragonflies and bees we really needed bad for a skit being put on by a bunch of talented seniors. I would give them points for the name, too. It makes one think of a money tree; remember when those were popular gifts at showers and parties?
My personal favorite, though, is the third-place winner, Dollar General. I just have better luck seeing what's in there because the way the store is set up means its just plain easier to see. Actually, it reminds me of Ben Franklin and TG&Y—popular haunts of my youth. One other thing I like is that Dollar General won't take anything but cash or checks, which means I am not allowed to go too overboard on pens, journals, flower pots, air freshener, bags of bungee cords, plastic storage pieces, greeting cards, makeup, kitchen gadgets, clothing, paper plates or picture-hanging kits.
For those of us striving to think global, shop local, the dollar store (whichever one is your personal favorite) is the greatest alternative, yet, to Wal-Mart—especially if you aren't near a Walgreen's.
— Lynette Hanson
Second place: Fred's (various locations)
Third place: Dollar General (various locations)
Good showing: Dave's Dollar Store (339 Meadowbrook Rd., 981-9488)
Best Restaurant/Bar Bathroom: Hal & Mal's (200 S. Commerce St., 948-0888)
OK, Hal & Mal's won this award last year, and I swear it meant more to them than the Best Music Venue they also took home. I knew it was a big deal when manager Charley Abraham posted a message on SweetPotatoQueens.com right before the St. Paddy's madness telling them to be sure to visit the award-winning Hal & Mal's bathrooms (both of them)—as if they weren't planning to already. (As for me, an Official Wannabe of the worst order, I have horror stories about having to strip out of that green monster of a costume, as sequins stick in my black fishnets, just to go to the bathroom. I quit peeing on St. Paddy's Day after the first time.) Go to Hal & Mal's, see the motorcycle urinals in the men's room, the ode to blues mama Ma Rainey in the Ladies'. Hope everything comes out, or down, OK.
— Donna Ladd
Second place: Old Venice/Burgundy Room (1428 Old Square Rd., 366-6872)
Third place: Char Grill (4500 I 55 North, 362-5313)
Good showing: Que Sera Sera (2801 North State St., 981-2520)
Best Salon/Barber: Barnette's (Banner Hall, 362-9550)
You ought to see the big Chinese shampoo bowls at Barnette's. I covet the men and women I saw there receiving Aveda hair and scalp treatments. I wondered if anyone ever just schedules a wash. In the same spirit as Aqua the Day Spa, also owned and operated by husband and wife Ralph and Susan Barnette, the salon offers value-added service; it's like a spa for your hair. All of the professionals at Barnettes are trained on site by Ralph and are invested in the same way they are trained to invest in their clients, which include several on the JFP staff, including the editor and publisher. Barnette's customers like the place because it's a real urban salon but without a lot of pretension. And you can grab a book at Lemuria or a sandwich at Broad Street right after you get your hair done.
—Beth Smith
Second place: Russell's (449 Northpark Drive, 899-8892)
Third place: Bridges Salon, (361 Towne Center Blvd., 957-8713) and Adam's Corner
(1825 Lynch St., 354-0255) (tie)
Best Place to be Pampered: Aqua the Day Spa (Banner Hall, 362-9550)
Pampering in the 21st century indulges body, mind and spirit. Aqua the Day Spa tempts one to indulge. Open six years in conjunction with Barnette's Hair Salon, Aqua is a true day spa offering hydrotherapy and featuring Aveda products. Upon entrance, clients are whisked off into bliss and are made to feel as if he or she is the only person in the world. Susan Barnette, part owner with husband Ralph, emphasizes that Aqua is not a spa that makes all sorts of claims, but rather a spa that likes to master the art of pampering and indulgence. "We are relentless about our service," she says. "We have a great staff and awesome, awesome clients." With 20 percent of the clientele being men, Aqua offers treatments for everyone. From facials to "Himalayan Rejuvenation," which is Aqua's signature treatment, men should not be shy about indulging themselves every once in awhile.
—Beth Smith
Second place: TRIO (4812 Lakeland Drive, Flowood, 608-8746)
Third place: Earle and Joseph (Highland Village, 982-1741)
Good showing: Massage by Olga (Highland Village)
Best Festival: Jubilee! JAM
It was raining at the first Jubilee Jam I ever went to—as it always is, by virtue of city ordinance. The Box Tops were clanking through "Neon Rainbow." "Wow. This isn't very good, is it?" I asked the gentleman next to me, easily 25 years my senior. "No, it's not," he said. "But they played my high school when I was 17, and I wouldn't miss this for the world."
Jubilee! JAM brings that to Jackson: the music that you've loved since high school, live and in the rain. In the past few years the world-class artists who have graced our city's stage has been staggering, a roster that rarely visits cities three times our size: Bob Dylan, Joan Jett, the Temptations, Al Green, Willie Nelson, Emmylou Harris and every band that ever played the clubs you got drunk and made out in while you lived in Starkville or Oxford or Hattiesburg.
Johnny Shines played it before he died, and so did Sun Ra, and even Aaliyah. Johnny and June played it together before we lost them last year.
Maybe the real reason I like Jubilee! JAM so much is because you get to stagger up and down East Capitol Street, six-dollar draft beer in your hand, lean up against the gates of the Governor's Mansion, and it's all perfectly legal. With those iron bars cold on my back, I feel a century's worth of phantom governors, frowning down through the rain, as Isaac Hayes echoes through the streets of Jackson.
— Gorjus
Second place: Wellsfest
Third place: Mal's St. Paddy's Parade
Good showing: Farish Street Festival
Best Museum: Museum of Natural Science (Lakeland Drive at I-55, LeFleur's Bluff, 354-7303)
Once again, humans fall short in their long-standing rivalry with nature, as the Mississippi Museum of Natural Science devours the competition. It's not a tremendous shock, considering the impressive facilities: a 73,000 square-foot building containing a gigantic octagonal sunroom and—oh, yes—300 ACRES of nature! If you ask me, it wasn't a fair fight. Who wouldn't rather explore the wonders of creation in the bosom of Mother Nature herself than drudge through a stuffy old asbestos-filled (comment not based on any scientific evidence whatsoever) building to stare at collections by those who would attempt with human hand (however brilliant) to mimic the divine?
OK, I admit it. The Mississippi Museum of Art is exquisite, diverse and enlightening. And, the Smith Robertson Museum and Cultural Center is certainly worth a visit, for the art as well as substantive African-American history. But, I ask you, do either of these facilities contain 20,000-gallon aquariums or ALLIGATORS?!? Binoculars and microscopes and fossils and touch-screen computers? Will they let you smash your face up against the exhibit to see if you can elicit a reaction from the exhibit, itself? I think not.
— Jerusha Bosarge
Second place: Mississippi Museum of Art (201 E. Pascagoula St., 960-1515)
Third place: Smith Robertson Museum & Cultural Center (528 Bloom St., 960-1457)
Best Fitness Center: The Courthouse (various locations)
Whether you are fit or completely out of shape, The Courthouse can help you become who you want to be. With four locations in the area, The Courthouse offers activities for kids, seniors and everyone in between. Like competitive sports? Try tennis, racquetball, volleyball, wallyball or basketball. Looking for something solitary? Consider pumping weights. Prefer aquatics? The Courthouse offers swim lessons, lifeguard training, scuba, and water aerobics. Want to be in a class? The choices are endless – from aerobics classes on Abs, Body Pump and Cardio Circuit to Pilates, Step and Yoga.
If you are wondering about the kids, The Courthouse offers nursery hours to fit just about any schedule. And, there are also activities especially for them, like after school and summer camp and swim teams. Early fitness training is a great way to start them off right.
The Courthouse also offers a "Seniors Only Membership" especially designed for people 60 or older. The right fitness program can turn back the clock.
Not only can they help you be who you want to be, they will let you go where you want to go to do it. Memberships are available at individual clubs in northeast Jackson, Byram, Madison (Cypress Lake) or on Lakeland Drive. You can choose a location based on its facilities or join with their Multiple Club Fitness Membership and work out at any location. It's all up to you. What could be easier?
— Deborah Noel
Second place: I-55-North YMCA (948-3090)
Third place: Fitness Lady (Promenade Shopping Centre, 957-0045)
Best Place for a First Date: Bruno's (closed)
Oh, give me a break; people don't have first dates anymore, at least not in the sense I understand. Ideally, you see a guy or a girl you like; you ask them out to dinner at a nice little restaurant with candle-lit atmosphere and soft, evocative music. Wine is perhaps involved in an inordinate amount and sternums are exposed in a forthright manner, yet a chaste kiss at a doorway is the expected ending.
Nowadays first dates are more likely to involve a drive-through cheeseburger and a condom.
Numero uno is the late lamented Bruno's, with the qualification "Bruno's if you have money." Well, sure. I was even taken there once, but it was more like a business lunch ("I want my cashmere jacket back, bitch!") than a first date. But the food was astounding.
Lots of suggestions came in: The naturalists among us picked a sandbar on the Pearl, a moonlit night on the Rez or a picnic at Thalia Mara by the fountain. The Trace and Smith Park, natural venues, are frequented by wilder hears. And more pedestrian places—bowling alleys and bookstores, hockey games and art galleries were mentioned, along with a scattering of late-night bars and the Planetarium. Even the roof of the new Fondren Corner building.
Ask me, I think you folks need to differentiate between a place for a first date and a place where you might pick someone up for a cheeseburger.
— Jesse Yancy
Second place: Bravo (Highland Village, 982-8111)
Third place: Kiefer's (705 Poplar Blvd., 355-6825)
Good showing: Amerigo (142 Highland Circle, 956-9562)
More like this story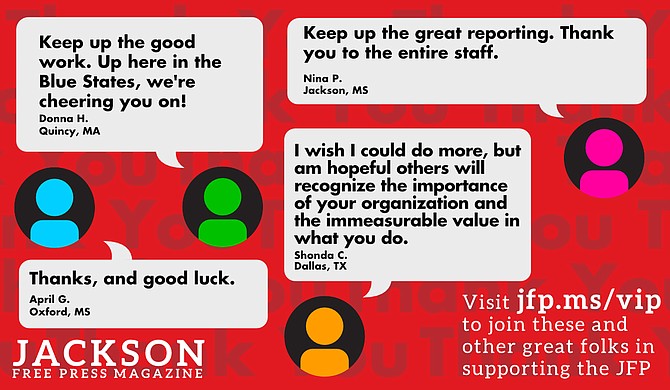 Thanks to all our new JFP VIPs!
COVID-19 has closed down the main sources of the JFP's revenue -- concerts, festivals, fundraisers, restaurants and bars. If everyone reading this article gives $5 or more, we should be able to continue publishing through the crisis. Please pay what you can to keep us reporting and publishing.