Read last issue's "No Deposit, No Return"—the story that helped set off the education firestorm against the governor the week after it came out.
Gov. Haley Barbour seemed genuinely befuddled when it came to the realities of funding public education in the state he now governs—either that or he had hoped to slip $161 million in cuts under the radar and no one would notice. Either way, Barbour made his first major blunder when he (first) accepted without question the recommendation of the Legislative Budget Office to under-fund the Mississippi Adequate Education Program (MAEP), (second) used those reduced figures as part of his Operation Streamline budget and (third) claimed he didn't know any better.
Adding insult to injury, he then tried to blame the media for the whole sordid affair and appeared with Republican legislators to present an odd sort of damage spin to the matter, declaring support for a bill forbidding the "education bureaucracy" from firing teachers for 18 months if their funding is cut—as if that's what they want to do. It would be funny, except it's not.
"I just accepted what they put in there," Barbour told a joint meeting of education boards on Feb. 19. "I'm hoping we'll be able to support K-12 at a higher level."
"Hoping"? We don't know which is worse—that he purposefully wanted to cut education dramatically, potentially costing the state 3,000 or more teachers, not to mention other essentials like supplies and roof patches, or that he did not understand his state's education laws well enough to comprehend what was going on. What matters now is that the governor, and the Legislature, must prioritize public education and declare forthrightly that they will meet the obligations to fund Adequate Education—honor existing state law—and not cut education resources at a time when Mr. Barbour's friends in the federal government are hoisting unfunded mandates on the state and school districts, through the high-stakes No Child Left Behind Act.
Some say that of course they're going to fund public education; they're just playing budget games. We say they shouldn't be playing games with our state's future; the need for Adequate Education funding in the state of Mississippi affects each and every one of us, whether we have kids in public school, or whether we attend, or attended, a public or private school. It should not be a partisan issue. The future economic health of the state depends on a good public education foundation. So does our safety. So does our ability to raise productive, creative, enlightened young people. We cannot afford to have two systems of public education—one well-funded for those who can afford private school or a public school in a well-to-do neighborhood, and another dramatically under-funded in our state's poorer school districts, which are way too often filled with children of color caught in a cycle they did not create.
Of everything we've read recently about the Mississippi Adequate Education Program, which was created in 1996 to ensure that basic public education needs are met regardless of the economic base of a particular school district, we like something Clarion-Ledger columnist Sid Salter wrote back in 1997, before he worked full-time for the Gannett Corp., while he was teaching at Ole Miss. He was responding to then-Gov. Kirk Fordice's effort to kill new MAEP legislation to equalize district funding.
"Gov. Fordice's ham-handed attempt to destroy the Mississippi Adequate Education Program is one designed purely and simply to protect the 'haves' in Mississippi from the 'have-nots'—which has little to do with Fordice's claims of adhering to a conservative political philosophy and loads to do with an elitist scheme to block additional state investment in poor, rural school districts by affluent taxpayers who in some cases have already abandoned the public schools in favor of private schools," Salter wrote for the Daily Mississippian.
Salter was right: This issue transcends politics. You can support the public schools, and should, even if you choose to send your children to private schools. And his logic about Fordice applies just as strongly now to Haley Barbour, who seems to be pitting community-college funding against K-12 in his partisan quest to "raise no taxes." It is unconscionable that the governor does not get out in front, pound his fists, and say, "We're going to fund public education first." This is especially vital as the realities of "No Child Left Behind" sink in—that is, states and local districts have more financial pressures than ever to fund remediation and training so that both students and teachers can meet the unyielding "accountability" standards in the federal statute; if they do not by 2007, including right here in Jackson, and up in Drew, and down in Prentiss, public schools are going to start closing. Those young people are then going to need to be educated. Somewhere. Think about it.
The irony is that our students are rising to the challenges under the new accountability standards. Last year, under the first year of NCLB, 650 of 870 Mississippi schools met "Adequate Yearly Progress" benchmarks. The state showed the fifth highest gain in the U.S. on the National Assessment of Education Progress writing test, and we outpaced the national average on reading score improvement. Here's to our hard-working students and teachers.
Barbour said in his State of the State address: "For too long, we have judged politicians' commitment to education by how much money they are willing to spend." That "problem," we respectfully suggest, is not an issue in this state. Please call the governor's office (359-3150) and demand that he lead the way to fully funded education in the state of Mississippi—this year and every year.
That's how the new governor can show his commitment to Mississippians.
Previous Comments
ID

69275

Comment

I've been watching to if Sid Salter would be consistent with his sentiments above about MAEP and call for Barbour to support full funding of Adequate Education. I guess it's not to be; he's just spreading more apologia around for Barbour, which he's been doing since the campaign (remember how he downplayed Barbour's connections with his lobbying firm?). Anyway, Salter wrote today: "In that budget, Barbour matched the Legislature's budget recommendation dollar-for-dollar on K-12 public education spending and for the Adequate Education Program and recommended spending a total of $92 million more on community and junior colleges and universities than did the lawmakers. The governor recommended spending $100 million more on Medicaid than did the Legislature. But at the same time, Barbour proposed program reforms that he claims would save $130 million in Medicaid spending. At the time that Barbour released his budget, the Legislature ó playing by traditional rules ó had already put its budget on the table. On public education and Medicaid, Barbour voluntarily got in lock step with the Legislature's stated spending levels. http://www.clarionledger.com/news/0403/10/lsid.html Now, I suspect if a governor Salter doesn't like went along with a legislative budget proposal Salter didn't like, that we'd hearing about how he needed to show some backbone. Just a hunch.

Author

DonnaLadd

Date

2004-03-10T11:38:12-06:00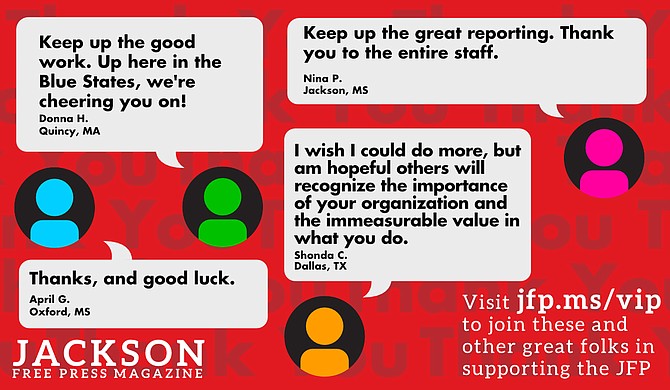 Thanks to all our new JFP VIPs!
COVID-19 has closed down the main sources of the JFP's revenue -- concerts, festivals, fundraisers, restaurants and bars. If everyone reading this article gives $5 or more, we should be able to continue publishing through the crisis. Please pay what you can to keep us reporting and publishing.