…It is not those who are healthy who need a physician, but those who are sick.
— Matthew 9:12
An old man sits in a shower of sunlight staring straight ahead. It is hard to tell his age; he could be 60 or 80. He is abnormally quiet. An old lady sits with her back to her fellow residents, too still. Across from her, another man, younger, sits and also stares. They are not playing games or exercising or visiting with relatives. They are just here, and some have lived in this West Jackson nursing home for decades.
This is probably not the picture most people associate with Medicaid—that political hand grenade, social dilemma, and monumental mess to fund during a brutal economy, but 47 percent of the Medicaid dollars spent by states fund nursing-home care, and that figure will increase as the country's population lives longer.
Established in 1965 by the Social Security Act, Medicaid is a federal and state partnership that provides health insurance for the poor, elderly and disabled. In Mississippi, the federal government matches state dollars three to one, with $2.4 billion of its $3.1 billion budget.
Like every other state, Mississippi's Legislature is struggling with Medicaid, but the program has some baggage. Considered by many to be a "welfare" program, but with racial undertones instead of the racial overtones that welfare has, Medicaid is also fraught with charges of fraud, both by recipients and providers. And now, the largest national health insurance program in the country is under fire from federal officials who say some states are manipulating the program to obtain funds that they do not match.
But misconceptions and perceptions clash with the knowledge that people need health insurance. A recent Gallop poll found that 82 percent of Americans ranked health insurance among their most important concerns. Presidential candidates are stumping the health care insurance issue to death on the campaign trail while health insurance costs constantly inch skyward.
Advocates for children and struggling families in Mississippi plan to step into that place where people's decency lives and ask that the public support full funding of this program that serves the most vulnerable, but also helps the state's economy by creating jobs and generating funds. They are saturating the state with information about Medicaid programs and are holding a rally at the Capitol March 3 at 1 p.m. in an attempt not to let the real issues get lost in a Medicaid fog.
"People are clear that they need health care, but they are not so sure about the other person," said Rims Barber, of the Human Services Coalition.
Mississippi Covering Kids and Families Statewide Coalition, comprised of dozens of organizations that work on behalf of children and families, have met with the Barbour administration, Barber said, but the governor's staff has not given up much about his intentions. "They say: We don't want to hurt anybody, but we might have to."
The organization's strategy is to educate lawmakers—"because I think sometimes they get bamboozled by the political rhetoric and have so much on their plates that they need someone to step in and help them make sense of it," Barber said—and the public, because of misconceptions, including that Medicaid is a "black" program. "The Medicaid recipient that costs the most money is an 85-year-old white woman."
After education, Medicaid is the largest item on the budgets of many states; they spent $218 billion in FY 2001, and Medicaid costs continue to rise, though there was a slight decrease from 12 percent in FY 2002 to 9.3 percent in FY 2003, according to a report by the Kaiser Commission on Medicaid and the Uninsured.
Advocates for the poor want people to understand why Medicaid is so expensive. "It costs so much because it has to take on anybody who needs it," Barber said, "and usually people need it in when they're really ill. You can't go to a private insurance company when you're sick and get coverage, because they say you have a preexisting medical condition and won't insure you. But that's exactly when most people get Medicaid—when they're sick, and have medical bills that need to be paid."
That the costs of medical and health care are blowing up during a difficult economy, and at a time when medical advances are helping people live longer, makes Medicaid budgeting hellacious. Every state and the District of Columbia instituted cost-saving strategies in FY 2003, and had more planned for FY 2004. Mississippi has implemented a number, including limiting recipients to one pair of glasses every five years, reducing reimbursement rates by 5 percent, and mandating equivalent generic drugs.
In Mississippi, prescription drug costs eat up the largest part—21 percent—of the budget. In FY 2003, Medicaid spent more than $552 million on pharmacy bills, and that was down from almost $568 million in FY 2002.
Gov. Haley Barbour has proposed $402 million in Medicaid funding for FY 2005, which is $100 million more than the Legislative Budget Committee recommended. Medicaid requested $532 million, but Barbour says that the division could save $130 million by looking at areas of spending like prescription drugs and disease management. Medicaid Director Dr. Warren Jones says that state dollars, roughly 12 percent of the Medicaid budget, are already being spent efficiently.
Most states are doing an effective job with their programs. Medicaid has surpassed Medicare in both spending and the number of people it serves. It has the best-integrated program for effectively providing services of any insurance program in the country, including private ones, according to a report by the Kaiser Commission, which monitors state programs.
But troublesome, possibly even dangerous misperceptions persist, according to advocates for the poor. Children's advocates are especially worried that people misunderstand the CHIP program, which Medicaid administers. Established in 1997, and implemented in Mississippi in 1998-99, the Children's Health Insurance Program insures families that make too much to qualify for Medicaid, but not enough to pay for private insurance.
"The smallest part of the state's budget is spent on CHIP," said Rhea Williams-Bishop, who is CHIP coordinator for the Children's Defense Fund-Southern Regional Office, "and most of the families who qualify are working."
CHIP enrollment in Mississippi has constantly increased. In 1999, almost 13, 000 were enrolled in the program, and by 2003, that number had increased to almost 59,000. The federal government originally gave Mississippi a CHIP allocation of $58 million, according to Maria D. Morris, CHIP administrator for the Division of Medicaid. But the program was designed to accommodate a 25-percent decrease in federal funding for FY 2004 and FY 2005, which is referred to as the "CHIP Dip." The division is asking for an additional $40 million to cover that loss. "It's not like it was a surprise," Morris said. "They (lawmakers) knew it was coming."
Jones told the House Medicaid Committee that federal officials had hoped that the dip would come at a time when state economies were flush, and they would not have to struggle to cover it. The original CHIP funding will be restored in FY 2006, but it will not be increased to cover the rising costs of care and other growth factors, Morris said. "There was a problem with it from the beginning."
But federal officials are aware of emerging problems as the program grows, and are rethinking CHIP funding, according to Kaiser Commission reports. In the meantime, at least six states have frozen their CHIP programs at current enrollment levels. "We do not want that to happen in this state," said Williams-Bishop, who co-chairs Mississippi Covering Kids and Families Statewide Coalition.
The federal government dropped a $20 billion tax incentive into the laps of states in FY 2004. Mississippi received almost $102 million, but that funding is not guaranteed past June 30. Some states were able to steady themselves with their tax incentive, but those with sluggish economies are in deep financial difficulty. Jones is asking that the state cover that loss, plus an additional $60 million shortfall from FY 2004.
If Mississippi lawmakers cut Medicaid funding, they will actually be cutting measures that they put in place. The program has federal mandates—or basic services that the federal government requires. States are allowed a good deal of flexibility in administering those mandates, but cannot cut them and continue to receive federal funding. States decide which optional services their programs will provide. In Mississippi, they are set by state law and include nursing-home services.
In FY 2003, Medicaid spent almost $433 million on nursing home care and nursing services, or 17 percent of its budget. State Rep. Omeria Scott, D-Laurel, (a former nursing home administrator), cautioned lawmakers in a House Medicaid Committee meeting that it would probably be unwise to "mess with nursing homes."
But something has to be messed with, and nobody wants it to be the part of Medicaid that he or she thinks is important. Lawmakers will have to take a complicated approach to funding this complex program, or Medicaid could be pushed into an even more dangerous place than it already is.
Carole Cannon is the JFP's new senior writer.
MEDICAID/MEDICARE FOR DUMMIES
Medicare is a national health insurance that covers:
1. People 65 years and older
2. Disabled under 65
3. Individuals who have had kidney transplants
4. Those under 65 who receive Social Security
or Railroad Retirement Board
Medicaid is a national insurance that:
Insures 42.8 Million Americans
1. People who are 65 and older
2. Individuals who are disabled or blind
3. People with low incomes
6.5 million Americans receive both Medicare and Medicaid, the insurance of last resort, which kicks in where Medicare leaves off.
Medicare covers a number of services, including:
1. Some physician services
2. Some outpatient services
3. Ambulance transportation
Medicaid is funded by federal and state governments and covers a number of services, including:
1. Routine physician services
2. Long-term care (31 days or more) in hospitals and nursing homes
3. Health-care associated with pregnancy
4. Inpatient psychiatric hospital services
5. Some home health services
6. Some nursing and rehabilitative services
7. Some treatment for infertility
8. Prescription drugs
CHIP is an insurance program that:
Insures low-income families and covers services that include the following:
1. Medical and dental check-ups
2. Vaccines
3. Vision and ear care
4. Hospital care
5. Mental health
More like this story
More stories by this author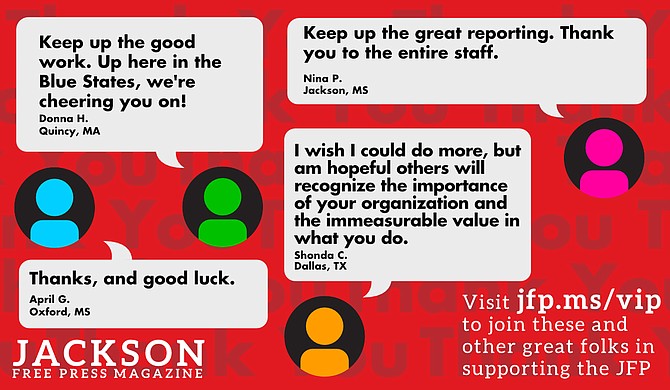 Thanks to all our new JFP VIPs!
COVID-19 has closed down the main sources of the JFP's revenue -- concerts, festivals, fundraisers, restaurants and bars. If everyone reading this article gives $5 or more, we should be able to continue publishing through the crisis. Please pay what you can to keep us reporting and publishing.