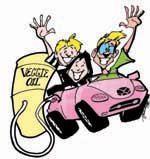 We left off last week wondering how DM&E (David, Mali and Emilio )would get across the Darien gap, the 54-mile impassable portion of the Pan-American Highway. The answer turned out to be to put the car on a ship, then fly to meet the ship in Quito, Ecuador. Note to potential long-distance road-trippers: You can't ride with your car on these cargo ships. Second note: Bring bribes, as you'll see from DM&E's experience. "The system now is supposedly bribe-free, but what you actually have to do is pay an Ayudante (helper) about $300 to do the paperwork for you," David posted on their blog. "The Ayudante spreads the bribes around and keeps it all neat. But we don't pay folks like that, and had confrontations and arguments all the way around. It was a disaster."
It took them five full-haggling days to get the car back, spending it in Guayaquil, by all accounts a crappy town, though Emilio did enjoy the iguana park. They finally got their car with the provision that they must drive directly to Peru with an Ecuadorian soldier. It took seven hours to get to Peru: "By that point we were beyond reason, and it was all funny. We argued with everyone in offices, made spectacles and let everyone we met with know what a sorry state of bureaucracy they participated in."
Now the only thing between them and Argentina was ... the Central Andes and Lake Titicaca. David posted: "Well we made it over the pass to Lake Titicaca, 14,500 feet. We noticed that it climbed better on diesel, and descended and crossed the plateaus with veggie oil. After 5 hours of driving, the car was pretty bad, weak, chugging and smoking, absolutely billowing black, gray and whitish smoke."
Because they had to, they found Dionicius, a genius diesel mechanic, who cleaned the carbon-choked injectors, then discovered the piston rings were broken. David spent the next week finding parts. He wrote: "Repairing this car here is a full-time job. The shop is located on the end of a road which follows the shore of Lake Titicaca; the road is full of auto shops. Every time we need a part, I have to hop on the trikes and ride 1 km away, where the parts shops are. Every ride costs about $.60 and we are pumping a lot of money into the trike taxi economy!" They "all climbed on top of the car and lowered the engine block back into the car with thick ropes. The young mechanics at the shop had cleaned every inch of the motor with kerosene, it was shining!"
Soon enough, the three were back on the road again. David then posted this chilling chronicle: "As we left the village, Mali was driving, Emilio sleeping, as we climbed past cactus and agarrobina, I opened a soda. It exploded, spraying orange soda everywhere. Mali and I scrambled to mop up the mess, and in the confusion, the car swerved hard, and we flew off the road. The car fell down and crunched into the steep rocky side of the road. Then the car began to roll, down the hill. There was a blur of green plants, yellow rocks and the inside of the car, as we rolled, Mali and I were shouting or moaning or something. We were upside-down, and still moving, a horrible slow, crunching sound, and things were moving in that slow-motion way, like being turned upside down in a big wave in the surf, and I had time to wonder, 'is this car going to stop rolling? Are we rolling off of a cliff?'"
Amazingly, no one was injured. The car came to rest in a ravine, cushioned by cactus. An entire village came out to help push the car out of the ravine. A few days later, they zoomed triumphantly into Rosario, Argentina—greeted by friends and family—thus ending one hell of an epic journey.
Here's the final tally:
Total distance:10,189 miles
Total amount of fuel: 100 gallons new veggie oil, 217 gallons used veggie oil, 23 gallons of biodiesel. 113 gallons diesel
5 fuel filters
11 little plastic fuel pre-filters
6 10-micron Sock Filters; 25 paper cone filters 1 gallon of white gas used to heat the veggie oil
Two sets of new tires
To read all of David's posts, go to http://biodiesel.infopop.cc You cannot use McDonald's or other fast-food grease in an SVO car—it's too thick. E-mail Novella at [e-mail missing]
More stories by this author
Support our reporting -- Become a JFP VIP.
The news business has changed dramatically in the past two years, and we need your help more than ever to keep bringing you important stories about Jackson and the Metro. Become a JFP VIP with an annual membership or you can Sign up as a monthly supporter. Thanks for anything you can do to empower our journalism!