Luther Wade Lackey just doesn't look like what he is. I mean, he's a black man who writes, plays and sings country music. And it's not that pop country music, either. It's your daddy's country—all about heaven, love gone wrong, bars, dogs, jails and NASCAR's departed hero, Dale Earnhardt. Lackey, a 35-year-old husband and father of three daughters, works a factory job to pay the bills. His heart, though, belongs to country.
A smile spread all the way to his eyes as Lackey talked about growing up in Clarksdale, the youngest child of Dorothy Lackey: "She was a church musician, and she had us in church every Sunday … the typical black Baptist church, singing all the gospel songs and some hymns." Of course, blues was in the house, too, but in 1979 he fell in love with country music. Luther explained, "During that time, 'Hee-Haw' was coming on—it wasn't re-runs—'Lawrence Welk,' 'The Dukes of Hazzard,' the whole nine yards." He soon loved Conway Twitty and Loretta Lynn, Dolly Parton, Merle Haggard, Johnny Cash and, naturally, Charlie Pride, the black country singer from Mississippi. In fact, Lackey was bitten by the country music bug so badly that years later, when he asked himself, "What do you want to do?" it was country music, hands down.
Lackey, a 21st-century version of a one-man band, performs at places like Julep and Red Hot and Blue as well as political get-togethers for the likes of Ronnie Shows. The fact that he cannot read or write music hasn't stopped him from creating all 13 songs on his copyrighted CD, "At Least I Tried." Printed across the label is "The Best Country Singer You've Never Heard!"
"Not Right Now," the CD's first cut, is about a hell-fire and brimstone preacher unable to believe one woman's response to his invitation. Reflecting what Lackey says is wrong with some black churches today, "The Knock-Legged Preacher," with a bluesy beat, warns: "Now when you go around that preacher … watch your money and your woman and your fried chicken, too." Sounding like something Buck Owens and Roy Clark would have gotten a kick out of singing on "Hee-Haw," "Looking for Jesus (In the County Jail)," ends with Lackey harmonizing with himself on the refrain, a capella, because "they ain't got no music in jail."
Fast cars and dogs are many a good ole boy's toys, so it's appropriate that the No. 3 selection on the CD is Lackey's tribute to NASCAR legend Dale Earnhardt. "We're Gonna Miss U on T.V." recounts when "me and Billy Bob" watched the Daytona 500 on 2/18 and "the starting lineup changed for all eternity." Ol' Red, now in heaven, is paid homage in Lackey's reverential ode "On All Fours."
Singing about love gone wrong is one of the reasons country music exists. "I Thought I Married a Fool, " "That Credit Card (Tore Us Apart), " "She Was A Barbee," and "He Had A Mean Old Lady" are all about men and their women. Different beats, instruments and singing styles set the tone for each one, from the slick fool to the country bumpkin to the victim of love to the unlucky in love. On "He Had A Mean Old Lady," Lackey's blues' background shows up again. After all, his father was Wade Walton, "The Blues Barber," from Clarksdale who cut hair for 55 years in his own shop as he sang and slapped out the blues on his razor strop.
Four songs are somewhat autobiographical. The title of one is a direct statement about Lackey's life—"Country Changed Me" is a two-stepping account of a country granddaddy's enduring influence on his city-boy grandson. "15 Minutes of Fame," an upbeat anthem that sounds a lot like Charlie Pride at times, is all about the dream of getting more than what we all hope for—at least 15 minutes of fame. Lackey harmonizes wonderfully with himself on the refrain: "He wants to be in the limelight; he wants to be a star, never forgetting what his mother told him—always remember who you are. He thinks that he could change the whole wide world through the songs he sings, if he could have more than 15 minutes of fame." The lyrics in "It's Your Mississippi" ring true as Lackey describes the "dear Magnolia State that is home to me and you," recalling some of the state's trail-blazing musicians before pointing out that all of us should learn from our history and heritage—"from the battlefields of Vicksburg to the Freedom Riders' March." The CD's title cut "At Least I Tried" is the story of Lackey's 10-year sojourn in country music. "I sang in church while Mama played the songs; I hoped my star would rise before she's gone. At I least I tried, at least I tried, but if I don't make it, Lord, at least I tried." Mama's still here, and Lackey's still trying.
Get Luther's CD for $10 by calling (601) 956-8605, and keep watching the local listings for Haute Pig and Red Hot and Blue for a chance to see him live.
Previous Comments
ID

63593

Comment

I had the pleasure of meeting Mr. Lackey today when he came into my office, giving us the salespitch for his CD. He was a delightful man, full of enthusiasm for his dream, for his talent, for his heritage. It was heartbreaking to have to turn him down. I nearly bought the entire box of CD's tucked under his arm. But, I do not listen to country music and I am not one for purchasing things that I have no need for. I would just like to say that I am glad the Jackson Free Press did a feature on this man, he is truly worthy. And I hope the local patronage of Jackson's dining venues will support him and encourage him on what I am sure is a rocky, up-hill path for him. Country music, no matter be it pop, bluegrass, rock-a-billy, or the other variations from here to there, is still one institution with a few too many walls. The walls that keep people from giving it a shot, cause some country music is pretty damn cool; and the walls that it uses to keep black folks out. So, I hope those who read this will go out and get involved in supporting local artists and musicians. Thank you to the Jackson Free Press for helping us all stay aware and GOOD LUCK to Mr. Lackey!!!

Author

Heather

Date

2003-11-11T16:45:44-06:00
ID

63594

Comment

I think I'll give this CD a whirl!

Author

Nia

Date

2003-11-11T17:35:38-06:00
ID

63595

Comment

The CD is wonderful, but I love twangy old country music. (Yes, I like rap and country.) Remember, all, that Luther performs this Wednesday night at Red Hot and Blue. I think we should all turn out to support him; he's really working hard to get his music out there, as Heather's posting shows.

Author

ladd

Date

2003-11-11T17:46:09-06:00
ID

63596

Comment

Does anyone know if he's tried distributing it in NY? There are an awful lot of country music fans in NY. I know how it sounds, but it's true!

Author

Nia

Date

2003-11-11T18:03:31-06:00
More like this story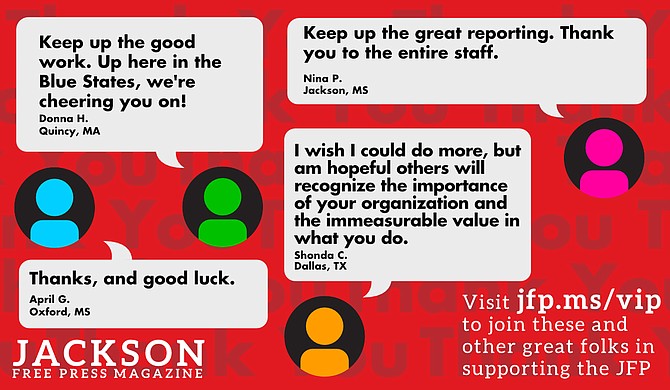 Thanks to all our new JFP VIPs!
COVID-19 has closed down the main sources of the JFP's revenue -- concerts, festivals, fundraisers, restaurants and bars. If everyone reading this article gives $5 or more, we should be able to continue publishing through the crisis. Please pay what you can to keep us reporting and publishing.