Ronnie Musgrove
Democratic incumbent Ronnie Musgrove, 47, was a two-term state senator and former Mississippi lieutenant governor before replacing Kirk Fordice as the state's governor. Musgrove, who grew up poor and worked his way through Ole Miss, has adopted education as his own priority issue. He battled legislators in 2001 to pass a historic teacher pay raise for Mississippi teachers, raising the average teacher pay in the state from 49th to 19th if fully implemented—no easy feat, considering the recession the state has been faced with during the last two years.
Musgrove also focused on his initiative to put a computer connected to the Internet in every state classroom by the end of 2002. Musgrove also claims partial credit for the arrival of the $1.4 billion Nissan plant in Canton, thanks to his Advantage Mississippi Initiative economic development plan.
The loss of state money has been whacking Musgrove around, however. He and legislators have come to blows repeatedly over budget concerns, such as his veto of House Bill 1036 earlier this year, which would have allowed the state to use all of its income next year instead of holding back 2 percent of the state coffer's contents. The Legislature geared up for a veto override, but fell 25 votes short of a majority, much less the two-thirds requirement for an override. Barbour has capitalized on the state's floundering budget, blaming Musgrove's mishandling of agency funding for much of the shortfalls. While Musgrove oversees the agencies, however, it is the Legislature that decides how much money to appropriate.
Musgrove has also made enemies of many traditionalists in siding with the new flag during the 2001 flag vote, citing a progressive Mississippi image as more favorable to attracting business, and in dropping a funding contract with many of the state's private prisons, saying the budget couldn't handle the costs.
The governor has lately been painting himself as a "conservative independent," and has been very careful about unleashing criticism upon Republicans. Musgrove refused to take a stance on Senate majority punching bag Trent Lott after his verbal snafu at a December 2002 birthday party for South Carolina senator and former "Dixiecrat" Strom Thurmond. Musgrove has also voiced support for the selection of controversial Judge Charles Pickering for the 5th U.S. Circuit Court of Appeals, which covers Mississippi, Louisiana and Texas and has the highest percentage of non-whites of any circuit. Also, while Barbour is very clear on his support of traditional Republican values such as a "pro-life" sentiment, Musgrove has remained carefully silent on the issue. He and his wife divorced while he's been in office, and Barbour is trying to use it against him. And Musgrove, as well as Barbour, invited the Ten Commandments to be displayed in Mississippi government chambers. As lieutenant governor, Musgrove worked to lower the state inheritance tax, and has promised to repeal the "death tax"—both positions in staunch Republican territory—if voted to a second term as governor.
Musgrove's Issues (http://ronniemusgrove.com)
Education: Passed the Education Reform Bill, which sets aside 62 percent of the state budget for education purposes; takes credit for the number of Mississippi schools "needing improvement" by federal government standards dropping 90 percent from 122 to 11 during his term; claims for the second year in a row that state children's scores on the Mississippi Curriculum Test improved in every subject and at every grade level.
Economy: Crackdown on "frivolous lawsuits;" state now offers job-training programs to its citizens, and new or expanding businesses earn tax incentives for raising their employees' salaries.
Health: Mississippi has enacted the most comprehensive newborn genetic screening process in the nation under Musgrove; capped non-economic medical malpractice damages; focused on early immunization, leading the state to rank No. 1 in immunization rates for infants in the Southeast, and No. 5 nationally.
Haley Barbour
Republican challenger Haley Barbour, 55, is a high-priced lobbyist with some very lofty connections in Washington. A Yazoo City native, Barbour spent much of the 1980s and the 1990s working not just as a lobbyist but a strategist and fundraiser impressing national Republicans so much that he was recruited to chair the Republican National Committee.
More importantly, Barbour has worked directly with former president George H. W. Bush and current president George W. Bush. Barbour helped Bush (Jr.) get elected as governor of Texas in 1994. Bush has even come to Jackson recently, promoting Barbour's own push for the governor's mansion. There's no room for doubt that Barbour has the ear of the current administration, and a strong argument in many of Barbour's debates is that his impressive connections will be good for the state if he makes it to governor. Also, pushing a pro-business platform, Barbour has been racking up some very serious endorsements with both local and national business associations such as the National Federation of Independent Business and the Mississippi Restaurant Association, among many, many others.
The downside is that Barbour is... a high-priced lobbyist with some very lofty connections in Washington. If you have no problem with lobbyists, or have few criticisms about the current presidential administration, you should have no problem with Barbour. But, usually politicians become lobbyists, not the other way around, and Barbour may prove to be an example of why. As a lobbyist for Barbour Griffith & Rogers, Barbour worked for the drug company Bristol Myers-Squibb in 2001, pushing to keep drug company patents alive and well for three and a half more years and keeping drugs like childhood doses of diabetes drug Glucophage under the mantle of Bristol Myers-Squibb instead of allowing cheaper generic drugs to make the scene. This drove U.S. seniors to order cheaper, generic medicine from nations like Canada. Barbour, incidentally, has been recently endorsed by the Mississippi Pharmacists Association for his opposition to mail-order prescriptions.
Barbour has also worked for the Mexican government on issues Barbour said dealt with cross-border trucking permits, but documents show that his work helped Mexico lure away U.S. jobs. Also, in 1997, Barbour helped Republican pit bull Newt Gingrich and Sen. Trent Lott insert a $50 billion tax credit for tobacco companies into legislation, following a successful class action suit against the companies by various states. Both the Senate and the House shot the effort down—the Sentate vote was 95-3 vote. In an earlier interview Barbour said he's working to get more African-Americans into his campaign, but he appears on the Web site of the Council of Conservative Citizens, (http://www.cofcc.org), a Neo-confederate organization that promotes white supremacist and anti-Semitic causes, from which he refuses to ask to be removed.
Barbour's issues: (http://www.haleybarbour.com)
Education: Open more Charter Schools; support Musgrove's push for higher teacher pay; improve discipline in the classroom; extend retirement age of state teachers.
Economy: Reform civil justice laws to end "lawsuit abuse"; boost workforce training system; eliminate unnecessary government regulations. "I will use my personal relationships with national political and business leaders to bring new jobs to our state and to find new markets for our products. There is no substitute for CEO to CEO communication in economic development efforts," Barbour said.
Health: Control costs through better management; crack down on fraud and abuse. "The federal government pays more than 3/4ths of the cost of Medicaid benefits in Mississippi. It is important to enhance the Medicaid program to maximize the benefits, since the federal government bears such a high portion of the cost," he said.
Third-Party Candidates
Three third-party candidates will appear on the ballot for governor. Meadville native Sherman Lee Dillon (http://www.dillon4gov.org) of the Green Party is the most progressive choice, saying that he is running because "as a small businessman, father, grandfather and husband, [I am] concerned about the future of his home state Mississippi." Dillon, a Jackson musician, is supporting the four pillars of the Green Party: Ecological Wisdom, Grassroots Democracy, Social Justice and Nonviolence. (See a very detailed and impressive questionnaire from Dillon posted at jacksonfreepress.com/politics.)
Recently, Dillon joined forces with an unexpected ally, John Cripps of the Constitution Party, to protest not being allowed to share the gubernatorial debate stages with the main-party candidates. Cripps runs on a white-supremacist platform, advocating support for the Confederate battle emblem and other concerns he believes vital to white Mississippians. Shawn O'Hara is the perpetual Reform Party candidate for governor, but makes no effort to actually campaign or share his views, from what we can see. He didn't even show up with Dillon and Cripps to complain about being left out.
Lieutenant Governor
Lt. Governor Amy Tuck, 40, a native of Maben, attended Mississippi State University and left with a bachelor's degree in political science and a master's in public policy and administration. She received her law degree from Mississippi College in 1989. Tuck hit the Senate in 1991 (as Amy Tuck Powell; she is now divorced), later becoming secretary of the Senate. She was elected lieutenant governor in 1999 after a nasty battle against Sen. Gray Ferris of Vicksburg. The Mississippi Legislative Black Caucus divided itself savagely between the two Democrats and vestiges of the rift remain to this day, aggravated perhaps by Tuck's recent switch to the Republican Party.
Tuck was already steadily on her way to the Republican Party months before her official switch. Fellow Democrats had complained of Tuck's work in passing tort reform legislation two years ago along with some other painfully un-Democratic moves. Days after the Tuck switch, RNC Chairman Marc Racicot described it as "more good news for the GOP," while Mississippi Democratic Party Chairman Ricky Cole said "good riddance."
Tuck has a background in education and jumped front and center behind the hammering out of the School Safety Act to make it easier to expel students from the classroom. She was also a front-runner in the development of mandatory auto liability insurance in Mississippi.
Tuck was not able to thoroughly escape her Democratic roots however, when The (Biloxi) Sun Herald sued Tuck to uncover the origin of about $500,000 in campaign financing for her 1999 election, later to be discovered as Biloxi lawyer Richard Scruggs, who gained national prominence by successfully suing the tobacco and asbestos industries. Scruggs told the Sun Herald that he'd felt obligated to loan the money because Tuck's political opponents were being financed by pro-tort reform business groups. Tuck later proved to be a poor target for Scruggs' money.
Also, Blackmon deftly dredged up the old abortion rumors of 1999. Blackmon responded to Tuck's "pro-choice" accusations by signing an affidavit saying Blackmon had never had an abortion, and then challenged Tuck to sign it. Tuck said she would sign it, but hadn't as of press time.
Tuck's Issues (http://amytuck.com)
Civil justice reform: Tuck successfully fought for civil justice reform for 83 days last year in the special session called by Musgrove. She believes more reforms need to be made to ensure Mississippi is a place that throws out the welcome mat for new jobs and to make sure health care is accessible and affordable.
Education: Tuck claims responsibility for finding "a way to raise Mississippi teachers' salaries to the Southeastern average. She connected teacher pay with one of the best education accountability laws in the nation," her site says.
Health: During the 2000 Legislative session, Tuck proposed the expansion of the Vulnerable Adults Act, which was introduced in two Senate bills. It died in the House, but was passed the next year and then strengthened in subsequent bills in 2002 and 2003.
Barbara Blackmon
Sen. Barbara Blackmon, D-Canton, and her husband, Rep. Edward Blackmon, Jr., in many ways, embody the very idea of the high-powered attorney. Blackmon received a bachelor's degree at Jackson State University, an MBA at the University of Alabama, a law degree at the University of Mississippi, and an LLM (Taxation) from New York University. From there she went to work in New York for Bristol Myers-Squib. She returned to Jackson and worked as an associate attorney with the law firm of Banks and Nichols. Blackmon is currently the managing partner in the law firm of Blackmon and Blackmon in Canton. She has been a senator since 1992.
Enmity between the 47-year-old Blackmon and Tuck began early, but rose to a head when Tuck changed to the Republican Party last year. Blackmon was quoted in a local newspaper saying Tuck had no allegiances days after Tuck's switch and described numerous incidents during legislative session when Tuck would "go back and forth between Republicans and Democrats, asking how she should vote."
Blackmon has been an opponent of tort reform, so much so that the Mississippi Republican Party has been trying to scare swing voters away from Democrat Musgrove by linking him with Blackmon. Tuck claims Blackmon is an enemy of tort reform because Blackmon and her husband have repeatedly won million-dollar cases against businesses. Blackmon responds that citizen and business interests must be "balanced."
Blackmon won the Democratic nomination with 54 percent of the vote Aug. 5, defeating two men—a white former state Supreme Court justice and a black businessman—and carrying several predominantly white counties, a historic moment in itself. To succeed, however, the Democrat will have to energize black voters—about 37 percent of Mississippi'spopulation—and win substantial white support if she is to become the first African-American elected to statewide office since Reconstruction.
Blackmon's Issues (http://www.voteblackmon.com)
Economy: Give existing businesses resources for expansion; provide additional resources for small business loan program and grants; zero-based budgeting—requiring agencies to build budgets from the bottom up versus automatically receiving last year's budget plus inflation. Scrutinize state exemptions and credits.
Education: Expand the Prepaid Affordable College Tuition (MPACT) and the Prepaid Affordable College (MPAC) programs to include savings for vocational and technical schools; rebate a percentage of loans to students who work in Mississippi after college.
Health: Enter Mississippi into a prescription drug compact with other states. This has already worked in other states and Blackmon claims it will save taxpayers $50 million to 100 million and will lower the cost of prescription drugs for senior citizens who get their medication through Medicaid.
State Treasurer
Democratic Challenger Gary Anderson (http://www.andersonfortreasurer.com) is Mississippi's first African-American state fiscal officer. He has served as president & CEO of Barrington Mortgage Company (1996-2000), president and CEO of the Anderson Group (1996-2000), senior vice-president of community development for Sunburst/Union Planters Bank (1993-1996), deputy director of the Mississippi Department of Economic and Community Development (1990-1992), and community planner and director of Community Development/Governor's Office of Federal-State Programs (MDECD 1981-1990).
Anderson, frankly, comes with experience out the wazoo. Since his appointment in January 2000, his work has won him kudos from such outlets as Moody's, Standard and Poor's and Fitch's Rating Agencies and the Bond Buyer, a financial industry trade publication. Believe it or not, despite its financial shortfalls, Mississippi consistently ranks among the top states having exercised skillful, fiscally prudent management of budgets during the most recent national recession. Anderson had much to do with that. He was invited by the European Union to participate in a study of European fiscal policy for the conversion of several different European currencies into the Euro.
Anderson has stuck to his guns during numerous face-offs with the Legislature. Remember Musgrove's veto of House Bill 1036 mentioned earlier—the one that would have allowed legislators to deplete the entirety of the state's budget without holding back 2 percent? Anderson was the bookworm behind the figures justifying the veto, and essentially rode shotgun with Musgrove into battle against the Legislature that year. Anderson has recently been the target of a Mississippi Republican Party campaign to panic swing voters by labeling him a "Musgrove liberal." If he can survive the scare tactics, he can also make history as a statewide black elected official.
In a recent interview, Anderson said: "We're still going to be deep in a national recession next year, and there's no denying that we're going to have to trim our state budget even more, but I've managed to sustain the budget decreases we've suffered so far and I believe we can get through the next year without raising taxes. It's going to hurt, though. I'm not going to lie about it. We're hurting all over the country."
Republican Challenger Tate Reeves is a graduate of Millsaps College with a bachelor's of science in economics. His post-graduate work includes the Chartered Financial Analyst designation, which is a standard measure for competence and integrity in the investment management industry. Reeves is an investment officer for Trustmark in Jackson and a member of the Trustmark investment strategy committee. Prior to joining Trustmark in 2000, Reeves was an assistant vice president for AmSouth, formerly Deposit Guaranty National Bank, and served as a senior investment analyst and member of the Investment Policy Committee. Reeves is a member of the Association for Investment Management and Research and serves as public awareness chairman for the Mississippi Society of Financial Analysts. He received the 1996 Mississippi Society of Financial Analysts Award.
Both Reeves and the Republican Party are pushing his candidacy as a challenge to get a conservative thinker (and tort reform flag-bearer) into the Treasurer's office. Reeves doesn't take well to criticism; on his Web site (http://www.tatereeves.com), he features a letter to the editor he drafted for columnist Bill Minor, whom Tate refers to as a writer of "irresponsible journalism" who harbors "big government fantasy." Reeves has prescribed a "Watchdog Plan" for the state's shrinking budget. "I will vigilantly guard the state's credit rating and oppose legislative efforts to waste our tax dollars, so that we can focus on the priority of strengthening our economy and our schools. I'll promote our state's pre-paid tuition program aggressively so that more Mississippians can enjoy the life-long economic boost that higher education provides."
Attorney General
Democrat Jim Hood is currently the district attorney for the Third Circuit Court District in North Mississippi. As DA, his office has had more than 4,400 convictions, and Hood has personally tried 101 cases before a jury. Pundits say Hood was hand-picked by current Attorney General Mike Moore, who is not seeking re-election. Hood served as assistant attorney general for five years where he ran the drug unit and served as a staff assistant on former President Bush's Commission on Model State Drug Laws. Hood received the 2003 Justice Achievement Award from the Crime Victim's Compensation Program. He also secured funding for a special prosecutor for cases involving violence against women and children. He has published a merchant's booklet on bad checks, produced a children's crime prevention and alcohol treatment manual for drug offenders, produced a children's crime prevention video showing stark scenes of prison life, established a jail tour program for alternative schools students and established a pre-trial diversion program for young first-time offenders.
Republican Scott Newton is a former FBI agent who is racking up endorsements from state law enforcement agencies. Newton claims that "lawsuit abuse" is running doctors and businesses out of the state and is determined to cut down on it. He also seeks to establish a victims' rights advocate in the attorney general's office to assist victims and ensure that they have a voice in all aspects of the trial. He will also start an "unsolved murder unit" of the Attorney General's Office to re-examine previously unsolved homicides.
Commissioner of Agriculture and Commerce
As a child, Democratic incumbent Lester Spell was active in 4-H. He later attended Mississippi State for pre-veterinary studies and then Auburn where he received his doctorate of veterinary medicine in 1968. He served two years as a captain in the Army, supervising the inspection of perishable food shipped to Vietnam from the West Coast. In 1970, Spell returned to Mississippi, beginning his veterinary practice and farming. He raised blueberries and pumpkins and oversaw the family's timber and wildlife management programs. In 1975, Spell became the first mayor of Richland, his hometown—a position he held until 1996 when he took office as commissioner of agriculture. During his tenure, Richland was incorporated and experienced business and industrial growth. In 1995, Spell was elected commissioner of agriculture and commerce and was awarded the honor of Mississippi Veterinarian of the Year in 1996. He is past president of the Mississippi Municipal Association, Mississippi Fruit and Vegetable Growers Association, Mississippi Veterinary Medical Association and the Rankin County Chamber of Commerce.
Republican Max Phillips has a master's degree in agricultural education from Mississippi State University. He worked 21 years as a vocational agricultural instructor in Mississippi public schools, two years in agricultural industrial training and another two years in agricultural lending and banking with PCA and Trustmark Bank. Phillips said he plans to "reduce the cost of government and hold the line on wasteful spending," and proposes the creation of an Agriculture Advisory Council represented by all areas of the agriculture industry. He said this open-door format will give a voice to a team of agricultural leaders directly involved in the industry and provide direction for the development of a long-range plan for Mississippi agriculture.
Commissioner of Insurance
Democratic incumbent George Dale was elected commissioner of insurance in 1975—the youngest insurance commissioner in Mississippi history. Now in his seventh term, Dale is the longest-serving insurance commissioner in the United States. He is a native of Jefferson Davis County and a graduate of Prentiss public schools. He attended Pearl River Junior College and graduated from Mississippi College with bachelor's and master's degrees. Dale was a teacher, coach and school administrator in the Moss Point public school system prior to entering state government in 1972. He serves on the Board of Trustees of Mississippi College.
Aaron "Lucky" DuPuy, a Republican, recently ran for the Jackson City Council's Ward 1, but lost to Republican Ben Allen, who had suggested he might retire from politics prior to DuPuy's entry into the race. DuPuy is chairman of Lucky Pierres, Inc., insurance company with interests in Louisiana and Mississippi.
Barbara Dale Washer, Reform Party. No information available, aside from a promise to lower high insurance rates and make auto insurance policies include free windshield replacement.
Secretary of State
Incumbent Eric Clark, a Democrat, is a native of Smith County born in 1951. Clark has focused the secretary of state's office on four primary goals: protecting the integrity of the state's elections; promoting sound land management; strengthening Mississippi's business climate; and safeguarding the investments and charitable donations of Mississippians. Clark has reformed the state's campaign-finance disclosure laws and secured passage of new measures to combat voter fraud. He has expanded voter education programs and led "Promote the Vote," which was recognized by CNN and TIME Magazine as the most successful student voter project in the country. Clark also serves as trustee of the public trust tidelands on the Gulf Coast. In this capacity, he has promoted balanced economic development and led in the acquisition of more than 15,000 acres of endangered coastal wetlands, including Deer Island, for permanent preservation. Clark overhauled the secretary of state office to provide faster, more efficient customer service. He enforces the laws that protect Mississippi investors and has helped recover more than $16.5 million in stolen money. And he has strengthened the climate for charitable giving in Mississippi. He has also helped author the bill that made child pornography illegal in Mississippi.
Republican Julio Del Castillo works for McRae's billing department in Jackson. If he wins he will be the fist Hispanic to serve a statewide elected office in Mississippi. Castillo, a GOP activist, has received mixed approval for his campaign from Hispanic organizations and civic leaders, such as Mississippi Immigrants Rights Alliance Chairman Bill Chandler, who has said that the vast majority of Hispanics do not vote Republican, adding that Republicans rarely embrace the Hispanic plight in America. He has raised little money and has run a very low-key campaign.
Brenda Blackburn, Reform Party. Blackburn has expressed a desire to avoid new tax hikes on Mississippi casinos, continued tax exemption for Native-American-owned casinos, "outlawing the illegal 1890 Constitution of Mississippi," and a push for more women in politics.
State Auditor
Republican incumbent Phil Bryant was appointed state auditor in November 1996 to fill the unexpired term of his predecessor. Bryant was elected to a full term in November 1999. Since taking office, Bryant and his staff have recovered and returned nearly $5 million in taxpayers' money that have been embezzled or improperly spent, while investigating public corruption within state and local governments. The agency audits approximately $11 billion of taxpayer dollars annually for legal compliance and efficiency. Prior to becoming state auditor, Bryant served five years in the State House of Representatives, where he was vice chairman of the Insurance Committee and authored the Capital Gains Tax Cut Act of 1992. He currently serves as chairman of the E-Government Committee for the National State Auditors Association (NSAA) and as vice-chairman of the Mississippi Legislative E-government Oversight Committee.
Billy Blackburn, Reform Party. No personal information available; Blackburn has expressed a desire to "arrest public officials who misuse their public office, audit all government agencies and recover any stolen public funds or property."
Public Service Commissioner-District 1
Republican incumbent Nielson Cochran was born in Pontotoc in 1941. His family moved to Byram in 1946, where he graduated from high school. A former professional baseball player for the Baltimore Orioles, he attended Mississippi College and Northern State College in South Dakota. Nielsen was elected Jackson City Commissioner in 1977 and re-elected in 1981. He was elected Central District Public Service Commissioner in 1983 and is currently serving his fifth term. He is a member of the National Association of Regulatory Utility Commissions and served as president of the Central Mississippi Planning and Development District and is a past member of the National League of Cities Transportation and Communication Policy Committee. He was appointed to a three-year term on the National Liquid Hazardous Material Board by then-Labor Secretary Elizabeth Dole.
Mike Ivey, Reform Party. No personal information available; promises to install more street lighting, public phones and cleaner drinking water. He said he will also work to keep utility costs down.
L.D. Horne, Democrat, of Jackson. No information available.
Transportation Commissioner
Incumbent Dick Hall (R) of Madison served three terms in the Mississippi House and three terms in the state Senate before he was elected transportation commissioner in 1999. He defeated his current Democratic opponent, W.C. Alderman, in 1999, but in the Republican primary. Alderman, a civil engineer, was previously a Hinds County supervisor. Jimmy Loper, of the Reform Party, is also on the ballot.
Previous Comments
ID

77528

Comment

I'd be curious to know why JFP endorsed Max Phillips for Ag Commissioner.

Author

David

Date

2003-10-31T12:32:24-06:00
ID

77529

Comment

"Three third-party candidates will appear on the ballot for governor. Meadville native Sherman Lee Dillon (www.dillon4gov.org) of the Green Party is the most progressive choice" Sherman Lee's web site is www.dillon4gov.com (not .org)

Author

Tre'

Date

2003-11-03T14:09:37-06:00
More like this story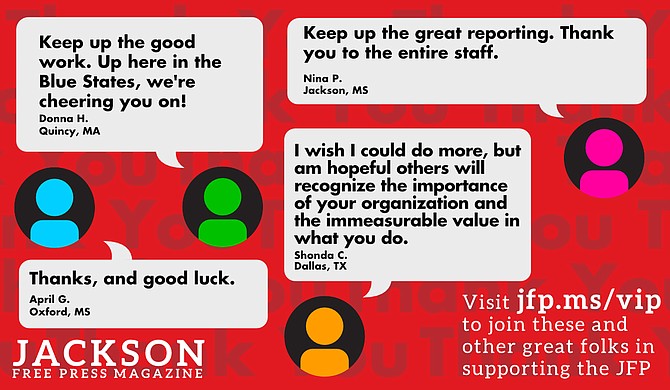 Thanks to all our new JFP VIPs!
COVID-19 has closed down the main sources of the JFP's revenue -- concerts, festivals, fundraisers, restaurants and bars. If everyone reading this article gives $5 or more, we should be able to continue publishing through the crisis. Please pay what you can to keep us reporting and publishing.