Last week, Mississippi sent three baseball teams to NCAA Regional tournaments and was fortunate enough to host two of them. I had the opportunity to attend the Starkville Regional at Mississippi State's Dudy Noble Field. Usually I sit above the third-base dugout, but this trip I had an invitation to the Left Field Lounge. On occasion I had walked through the outfield, but I had not hung out there since my college days. As I sat in the outfield on some sort of constructed contraption, I observed the ingenuity and creativity of the evolved fan and how they have contributed to the evolution of the Left Field Lounge.
Webster's dictionary defines evolution as a gradual process of change or development. That's the only way to describe the Left Field Lounge at Dudy Noble Field. What started out with a few students sitting on towels, sheets, blankets or whatever they could haul from their dorm rooms to the cow pasture in left field has evolved into college baseball's premier tailgate party, now encompassing the whole outfield.
As a freshman in the spring of 1970, I discovered baseball at Mississippi State. Given the choice of going to afternoon classes or watching baseball, I almost always chose baseball. For us, attending a game took little or no preparation. We would just walk across campus, ease across a pasture past the cows (there is a reason we are called "cow college") and sit on the grass in the outfield. If we were lucky, the grass had been mowed. Because we were winning, because the games were so much fun, and because it was free, afternoon baseball at MSU caught on.
Each year, as the boys of spring played their game, we would return to the outfield, and each year we would bring with us more "stuff." High-tech ice chests on wheels with compartments for everything did not exist, but basic white Styrofoam ice chests in little red wagons did. Beer was not allowed on campus, so the game of hide and seek with campus security became amusing. At some point they compromised and allowed beer, but only in a cup, muttering something about an open-container law.
In 1971, Dudy Noble got lights, which cut down on skipping class but added to late afternoon and evening fellowship. Pickup trucks became the transportation of choice, because a pickup could tolerate the ride across the pasture, could carry lots of people and barbecue grills and ice chests and chairs, and then the bed and cab could be used to gain advantageous seating. The evolution had begun.
Pickups began appearing throughout the outfield, and the challenge now became getting to the field first for the best location. Students would gather in the outfield in the afternoons, cook out, hang out, watch some baseball, drink some beer (in cups) and stay until the early hours of the morning.
One night, the story is told, after a game, one of the trucks wouldn't start, so the owners left it there. The next home game, the truck was still there, thus providing an automatically reserved spot. Well, everything from barely driveables to towables began showing up in the outfield to reserve places, and soon odd-shaped bleachers appeared in the truck beds. The pickup, once again, became a premium item. On a stroll through the outfield in the 1980s I saw a pickup with bleachers built in the bed (the original skybox seats), a barbecue grill under the hood where an engine once lived, and a cab stuffed with Left Field Lounge paraphernalia.
Because of the space jockeying in the Lounge, the rules of plot establishment have changed over the years. Now, everything must be on wheels. The contraptions have to be removed at the end of baseball season every year, and hauled in again at the start of the next season, thus the ingenuity and creativity usually reserved for, say, a Neshoba County Fair cabin. As I was taking pictures of my weekend spot, Dale, one of the athletic assistants, said, "Take a bunch of pictures so we can put it back together. It ain't ever been put back together the same way we started." Each year, faithful fans pay $100 or $150 to rent a space for their trailer or truck, depending its size, and must also pay $130 for an individual season ticket. More evolution.
Today the contraptions range from an actual motor home with chairs on top, to the original pickup with bleachers in the back to flatbed trailers with bleachers built on them. Seating on the bleachers might be anything from boat seats that swivel to rows of auditorium seats, old bus benches or a front porch swing.
The former cow pasture is much more crowded now. The Shira Field House, the A. J. Pitts Tennis Center, the Carl Maddox Track and the Bryan Athletic Administration Building stand where the cows once grazed.
In an earlier description of the uniqueness of the outfield, John Grisham once said, "There are no telephones in Left Field." That was then. Now motor homes with satellite dishes blanket the parking lots behind this same outfield. This season, someone locked himself out of his mega-thousand-dollar motor home, and from his perch high above Dudy Noble Field, he used his cell phone to call On Star, which in turn buzzed open his motor home. That seemed especially evolved.
Judy Jacobs is a sports columnist for the JFP.
Previous Comments
ID

118023

Comment

Memories...... (insert the Barbara Streisand music here). Although I'm a huge football fan and don't have much use for baseball nowadays, some of my fondest memories are of going to the State baseball games in the late 70's during my tenure there as a student. In those days, it was first come, first reserved in the outfield. We were huge fans of the right field area and never missed a game. The biggest challenge we faced those days was pouring our beer in a plastic cup and making sure campus security wasn't patrolling at the time. I remember getting inebriated one night with my fellow dorm fans, hiking to the field (not an easy feat from Suttle Hall, especially in that state of mind) and stealing the Ole Miss sign. It was plywood back then and relatively easy to take. What is statue of limitations on sign theft in Mississippi these days? Good article, Judy. Thanks for the blast from the past!

Author

Cecil

Date

2003-06-16T17:14:18-06:00
ID

118024

Comment

"statue of limitations"? It should be "statute of limitations". You can tell I graduated from Mississippi State! As Bugs Bunny says "What a maroon!"

Author

Cecil

Date

2003-06-16T17:20:25-06:00
ID

118025

Comment

Welcome, Cecil. No need to apologize for typos. You'll see much worse here, I promise. ;-D And definitely don't give our peers from the smaller Mississippi universities an excuse to bash State. I might have graduated in 1983, but I still have my fierce Bulldawg pride firmly in place. Yes, Judy did do a lovely piece; I can't wait to present more of her work to y'all.

Author

ladd

Date

2003-06-16T17:36:30-06:00
More like this story
More stories by this author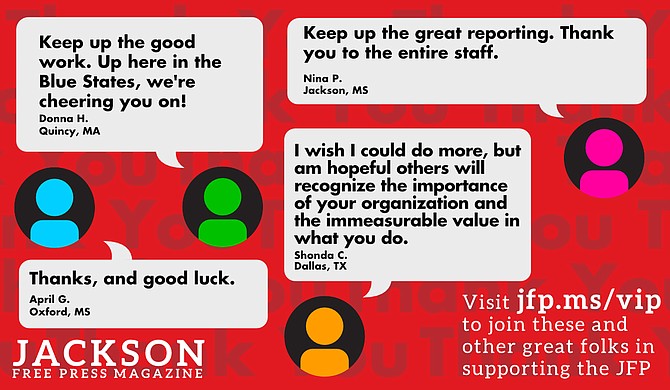 Thanks to all our new JFP VIPs!
COVID-19 has closed down the main sources of the JFP's revenue -- concerts, festivals, fundraisers, restaurants and bars. If everyone reading this article gives $5 or more, we should be able to continue publishing through the crisis. Please pay what you can to keep us reporting and publishing.