Q: What do you think about Haley Barbour's comment that "some of those kids in [Headstart] would be better off sitting up on a piano bench at a whorehouse than where they are now"?--Baffled in Belhaven
A: Shame on you, Haley. You know better than that. ...
You know as well as anyone that many of the parents and grandparents and great-grandparents of Headstart kids are the very people who gave you and me and our children—and a whole lot of other white folks in Mississippi—our head start even as their own children suffered. Yes, I know you also said Headstart is a "godsend." But bringing in that same tired old "welfare mother" kind of rhetoric makes me wonder which side of your mouth is telling the truth. Headstart children and their parents—in fact, all Mississippians—deserve better after all these years.
Q: There's been a lot of debate about the best weight-loss diet. Which is it: proteins or carbs? I want the truth. — Just sign me "desperate."A: I lost 25 pounds one spring in Yazoo City eating nothing but tomato sandwiches every day—and one big, juicy T-bone steak on Friday nights. I'd go to the Jitney Jungle every Friday afternoon and buy a loaf of white bread—one of those long, square-shaped loaves of thin-sliced (not extra-thin) Wonder Bread, the squishy kind that would fold over in your grocery sack—I don't know if you can still find that kind: the texture was very similar to Charmin. And I'd get a big jar of Hellman's mayonnaise. Then I would go up to the little vegetable stand at Five Points—it was up close to the highway in front of where Yazoo Motors is now—and buy a big sack of tomatoes. This was before the days of those hydroponic things. I don't care if they have to ship in tomatoes all the way from Bulgaria; they'll be better than hydroponic tomatoes. When I got ready to make my sandwich, I'd slather as much Hellman's as I could get to stay on my white bread, then slice them, peeling and all (I do not believe in peeling a tomato), shake a good bit of salt on top—no pepper—and I'd pile up about two tomatoes worth of slices on each piece of bread. Any that fell off the bread, I'd just eat plain. At lunch I'd usually have two open-faced sandwiches; at night I didn't eat but one; I put a top on it, though, so I could stack up several more tomato slices on a sandwich. Every now and then for supper, I'd fry three pieces of bacon (done, but not too done) and lay them on top of the tomatoes; the bacon would kind of stick out and fall over the edges of my bread. I might add a little lettuce (iceberg) when I was having bacon on my tomato sandwich. As for the steak, I'd get the thickest, best T-bone I could find, the kind that has lots of little fat streaks running through it. But I didn't eat the fat around the edges of the steak. Sometimes I'd broil my steak under the electric broiler; occasionally I might cook it outside on the grill, but usually I'd just pan-fry it in a little butter. It took me about three months to lose 25 pounds. This was the year I was practice-teaching.
And that's the truth.
NOTE TO THOSE IN NEED. If you have problems of any kind or want to know the truth on pretty much every subject. If she doesn't know, she will draw upon her global team of experts. You must give your name and telephone number, but we can withhold this information upon request.
Previous Comments
ID

68386

Comment

What a setup. It just so happened that the very first question for this new column was an opportunity to slam Haley? ///// ROFLMAO ///// Tell it like it is.

Author

John Q. MS Public

Date

2003-05-30T11:12:09-06:00
ID

68387

Comment

Actually, I was there when some of the first questions were posed during Lounge a week ago... This was literally one of the first questions that was posed and gives insight into JoAnne's column and reply-style. She's quick-witted and a very funny lady! I'm sure we all could have posed questions about roommates, bosses, partners, black shoes or white shoes(?) and the likes (many of which, I did) but it was refreshing for someone to question JoAnne regarding current events and politics... Which is why I believe it was posted. Personally, I could care less about Haley and/or his comments since he turned me off before he made those statements; on the other hand, I'm very curious whatever made her think to eat steaks and tomato sandwhiches to lose weight? This is no diet I'll be trying any time soon! ;)

Author

Knol Aust

Date

2003-05-30T12:32:09-06:00
ID

68388

Comment

Dr. Atkins' diet certainly has been gaining more and more support of late.

Author

Ex Libris

Date

2003-05-30T13:45:46-06:00
ID

68389

Comment

Where was this an opportunity to "SLAM" Haley? I thought her answer was very appropriate. Shame on you Mr. Barbour. We thought Mississippi raised you better than that. Tell it like it is Joanne!

Author

steve

Date

2003-05-30T14:05:05-06:00
More like this story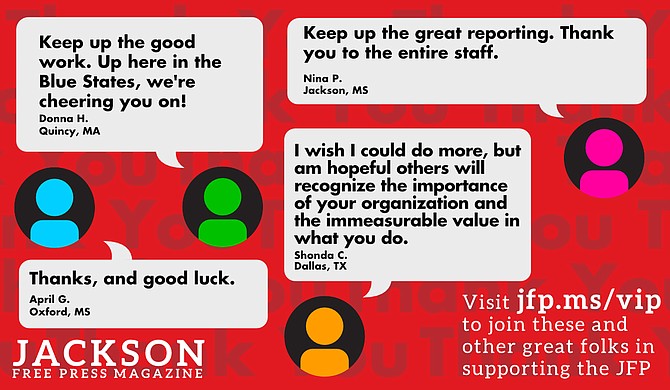 Thanks to all our new JFP VIPs!
COVID-19 has closed down the main sources of the JFP's revenue -- concerts, festivals, fundraisers, restaurants and bars. If everyone reading this article gives $5 or more, we should be able to continue publishing through the crisis. Please pay what you can to keep us reporting and publishing.