That chill in the night air (it got down to 75 the other night, brrr) signals that it's almost time for football. And here in Mississippi, the favorite brand of football is college football (unless Junior is playing for the middle school or high school team). College football is what binds students, alumni and fans together for a common cause. And causes them to be rude to other people wearing different colors. As Aug. 30 approaches, there are several burning questions on the minds of every true college football fan:
1. Can Eli Manning do what his daddy, Archie, and brother Peyton couldn't do—win the Hypesman, uh, Heisman Trophy?
Answer: Yes, but only if Ole Miss wins at least nine games. And the Rebels haven't won more than eight since 1992. Plus, ESPN hates the Manning family and will do anything to ruin their lives. If you don't believe Dr. S, just ask any University of Tennessee fan.
2. Will Ole Miss, Mississippi State or Southern Miss ever play in Jackson again?
Answer: Unless something unforeseen happens, no. MSU and Ole Miss decided more than a decade ago that "home" games should be played in north Mississippi (unless Memphis or some Florida city pony up enough cash). Plus they get to keep all of the money when they play in Oxford or Starkville. There was much not-so-private grumbling during the decades they played here that the Rebels and Bulldogs weren't getting their fair share of the proceeds. Southern Miss isn't going to play here (forget it, Jackson State fans) unless they can hook up with MSU or Ole Miss. And those two don't want to play USM anywhere, anytime, no matter what they might say in public. State and Ole Miss have conveniently forgotten that the state of Mississippi expanded Memorial Stadium because those two complained it wasn't big enough. So Dr. S believes that the Big 3 should play one another, and the appropriate venue is here in the Capital City. Here's his suggestion: One year, State plays USM here; the next, Ole Miss plays USM here. Both schools split all proceeds 50-50. This minimizes the Southeastern Conference schools' pain, gives USM a badly needed payday and allows Belhaven and Fondren residents to relive the weekly traffic jams of yore.
3. Ole Miss and MSU will meet in football for the 100th time. After a century of rivalry and hatred, can't we all just get along?
Answer: Hell, no.
THE BIG FOUR
Jackson State
Coach: James Bell (first year)
2002 record: 7-4 (5-2 Southwestern Athletic Conference)
Home field: Mississippi Veterans Memorial Stadium, Jackson
What's new: Bell has installed a run-heavy offense in place of the pass-happy attack of recent years. He has also insisted that the Tigers practice the kicking game, which might be the first time that's gone on at JSU since John Merritt was coach.
Big games: There are plenty for the Tigers; besides the SWAC schedule, the Tigers' non-conference slate is a who's who of black college football including Tennessee State (Sept. 13 at Memphis) and Florida A&M (Oct. 4 at Indianapolis). The SWAC showpieces include home games against Southern U. (Oct. 18), Grambling (Oct. 25) and Alcorn State (Nov. 22).
Outlook: The Tigers face a dilemma on offense. Their seven returning starters, including quarterback Robert Kent, are best suited for a wide-open passing offense. But Bell says he's going to play things closer to the vest, emphasizing the runs. When you have a thoroughbred like Kent, should you hitch him to a plow? Kent was hit on virtually every play last year. Bell's scheme should be better for Kent's health, if not his stats. The defense should be good with six starters back. The Tigers are a mortal lock to win at least seven games, but won't make the SWAC Championship Game.
Did you know? The Tigers will wear new uniforms this year, which will look similar to those worn by the NFL's Denver Broncos. (But will the new style improve those ugly blue-on-blue outfits they wear at home?)
Schedule
August: 30, at Northwestern (La.) State. September: 6, North Carolina A&T; 13, Tennessee State (at Memphis); 20, at Texas Southern; 27, at Mississippi Valley State. October: 4, Florida A&M (at Indianapolis); 11, Alabama State; 18, Southern U.; 25, Grambling. November: 1, Arkansas-Pine Bluff; 8, at Alabama A&M; 22, Alcorn State.
Mississippi State University
Coach: Jackie Sherrill
2002 record: 3-9 (0-8 Southeastern Conference)
Home field: Scott Field, Starkville
What's new: A big chunk of the coaching staff, starting with offensive coordinator Morris Watts, defensive coordinator Ron Cooper and defensive line coach John Blake. Sherrill has revived his fortunes at MSU a couple times before by turning over his assistants. But in this case, it might be like throwing deck chairs off the Titanic.
Big games: MSU is playing three Conference USA teams this year (Tulane, Houston and Memphis). If the Bulldogs win all three, do they earn one of C-USA's bowl bids? Oregon (Aug. 30) might set the tone for State's whole season. A crushing loss at home on national TV would kill the Dogs' season at the outset. Other mega-tilts will be LSU (Sept. 27), Alabama (Nov. 8) and Ole Miss (Nov. 27).
Outlook: Hanging over everything going on at State is an NCAA investigation. The hammer could come down at any time, producing a bunker mentality in Stark Vegas. Sherrill has done his best to ruin another MSU senior quarterback, but Kevin Fant will be the starter on Aug. 30, no matter what Sherrill says. Seven starters return on offense, including talented running backs Jerious Norwood and Nick "Funny Money" Turner. But the line is inexperienced and the receivers need to learn to hang on to the ball. The defense has six starters back, but the Dogs lost eight games by double digits last season. State will be lucky to win five games. Going to a bowl would make Sherrill the SEC — hell, the national —coach of the year.
Will he stay or go? The reign of the Jackal appears to be over. If Sherrill doesn't win at least six games, he will be fired. If the NCAA hits State with major sanctions, Sherrill will be fired.
Schedule
August: 30, Oregon. September: 13, at Tulane; 20, at Houston; 27, LSU. October: 4, Vanderbilt; 11, Memphis; 18, at Auburn; 25, at Kentucky. November: 8, Alabama; 15, at Tennessee; 22, at Arkansas; 27, Ole Miss.
University of Southern Miss
Coach: Jeff Bower
2002 record: 7-6 (5-3 Conference USA)
Home field: M.M. Roberts Stadium, Hattiesburg
What's new: Southern Miss is selling tickets for a change, thanks to a Sept. 25 home game with Nebraska. Former Memphis coach Rip Scherer has returned to college football as USM's offensive coordinator after taking a year off. He inherits an offense that struggled all last season and has just four starters back, including quarterback Micky D'Angelo. And the Eagles suffered a big loss before practice started when leading receiver Chris Johnson was kicked off the team.
Big games: The Golden Eagles' two biggest rivals, Louisville and Ole Miss, aren't on the schedule this year. And the Eagles haven't played the Rebels since Jesus was a freshman. The Nebraska game (Sept. 25) figures to be the biggest home game in USM history, even if Nebraska isn't NEBRASKA anymore. Other biggies include a trip to Alabama (Oct. 11) and the C-USA championship game against Texas Christian (Nov. 20).
Outlook: The defense will be walking hell, thanks to linebacker Rod Davis' decision not to leave early for the NFL. Davis has already pulled the upset of the century by becoming the first defensive player and Golden Eagle to win the Conerly Trophy. Davis is one of eight defensive starters who return. If D'Angelo struggles, Bower won't wait long to insert Dustin Almond. The Eagles will be in the C-USA title hunt as usual.
Did you know? The Eagles are wearing new uniforms this year. Unfortunately, USM didn't ditch those ugly-ass black-on-black uniforms.
Schedule
August: 30, at California. September: 4, at Alabama-Birmingham; 13, Memphis; 25, Nebraska. October: 4, at Cincinnati; 11, at Alabama; 25, South Florida. November: 1, Louisiana-Lafayette; 8, at Houston; 15, Tulane; 20, Texas Christian; 29, at East Carolina.
University of Mississippi
Coach: David Cutcliffe
2002 record: 7-6 (3-5 Southeastern Conference)
Home field: Vaught-Hemingway Stadium, Oxford
What's new: Ole Miss legend Archie Manning said Ole Miss could promote quarterback Eli Manning for the Heisman Trophy this year. Heisman is a dirty word in the Manning family. On defense, the Rebels will use the same scheme two years in a row for the first time since 2000. If Ole Miss stops the run, that will be something new, too. And Ole Miss fans will no longer be entertained at games by Colonel Rebel, the student in the old Southern gentleman costume. UM officials cruelly fired the old coot and are now looking for a less politically charged symbol than a plantation owner.
Big games: Aren't they all? Last year, the fans of 10 schools chanted, "Go to hell, Ole Miss" during a game, and Ole Miss only played seven of those schools. Florida will be bent on revenge for last year's humiliating upset when the Rebels go there on Oct. 4. And the Rebs close the season against the teams they love to hate the most, LSU (Nov. 22) and Mississippi State (Nov. 27).
Outlook: Eli appears to be a mortal lock to break the school's total offense record. But when it comes to winning games, the Rebels must run the ball on offense and stop the run on defense. That doesn't come easy at Finesse U. Regardless, the combination of all that offensive firepower and a Charmin-soft schedule guarantees the Rebels will, at worst, make their annual trip to the Independence Bowl.
Will he stay or go? Cutcliffe will probably go. If the Rebels win eight games, he's going to follow in predecessor Tommy Tuberville's footsteps out of Oxford to greener pastures. If he wins six games or less, Cutcliffe's days as Rebels coach are numbered.
Schedule
August: 30, at Vanderbilt. September: 6, at Memphis; 13, Louisiana-Monroe; 27, Texas Tech. October: 4, at Florida; 11, Arkansas State; 18, Alabama; 25, Arkansas. November: 1, South Carolina; 8, at Auburn; 22, LSU; 27, at Mississippi State.
SMALL, BUT LOVED
Alcorn State
Coach: Johnny Thomas. 2002 record: 6-5 (3-4 Southwestern Athletic Conference). Home field: Jack Spinks Stadium, Lorman.
What's new: La'Traia Jones, a former Mississippi Valley State head coach, will be the Braves' defensive coordinator this season. Eight returning starters, including preseason All-SWAC middle linebacker Omega Logan, will make his job easier.
Big games: The Braves' old-school SWAC rivals will give Alcorn State plenty to worry about: Grambling (Sept. 6), at Southern U. (Oct. 25), Mississippi Valley State (Nov. 8) and archrival Jackson State, (Nov. 22 at Memorial Stadium).
Outlook: After an 0-11 season in 2000, the Braves finished 6-5 the last two seasons. Alcorn started 6-2 in 2002 but lost its last three. Alcorn also has eight starters back on offense, but the season will hinge on the play of junior quarterback Donald Carrie. He was the SWAC Newcomer of the Year in 2001, but struggled in 2002. Alcorn is better, but it's still no better than the fifth-best team in the SWAC. Another six-win season could mean the end of Thomas' tenure on the Reservation.
Schedule
August: 30, at Arkansas-Pine Bluff. September: 6, Grambling; 13, at Alabama State; 27, at Stephen F. Austin. October: 4, at Fort Valley State; 11, Prairie View; 18, at Texas Southern; 25, at Southern U. November: 1, Southeastern Louisiana; 8, Mississippi Valley State; 15, Alabama A&M; 22, at Jackson State.
Mississippi Valley State
Coach: Willie Totten. 2002 record: 5-6 (3-4 Southwestern Athletic Conference). Home field: Rice-Totten Stadium, Itta Bena.
What's new: There is optimism in the Delta. That's what five victories in Totten's first season as coach, including three straight to end the season, did for victory-starved Delta Devils fans (both of them). Valley had won five games total in the previous three seasons. Totten has revamped the offense, bringing in his brother, Roger, as offensive coordinator
Big games: The Delta Devils travel to neighborhood rival Delta State (Sept. 13). Valley also has dates with Jackson State (Sept. 27) and at Alcorn State (Nov. 8).
Outlook: The focus might be on the quarterback battle between incumbent Carey Weaver and Curtis Kemp, but defense is the real story. The Delta Devils were second in the SWAC in total defense in 2002 and have six starters back. But the losses include a pair of All-SWAC players. Valley is still a year or two away from challenging for a title.
Schedule
August: 30, Southern U. (at Memorial Stadium). September: 6, at Arkansas-Pine Bluff; 13, at Delta State; 20, Alabama A&M; 27, Jackson State. October: 11, at Grambling; 18, at Paul Quinn; 25, Texas Southern. November: 1, at Prairie View; 8, at Alcorn State; 15, Alabama State.
Delta State
Coach: Rick Rhoades. 2002 record: 4-7 (4-5 Gulf South Conference). Home field: Travis Parker Field, Cleveland.
What's new: A new attitude, hopefully, as Rhoades experienced a rough transition in his first year as coach in 2002. Eight starters return on offense, but there could be a new quarterback, redshirt freshman Scott Eyester.
Big games: Delta rival Mississippi Valley State comes calling (perhaps for the last time) on Sept. 13. Defending GSC champion Valdosta State visits on Sept. 20. Another GSC power, Harding visits on Nov. 1.
Outlook: DSU started 2002 0-4 but rebounded to win four of its last seven games. If Rhoades can find a quarterback, the offense should be strong, especially with running back David Yeates (team-high 771 yards, eight touchdowns) returning. And the defense is led by nose guard Anthony Maddox (66 tackles, including five sacks), who was an Associated Press Little All-American in 2002. But DSU isn't ready to win the GSC.
Schedule
September: 6, at Cumberland, Tenn.; 13, Mississippi Valley State; 20, Valdosta State; 27, at West Alabama. October: 4, at West Georgia; 11, Arkansas Tech; 18, Southern Arkansas; 25, at Henderson State. November: 1, Harding; 8, Ouachita Baptist; 15, Arkansas-Monticello.
Belhaven
Coach: Scott Highsmith (first season). 2002 record: 5-6 (4-4 in the Mid-South Conference). Home field: Newell Field, Jackson.
What's new: Highsmith, who replaces Dennis Roland, previously worked as Belhaven's offensive coordinator. So look for the Blazers, who had the No. 1 offense in the NAIA in 2002, to keep spreading the field and throwing on almost every down. The guy pulling the trigger will be new, too. Quarterback Sam Husband, who passed for 3,396 yards in 2002, graduated. His replacement will be Brian Zbydniewski, a transfer from East Central CC. Fortunately for the rookie, the Blazers's top two receivers are back, tight end Bernard Scott (81 catches, 907 yards, four touchdowns) and running back Corey Batiste (57 catches, 306 yards, two TDs).
Big games: The Blazers will play neighborhood rival Millsaps for the first time on Sept. 11. Top MSC rival Lambuth visits on Sept. 27.
Outlook: Belhaven figures to roll up more big numbers on offense, but can the Blazers stop anybody? They have just four starters back on defense
Schedule
September: 6, Louisina College; 11, at Millsaps; 20, at Cumberland, Ky.; 27, Lambuth. October: 4, at Bethel; 11, at Campbellsville; 18, Cumberland, Tenn.; 25, at Georgetown. November: 1, Pikeville; 8, at Union; 15, Virginia-Wise.
Millsaps
Coach: David Saunders. (first season). 2002 record: 3-6 (1-5 Southern Collegiate Athletic Conference). Home field: Alumni Field, Jackson.
What's new: Saunders replaces Bob Tyler who suddenly retired after finishing the season with five straight losses. Funny how that worked out, huh?
Big games: The Majors will meet local rivals Mississippi College (Sept. 4 at Mississippi Veterans Memorial Stadium) and Belhaven (Sept. 11) in a pair of Thursday night games. Top SCAC rival Rhodes visits on Nov. 8 for homecoming.
Outlook: Saunders has never been a head coach at any level. He gets a break on the schedule, though, as the Majors will play seven of their 10 games in Jackson. Good news: Starting quarterback Brandon Morris is back. Bad news: The Majors had the SCAC's worst offense last year. Millsaps was stout on defense, though, and linebacker Matt O'Bryant, a two-time SCAC defensive player of the year, returns.
Schedule
September: 4, Mississippi College at Memorial Stadium; 11, Belhaven; Sept. 20, Emory and Henry. October: 4, Maryville; Oct. 11, at Centre; Oct. 18, Rose-Hulman; Oct. 25, at DePauw. November: 1, Sewanee; 8, Rhodes; 15, at Trinity, Texas.
Mississippi College
Coach: Johnny Mills. 2002 record: 4-6 (4-5 American Southwest Conference). Home field: Robinson-Hale Stadium, Clinton.
What's new: The Choctaws need a quarterback. Payton Perrett, who had been the Choctaws' starting QB since the late 1980s, is gone. (Editor's note: Actually, Perrett started the last three years. Dr. S: You're ruining this preview. Butt out.) Ronnie Gray (formerly of Millsaps) is the new defensive coordinator.)
Big games: The Choctaws open the season against crosstown rival Millsaps (Sept. 4 at Memorial Stadium). The other biggies on tap are with ASC rivals Mary Hardin-Baylor (Oct. 11), at Louisiana College (Nov. 8) and at East Texas Baptist (Nov. 15).
Outlook: Linemen will decide how the Choctaws fare. MC has six starters back on offense, but last year the Chocs couldn't block anybody. MC has a talented secondary on defense, but the people up front are green.
Schedule
September: 4, Millsaps (at Memorial Stadium); 20, Howard Payne; 27, at Sul Ross State. October: 4, Hardin Simmons; 11, at Mary Hardin-Baylor; 18, McMurry; 25, at Austin. November: 1, Texas Lutheran; 8, at Louisiana College; 15, at East Texas Baptist.
For more expert analysis and rude crackpot commentary by Dr. S, visit his Amazing Sportsblog.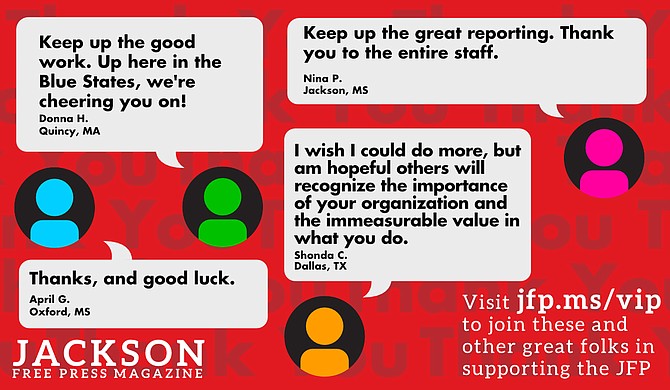 Thanks to all our new JFP VIPs!
COVID-19 has closed down the main sources of the JFP's revenue -- concerts, festivals, fundraisers, restaurants and bars. If everyone reading this article gives $5 or more, we should be able to continue publishing through the crisis. Please pay what you can to keep us reporting and publishing.