By Katherine R. Dougan
"This is Ike Turner," the low-voiced caller said.
I thought: "Yeah, right," and said, "Who the f*** is this, really?"
"This is Ike Turner."
This had to be one of my friends who knew I'd e-mailed Turner's Web site, asking for an interview. He wouldn't call himself; rock stars have PR folks for that kind of thing. I asked for the caller's number, telling him I'd telephone him right back, figuring that would draw a confession. It didn't.
After hanging up, I checked the area code and number; it came from a private home in Escondido, Calif. "Holy crap," I said to myself. "That really was Ike Turner."
That was my first contact with the man who recorded the first rock 'n' roll record.
When I called back, 70-year-old Turner, a Clarksdale, Miss., native who has been involved in the music business since he was 8 years old, answered his phone. He laughed a marvelous, booming laugh when I confessed I had been asleep and thought a friend was playing a joke on me. I liked Ike from that moment. Within an hour, I knew quite a bit about him: He's friendly, down to earth, a little bit bashful, and he loves music with his whole heart and soul. And he was honest, confessing to everything from stage fright to a life filled with joy and regret to a bit of celebrity cockiness.
"All my life I've been afraid to come up front; I waited until I got my edge now," he said, adding, "I look like I'm 50, but I'm not. I'm 70 years old."
Turner has come full circle musically, personally and spiritually since recording "Rocket 88" with Jackie Brenston – considered by many the world's first rock 'n' roll record, which hit No. 1 – at Sam Phillips' Memphis Recording Service, later called Sun Records. Over his 50-year career, he used music to escape the Jim Crow Delta in the 1950s; became an early rock 'n' roll pioneer; launched the career of Tina Turner; went to jail for cocaine possession; was inducted into the Rock and Roll Hall of Fame; became notorious as a domestic abuser; hit the bottom career-wise; and launched a comeback with the release of his album, "Here and Now," in 2001 (which was soon nominated for a Grammy).
Along the way, Turner nurtured and inspired countless musicians, including Elvis Presley, Jimi Hendrix, Janis Joplin, Frank Zappa, Prince Marvin Gaye, Bobby Womack and Chaka Kahn, to name a few. Fellow Clarksdale man B.B. King has called him a "helluva piano player and a "serious writer." Now, after years of the spotlight being on everything but his music, Turner is back where he wants to be: on stage, where he will be this Friday at Hal & Mal's Downtown.

IT WAS NEARLY 50 YEARS AGO when Turner last took the stage in Jackson. "We played at the auditorium in Jackson," Turner recalled this week. "This was Ike and Tina back then, back when Chuck Berry put out 'Johnny Be Good.'"
Turner wasn't allowed to stay at a Downtown hotel because he and Berry were black. "In those days when we played Jackson, Miss., we stayed at a hotel in the black part of town," Turner said. Memory fails Turner, but he's pretty sure they stayed at the Summers Hotel on Pearl Street, which now houses the Subway blues club in its basement.
This time, Turner can stay wherever he wants, and he hopes to recreate the magic he and his Rhythm Kings have enjoyed in the last year. "I'm gonna have a surprise for the people there (in Jackson). I have a girl who can sing her butt off. I'm gonna bring her out as a surprise right at the end of the show," Turner said. There will be three pianos on stage, with Turner at the helm of one of them – right back where he started 63 years ago.
Turner got his first piano lesson in 1939 – and developed his unique style – under the tutelage of Clarksdale native and blues pianist Pinetop Perkins. (The actual piano, which his mother bought him, is on display at Memphis' Rock 'n' Soul Museum, just south of Beale Street.)
"My friend Ernest Lane and I were coming home from school, and we heard this piano coming from Ernest's daddy's house. That's where Pinetop Perkins and Sonny Boy Williams were rehearsing," Turner said. "I'd heard piano in church, but never heard piano played like that. We went to the window and peeped through, and I saw Pinetop Perkins playing that piano, man, and it just fascinated me. He really excited me. That's when my life began," Turner said. At age 7, Turner got his piano for bringing home good grades on his report card. Turner took lessons from his second-grade teacher, but she didn't teach him to play the way he wanted to play. "I wanted to play like Pinetop," he said. Soon Turner was getting an occasional informal lesson from Pinetop. He had started to use the dollar his mother gave him for piano lessons to shoot pool at the local pool hall instead, but the seed was planted.

BORN IZEAR LUSTER TURNER JR. on Nov. 5, 1931, Turner's seminal influence on music cannot be disputed. Not long after his early piano triumphs, he got a chance to spin records at WROX radio in Clarksdale. "I used to just stand in the window and watch him (the disc jockey) spin records and stuff," Turner said. The disc jockey noticed Turner hanging around the window of the station and invited him inside. "He let me come in the room; he let me hold the records." Turner advanced to being allowed to put records on the turntable and hit buttons on the recorders when the DJ wanted to go across the street for coffee. "He would leave me there and tell me this record to play and that record to play. I spun records every day from 1 to 3 p.m.," Turner said.
When he was 20, the native of the same town where Muddy Waters, John Lee Hooker, Sam Cooke and Tennessee Williams spent formative years, became a full-time musician and moved north, a little ways, playing in clubs in West Memphis, Ark. – in the only clubs blacks were allowed to perform in. The white stations in Memphis wouldn't play music by African-Americans at the time; it was disparagingly known as "race music ." But Turner would soon start playing the piano for recording sessions at Sam Phillips' studio, and then recorded "Rocket 88" in 1951. (They wrote "Rocket 88" on their way to the studio in a fire-engine-red Oldsmobile 88. "We realized we didn't have a song of our own to record," he said.) Phillips got his brother, Dewey, to play the record on a white radio station – the first time a "race record" was played by a white DJ. Young people went crazy over it. The song quickly shot up R&B charts to No. 1.
Turner's career would really take off in the 1950s. He went home and set up his own studio in Clarksdale and took up guitar as his primary instrument (because he couldn't find good guitarists, he later said), releasing a number of singles credited either to himself or "Lover Boy." In 1954 Turner moved on to St. Louis. There, recording for Modern, as well as the Sue and King/Federal labels, with his new band, the Kings of Rhythm, he had further success with efforts such as "I'm Tore Up." In 1958 he moved to Chicago where he played guitar for sessions with Otis Rush and Buddy Guy. "Those were some times, man," Turner said this week. "We had some fun."
Along the way he met a teenaged singer from Tennessee named Anna Mae Bullock, soon to be known to the world as his wife, Tina Turner. He produced the single "A Fool In Love" with Tina Turner on vocals for Sun Records in 1960. The single hit No. 2 on the Billboard R&B charts, and stayed there for 21 weeks. The single, "It's Gonna Work Out Fine" topped out at No. 2 on the R&B charts and at No. 14 on the pop Billboard charts in 1961. In 1962 Turner made an instrumental record, "Dance with Ike and Tina Turner" (actually without Tina), and his Modern singles were released in 1963 as an album, "Ike Turner Rocks the Blues," which music critic Lester Bangs would later call "the greatest guitar record of all time." Ike and Tina Turner became an opening act for the Rolling Stones in 1966, and in 1971 the classic "Proud Mary" reached No. 4 on the Billboard charts. The couple's names would be intricately intertwined until they split in 1975.

MOST OF THE MEDIA ATTENTION on Turner for years has focused on his turbulent marriage to Tina Turner, a relationship and life riddled with violence and drug addiction. Then came two years in jail for cocaine possession in the late 1980s and early '90s. Turner was inducted into the Rock and Roll Hall of Fame in 1990 in absentia because he was in jail when he received the honor.
In prison, Turner kicked his cocaine addiction and thought a lot about his life. In his autobiography, "Takin' Back My Name: The Confession of Ike Turner" (Virgin Publishing, 1999), he later wrote: "Going to jail is the greatest thing that ever happened to me, because I got my life back together, man."
Turner released an album in 1996, "Without Love, I Have Nothing," which was little noticed by the industry and public. This CD came out three years after the Walt Disney movie about Tina Turner's life, "What's Love Got To Do With It," in which Ike Turner was portrayed as a violent drug-addicted man who repeatedly beat and abused his wife. Then rappers Salt-N-Peppa sampled the words "Ike I'm Blue" on their hit song, "Shoop." Turner admitted in his autobiography that he and Tina indeed physically fought, but maintained that he did not beat her as the film portrayed.
"I signed a contract with Walt Disney thinking I was giving them permission for someone to play me in the movie," stated Turner in an interview with the Vancouver Sun. "I didn't know I signed away my right to sue them, and they could portray me any way they wanted to. Man, they assassinated my career."
Now he doesn't care to talk about Tina; he's looking forward. "Tina Turner, all that stuff, that was a long time ago. I'm all about now," he said.
Turner's career would remain stalled until 2000, when a friend came to his house and saw him sitting at his computer and his piano. His friend said: "That's what the world needs to see – that's what you need to do." Turner replied: "No way." But soon after, Turner would reunite with his first band, the Kings of Rhythm, and his childhood friend Ernest Lane, and cut "Here and Now," his comeback album. It was released in 2001 and produced by Joe Bihari, who produced "Rocket 88" for Modern Music back in 1951.
For the first time in his career, Turner is now performing as the front man with a band. And it's scary. Being the main man in the act terrifies him. Turner professed he gets just as nervous in front of a crowd as most musicians do the first time they perform at an open microphone night.
"I've always been afraid to be out front – to sing – I never had enough nerve to do that," Turner said in our conversation. His friend convinced Turner to showcase the album in Austin, Texas, at the South by Southwest music showcase. Turner was terrified, but played anyway. "Those people loved what I did," he said in a voice filled with childlike wonder. Then, a performance at the Jazz Fest in Montrose, Switzerland, brought the same kind of enthusiastic reaction from the crowd. "When I ended my song, the people started applauding and wouldn't stop," Turner said.
"It made me cry."
Katherine Dougan is a freelance writer and musician in Jackson.
Corrections appended Oct. 9, 2002.
---
Visit Turner's Web site, http://www.iketurner.com, for more information. For tickets to the Hal & Mal's show Friday night (Oct. 11), visit Be-Bop or Musiquarium, or call 948-0888. $20 advance/$25 at the door. Proceeds will benefit the Mississippi Musicians Hall of Fame, which accepted Turner earlier this year.
More like this story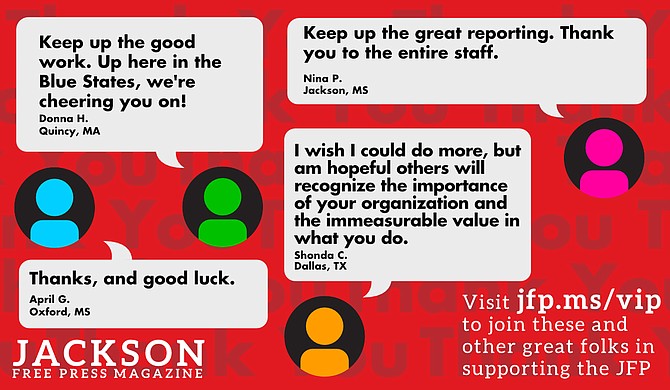 Thanks to all our new JFP VIPs!
COVID-19 has closed down the main sources of the JFP's revenue -- concerts, festivals, fundraisers, restaurants and bars. If everyone reading this article gives $5 or more, we should be able to continue publishing through the crisis. Please pay what you can to keep us reporting and publishing.