President George W. Bush wants you to get married. And why not? Just consider the implications. According to Wade Horn, assistant secretary of children and families for the U.S. Department of Health and Human Services and a long-time marriage advocate, marriage can: end poverty in America, end abuse and neglect, and maybe even achieve world peace. Who knew that "I do" was so powerful?
Yes, I may exaggerate a bit, but the Bush administration is indeed on a crusade to promote marriage. One key goal of their pro-marriage movement is to decrease the number of women and children receiving support through the welfare system.
That's certainly not a new idea. President Lyndon Johnson proposed similar strategies nearly 40 years ago. Then, government was concerned about the demise of the black family—one-third of all black children lived in single-parent homes. Today, similar statistics apply to families of every ethnic background and socioeconomic status.
Married life can be fabulous (take it from me), but marriage alone will not save the world or solve our problems with the welfare system.
The U.S. Census Bureau reports that about half of all marriages end in divorce. Statistics from a recent study by Johns Hopkins University researchers reveal the dark reality that many couples—married or living together—throw in the towel after only 16 months.
Groups like Marriage Savers and First Things First are popping up across the country to help men and women develop and sustain lifelong unions. My own church has developed a new ministry, the Family Enrichment Ministry, to reach out to couples in the congregation through couple-focused Sunday school classes, retreats and seminars. The church is also planning a two-day conference for the entire metro area on marriage and family issues.
Television has jumped on the marriage bandwagon. NBC's "Today Show" has an annual wedding contest, complete with all the trimmings and a live ceremony. Jackson's NBC affiliate, WLBT, sponsors its own version of that contest. Every weekday, the Learning Channel airs "The Wedding Story." And don't forget about the latest edition of ABC's "The Bachelor."
We are a nation obsessed with the idea of marriage, but we don't seem to know how to make it work long-term.
Marriage has changed in some ways over the last several decades. Walking down the aisle is not a given for many people like it was for previous generations. In our drive-through, express-checkout lives, we don't seem as willing to stick out the rough spots.
I do think we're more honest about our reasons for marrying or not marrying. Unyielding honesty certainly directed my decision to marry. After a rather serendipitous meeting, my husband and I followed a natural progression to marriage in the months that followed. I never had a doubt or any pre-wedding jitters. My husband and I couldn't have stopped it if we wanted to; we were guided by a higher power.
So how do we burrow through all this blatant honesty and find the root of our marriage predicaments? It's simple. It's about choices—the ones we have, the ones we don't have and the ones of which we aren't even aware.
A recent PBS "Frontline" report, "Let's Get Married," highlighted the differences between couples in Oklahoma, which is among the states with the highest divorce rates, and inner-city Chicago, which is cited for large numbers of women who've never been married. In Oklahoma, couples marry young and are able to divorce in a matter of minutes through the court system. In line with the Bush administration's healthy-marriage initiative, Oklahoma has allocated more than $10 million for relationship skills training for welfare recipients. For couples on the West Side of Chicago, marriage isn't even relevant. There are few role models to support the fledgling notion of successful, two-parent households. Family members and church leaders are the main advocates of marriage there, trying to draw the idea from the back of young couples' minds into their immediate realities.
Will either strategy decrease out-of-wedlock births and encourage couples to marry smarter, if at all? Probably not. Without a solid moral foundation to support their gut instincts, couples everywhere will not change their opinions about sex, marriage or child rearing. Young women, particularly in urban communities, are often forced to choose among abusive, drug-addicted or incarcerated men for their Prince Charmings. For women who find themselves in unplanned, but less traumatic situations, the answers won't come any easier and may not have the ring of morality that marriage advocates are hoping for. It's just not realistic to expect that every couple who conceives a child together will marry.
I have a close friend who became pregnant shortly after college, but she and her child's father chose not to marry. She had the child and later married the right man at the right time and now has two happy children. This happy ending didn't happen randomly. She made a series of sound choices.
I have made a conscious choice, too. I want the healthiest, happiest marriage possible. But I've learned one thing—my husband and I can't do it alone. I'm not talking about nonprofit seminars or government intervention. Those can be helpful, but they don't constitute the whole picture for us. It takes a higher power than government to build a strong marriage.
Jennifer Spann writes a regular column for the Jackson Free Press.
More like this story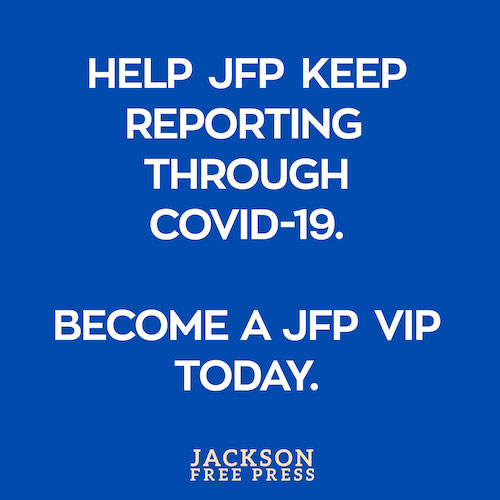 COVID-19 has closed down the main sources of the JFP's revenue -- concerts, festivals, fundraisers, restaurants and bars. If everyone reading this article gives $5 or more, we should be able to continue publishing through the crisis. Please pay what you can to keep us reporting and publishing.