Detectives John S. Williams and Reggie McCann went to the Blue Chip Lounge (pictured) on Bailey Avenue in Jackson, Miss., on Aug. 21, 1997. Owner John Ware gave them a VHS cassette with video footage of its front door and parking lot showing that Ronnie Johnson entered the lounge at about 3:05 a.m. and exited around 5:10 a.m. on Monday, July 21, 1997. Johnson believes that the videotape would have cleared him of murder. Photo by Kayode Crown / Mississippi Free Press
Stories this photo appears in: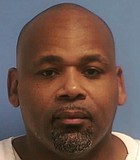 City & County
The evidence showed that the homicide detectives interviewed Blue Chip Lounge owner John Ware, and he provided them the surveillance video recording that apparently placed Ronnie Johnson at the club ...