"It's natural for our time and attention to focus on our problems, worries and concerns," Williams said. "Sometimes, this means that we don't take time to savor our accomplishments, appreciate our successes, and be grateful for good things in our lives." Photo by Simon Rae on Unsplash
Stories this photo appears in: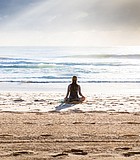 Health Care
When mom tells her millennial "Take care of yourself," eating a healthy diet and getting enough sleep and exercise might seem like it's enough. But for true self-care, young adults ...