The Mississippi Supreme Court ruled on Thursday that Gov. Tate Reeves was within his authority when he vetoed a budget bill last July, overturning a chancery court judge's October. Courtsey
Stories this photo appears in: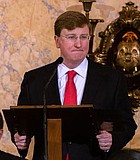 Economy
"Our Constitution and case law are clear that the power exercised by the Governor was granted to the Governor's office by the people of Mississippi," the Supreme Court's ruling reads. ...