After the lawsuit was filed, Republican Gov. Phil Bryant called it a frivolous attempt by "Democrats and their allies" to usurp decisions made by the Republican-majority Legislature. Bryant said the charter school law he signed in 2013 "has proven effective at lifting poor and underserved children out of failing districts." Photo by Stephen Wilson
Stories this photo appears in: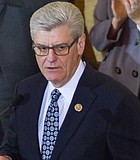 Education
The Mississippi Supreme Court on Thursday affirmed the state's method of using tax money to pay for charter schools, rejecting a challenge that sought to cut off local money to ...