Public Safety Commissioner Marshall Fisher says the department is also starting customer service surveys at all driver's license bureaus. He says improving service is "a top priority."
Stories this photo appears in: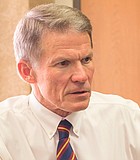 State
The Mississippi Department of Public Safety is starting a program aimed at decreasing long lines at driver's license bureaus.