The arrest was the second time this year that R. Kelly has been taken into custody in Chicago on sex charges. He was arrested in February on 10 counts in Illinois of sexually abusing three girls and a woman. He pleaded not guilty to those charges and was released on bail. Photo courtesy Jon Palmer/MediaPunch, Inc.
Stories this photo appears in: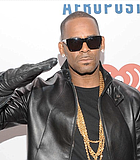 Crime
Singer R. Kelly, already facing sexual abuse charges brought by Illinois prosecutors, was arrested in Chicago on a sweeping federal indictment that accuses him and members of his entourage of ...