The City of Jackson will proceed to trial against Verizon Wireless after city council voted to reject reaching a settlement with the corporation on Dec. 10. In October, Verizon Wireless filed a lawsuit against the City after the City denied the company a permit that would allow it to build a 150-foot cell phone tower in south Jackson. Photo courtesy Verizon.
Stories this photo appears in: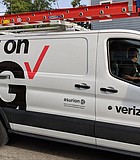 City & County
Verizon Wireless is suing the City of Jackson over what it claims is an unlawful and discriminatory denial of its application to build a cellphone tower in the city.