Filmmaker Curtis Everitt has created films such as the thriller "Haul," which stars Becca Larkin (left) and Sylvia Gayden (right). Photo courtesy Saint Studio
Stories this photo appears in: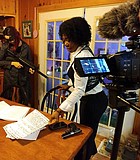 Art
When the zombie apocalypse came to small Mississippi town Ovett, people acted immediately, killing zombies and eventually throwing one of them off a bridge. As all this happened, Curtis Everitt ...