Tammie Townsend's son was found hanging from a tree in Scott County in February. Rukia Lumumba (right) is one of the Jackson lawyers taking on the case pro bono.
Stories this photo appears in: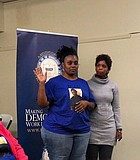 City & County
Willie Jones Jr.'s family has joined forces with the the Scott County Chapter NAACP, New Black Panther Party, Jackson Chapter Malcolm X Grassroots Movement, and two Jackson-based pro-bono lawyers to ...