House Speaker Philip Gunn, R-Clinton, announced a new road-funding proposal last week, but efforts to divert for funds to roads and bridges could continue to stall. This is a file photo from the Neshoba County Fair.
Stories this photo appears in: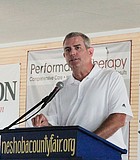 Development
The Republican supermajority in the Mississippi Legislature has ignored the state chamber of commerce's calls to increase state funding for roads and bridges for three legislative sessions in a row.