Among the strongest criticisms of the president Sunday was this from Saints coach Sean Payton: "I'm disappointed in the comments that were made. I think we need a little bit more wisdom in that office," he said of the White House. "I want that guy to be one of the smarter guys in the room and it seems like every time he's opening up his mouth it's something that is dividing our country and not pulling us together." Photo courtesy Flickr/Tom Pumphret
Stories this photo appears in: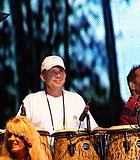 National
President Donald Trump's criticism of players who kneel during the national anthem sparked angry protests around the National Football League Sunday, as about 200 players sat, knelt or raised their ...