Named for Republican Sens. Lindsey Graham (pictured) of South Carolina and Bill Cassidy of Louisiana, the bill would repeal much of the Obama-era Affordable Care Act and limit future federal funding for Medicaid. Photo courtesy Flickr/Gage Skidmore
Stories this photo appears in: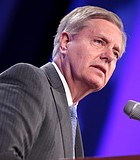 Health Care
Most states would take a stiff budgetary hit if the latest Senate GOP health care bill becomes law, according to an outside analysis released Wednesday. That would likely result in ...