The latest attempt is being led by GOP Sens. Lindsey Graham (pictured) of South Carolina and Louisiana's Bill Cassidy. Their 141-page bill would replace much of Obama's statute with block grants to states and would give them wide leeway to decide how to spend the money. It would also end Obama's requirement that most Americans buy insurance and that companies offer coverage to workers. Photo courtesy Flickr/Gage Skidmore
Stories this photo appears in: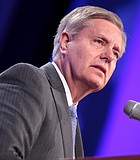 Health Care
Senate Republicans are revving up a final push to scuttle President Barack Obama's health care law. Though the effort faces low odds of success and just a two-week window to ...