The fate of Jackson Public Schools hangs in the balance this week when as Gov. Phil Bryant decides whether to keep the district under local control or allow the State to take over.
Stories this photo appears in: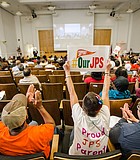 City & County
As Jackson Public Schools officials and administrators work to meet deadlines set in their 2016 corrective action plan, Gov. Phil Bryant could decide to take away local control of the ...