Patrick Webb is an associate professor of criminal justice at St. Augustine's University, a historically black college in Raleigh, N.C., who has done research on the relationship between media coverage and juvenile proceedings. Photo courtesy Patrick Webb
Stories this photo appears in: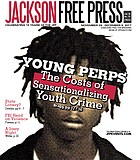 Cover
Jackson Police Department spokesman Sgt. Roderick Holmes Holmes told the Jackson Free Press that the police department's protocol for sending out mugshots to media depends on several factors, including public ...