The House unanimously asked the Senate, particularly Republican Lt. Gov. Tate Reeves (pictured), to play ball on Monday when they recommitted the Mississippi Department of Transportation's budget for more work.
Stories this photo appears in: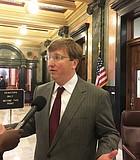 Editorial
The blame for the budget meltdown belongs to both the House and the Senate, but if you believe that bipartisanship, maintaining the state's infrastructure and compromise are important in how ...