Staying hydrated before, during and after a workout can help prevent heat injuries. Drink lots of water when you're not exercising, too. Photo courtesy Flickr/Thad Zajdowicz
Stories this photo appears in: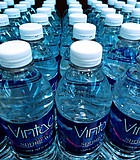 Cover
Ideally, maintaining a healthy diet and exercise program is a lifestyle decision that we should maintain year-round. But those who don't participate in a year-round healthy lifestyle must remember that ...