Americans for Prosperity, the Koch Brothers' advocacy organization, will begin a thank-you campaign for Lt. Gov. Tate Reeves because he repeatedly opposed tax increases in the 2017 legislative session.
Stories this photo appears in: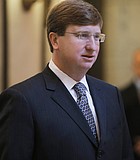 Politics
Americans for Prosperity, a conservative political-advocacy organization founded by the Koch brothers, will throw Lt. Gov. Tate Reeves a five-figure thank-you campaign, after the Republican repeatedly shot down proposals to ...