The Southern Poverty Law Center last year counted more than 1,500 things around the country named after Confederate figures or dedicated to the Confederacy, including holidays, statues, flags and the names of cities, counties, schools and parks. Nearly half are monuments, which are in 24 states. Most of the dedications are in the South, but 24 are in the North and 21 in states that did not exist at the time of the Civil War. Trip Burns/File Photo
Stories this photo appears in: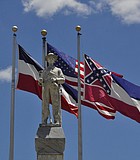 National
The deadly white nationalist rally in Charlottesville, Virginia, is fueling another re-evaluation of Confederate statues in cities across the nation, accelerating their removal in much the same way that a ...