Will Selman, a biology professor at Millsaps College, studies the Ringed Sawback turtle, which can only be found in the Pearl River.
Stories this photo appears in: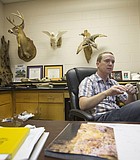 Development
People like to settle near rivers due to their need for water, good soil and potential food sources a river can provide, not to mention recreation. Still, it is important ...