Sen. Derrick Simmons, D-Greenville, presented Senate Bill 2169 on the floor last week, which will increase the punishments for possession and intent to sell synthetic cannabinoids. File Photo.
Stories this photo appears in: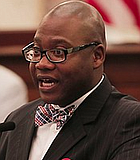 State
The state's one Planned Parenthood clinic will lose Medicaid reimbursements if Gov. Phil Bryant signs a bill headed to his desk.