Kelly Jacobs of DeSoto County initiated the Ballot Initiative 48 drive. About 8,000 certified signatures have been collected so far. More than 107,200 would be needed to get the measure on the ballot. Photo courtesy Kelly Jacobs Facebook
Stories this photo appears in: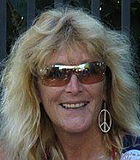 State
A Florida advocate of legalizing marijuana says a threat prompted him to withdraw his offer to pay supporters of Mississippi's petition drive to gather signatures on petitions for a statewide ...