Brad Regan and Hannah Acey will marry in May of this year. Photo courtesy Josh Hailey Studios
Stories this photo appears in: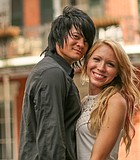 Hitched
Two years ago, Brad Regan considered himself to be a player. No one could have told him that he would fall in love with Hannah Acey, whom he met in ...