The Colombus City Council voted 6-0 Tuesday to remove the state flag from municipal property, the Commercial Dispatch reported. Mayor Robert Smith, who requested the flag removal, said he would have no problem flying the state banner again if it's changed to a "unifying" design. Photo courtesy Google Maps
Stories this photo appears in: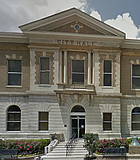 Person of the Day
Columbus has joined the list of Mississippi cities no longer flying the state flag because the design includes a Confederate battle emblem.