Bryant has proposed a tax break for people with low to moderate incomes. He says a family of four with a household income of $52,000 would receive a $921-a-year tax credit, and a single person with an income of $14,590 would receive a credit of $75. The tax breaks would be available only in years when state revenue grows by at least 3 percent.
Stories this photo appears in: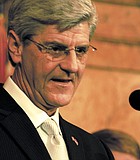 Politics
This is the prepared text of Mississippi Gov. Phil Bryant's 2015 State of the State speech, which he gave Wednesday at the state Capitol:
Politics
The Mississippi Legislature is back in session tomorrow, which means another three months of state representatives at battle on issues, some of questionable significance.