The success or failure of Mayor Tony Yarber's administration rests largely on how he handles millions of dollars of infrastructure repairs the city must make. Yarber says setting up the oversight commission and developing a master plan for 1-percent sales tax funds is his most significant accomplishment so far.
Stories this photo appears in: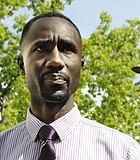 City & County
Mayor Tony Yarber recently invited the Jackson Free Press to the ceremonial mayor's office on City Hall's first floor to discuss his views on napkining, infrastructure financing, his trip to ...