Janis Lane is president of the Central Mississippi Tea Party and is a longtime supporter of Chris McDaniel, who is trying to unseat six-term Republican Sen. Thad Cochran. This photo is Copyright Jackson Free Press. Any use of it without express permission is prohibited and will treated as a copyright violation.
Stories this photo appears in: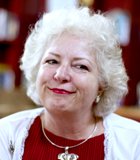 City & County
A tea party officer and two others representing the challenger in a Senate primary became trapped in a courthouse in the middle of the night, hours after officials had gone ...