Dr. Daniel J. Hurley (left) talks to patient William Sanders (right) at his outpatient clinic in Beech Grove, Indiana. Hurley was credited with writing more than 160,000 prescriptions in Medicare Part D in 2010, the most of any provider in the country. Hurley said prescriptions by others in his practice were credited to him by nursing home pharmacies, but that Medicare has never asked him about his numbers. "Why wouldn't they call us up and ask us?" he said.
Stories this photo appears in: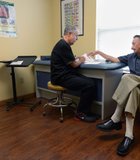 Health Care
Ten years ago, a sharply divided Congress decided to pour billions of dollars into subsidizing the purchase of drugs by elderly and disabled Americans.